This was the second (of three) night of performances from Lantern Writers, an offshoot of the much-missed Lantern Theatre, in which we are treated to an eclectic array of pieces, directed by and featuring the rich talent on offer in the city to deliver the work of local writers.
The Lists, written by Darren Anglesea and directed by Zara Marie Brown, explores the topic of cancer through two women: Mary (Deborah Elizabeth) who is fighting a Stage 4 prognosis and has chosen not to be resuscitated, and Rachel (Claire Crossland) who has had a Stage 2 prognosis resulting in a double mastectomy. The glue that holds them together is nurse Deb (Shannon Power). With a simple staging and capable performances from the cast, the piece suffered at times from telling rather than showing which could perhaps be resolved by having Mary and Rachel on stage together and sharing their experiences? Whilst there was some good use of black humour, we strayed a little too often into politics and money which left me unsure about the purpose of the piece.
North West End Rating: ★★★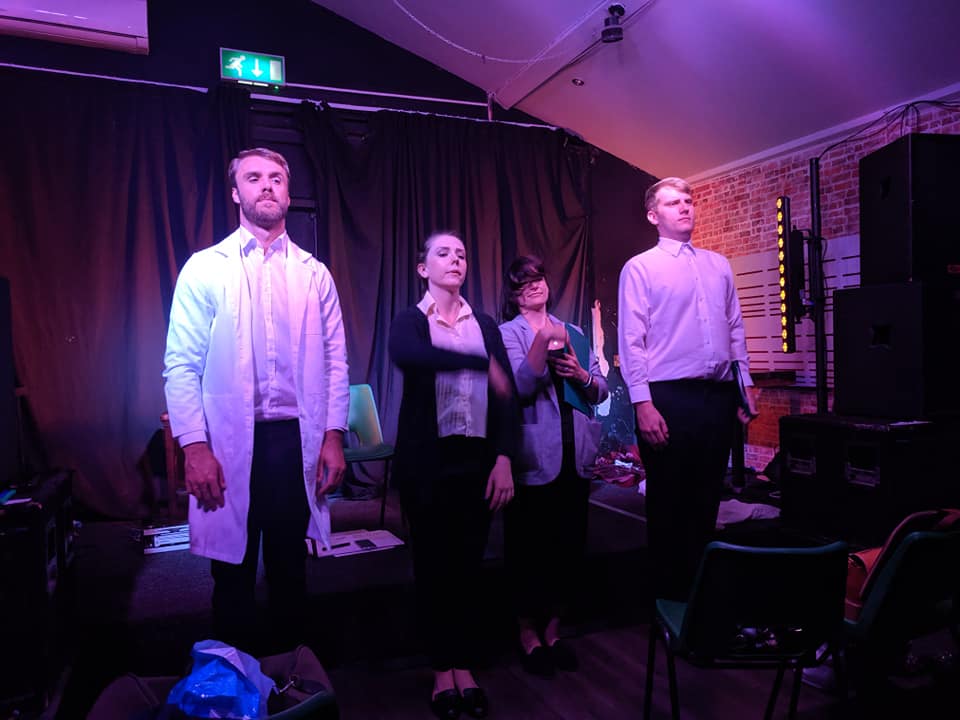 Men Who Wear Dresses, written and directed by Irene Stuart, introduces us to Jeff (Robbie James Williamson) and Mal (Dave Harris) at their local pub where they talk football amongst other things, all under the watchful eye of barmaid Bernie (Danielle Britton). It is only a matter of time before the two of them go off-message and secrets from the past are revealed. I found the lines lacked the natural camaraderie I would have expected from two long-term drinking partners, and I would have preferred the barmaid to have a greater role. It certainly had a twist in the tale if not the promised sting because it went on that little too long after the reveal: perhaps the introduction of a separate director would make this play out more strongly because it's got the gem of a good idea or two at its heart.
North West End Rating: ★★★
Evidence, written by Mari Lloyd and directed by Sarah Jayne Van Parys, was the shortest piece on offer tonight but packed the biggest punch. Set in 1960s Britain – when it still ruled the waves or thought it did – and drawing upon factual information, it explores how the revolution in science and technology dictated the way we lived, exploring in particular the evidence-based justification for the continued use of x-rays on pregnant women at a time concerns were coming to the fore.
Our cast of four brilliantly interplay with Doctor 1/Scientist (Michael Schenck) and Woman 1/Peasant (Caitlin Clough) cleverly exposing the myth of medicine, whilst two real-life physicians and epidemiologists, Alice Stewart (Catherine Devine) and Richard Doll (Christopher Rae), are brought in to opine: you can imagine which one gets followed. The re-appearance of Devine and Rae in the closing scene as, respectively, Woman 2 and Doctor 2, cuts to the bone and is augmented by the silent messages lifted aloft by the cast on a subject I embarrassingly knew too little about until tonight: truth is indeed the daughter of time.
Van Parys' simple but effective staging and clever choreography delightfully takes full advantage of the limited space on offer, allowing the cast to flourish and one could sense their enjoyment delivering a piece that deserves to be extended and performed in a larger venue whilst retaining its intimacy and impact.
North West End Rating: ★★★★★
81 Renshaw Street is a café and record store providing regular entertainment with a purpose venue at the rear. Further details http://www.81renshaw.co.uk/
Lantern Writers can be found at https://www.facebook.com/Lanternwriters2019/
Reviewer: Mark Davoren
Reviewed: 25th July 2019