I bet I wasn't the only one singing The Sun'll Come Out Tomorrow as they drove home from Hull New Theatre, on Monday night.
Yes, Annie was back in town and boy, what an impact she made!
While we in the packed audience took our seats, the orphans on stage were climbing into the uncomfortable-looking iron bedsteads, wriggling about, trying to get comfy under the sparse bedding.
Then, just after 7.30pm, the lights dimmed and a loud scream pierced the air. One of the poor little blighters was shouting for her "mommy" and our hearts melted there and then.
In walked Annie (an incredible performance by Taziva-Fayekat Sande), mop in hand, to soothe the little one. From that moment on it was non-stop fun and games all the way. Theatrical heaven!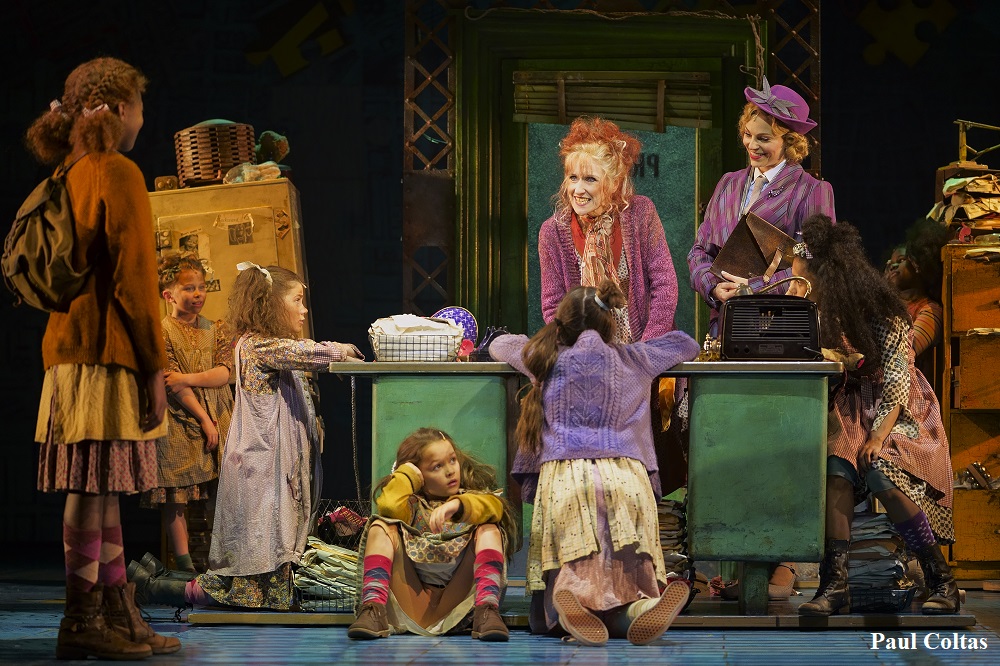 The year is 1933 and the orphanage in Depression-hit "Noo York" is run by a Miss Hannigan (the amazing Anita Dobson), who, when sober is even meaner than when drunk, as she often is.
She makes no secret of the fact she hates children and gets through her miserable existence looking through the bottom of a booze bottle.
Anita Dobson's portrayal of her is so entertaining - energetic, comical, a bit naughty – that just looking at the faces she pulled had me giggling uncontrollably. And that's before she uttered a word – or woid in her lingo.
Of course, the girls hate being in Miss Hannigan's "care" – I use the word very loosely - and it is the red-haired Annie who makes her escape.
Finding herself alone, on the mean streets of "Noo York", she befriends a stray dog, who she names Sandy (this was an "ah" moment as the real dog was a scene stealer), and also a group of homeless people, who feed her and Sandy.
Taken back to the orphanage by a well-meaning cop, she has to face Miss Hannigan and the other orphans (take a bow Orla McDonagh as Molly, Kacey Agwuegbo as Duffy [loved your bunches, Kacey], Siena Austen as Tessie, Drew Phoebe Hylton as Pepper, Lyla Toplass as July and Fifi Bloomsbury-Khier as Kate). Stars, every one.
However, there is light at the end of the tunnel when billionaire's assistant Grace Farrell (Carolyn Maitland) arrives at the orphanage to invite an orphan to spend Christmas with her boss, Oliver Warbucks (Alex Bourne).
Much to Miss Hannigan's dismay, Annie is chosen and off she trots to enjoy a fortnight of luxury, starting with Mr Warbucks buying her brand new coat.
The outspoken Annie enchants all at the billionaire's mansion, and Mr Warbucks decides to adopt her (he can adopt me any time!).
However, Annie has lived all of her 11 years (at the orphanage) living with the hope that her parents are coming back for her – she has a letter and a silver locket to prove it. And when Mr Warbucks presents her with a new silver locket, she tells him in no uncertain words, that her main aim in life is getting her real parents back in her life.
The crestfallen businessman offers a $50,000 reward for any information leading to the return of Annie's mom and pop.
Of course, he is inundated with replies, all from conmen and women.
Meanwhile, Miss Hannigan is coerced into helping her brother, Rooster (Richard Meek) and his woman, Lily (Jenny Gayner), to get their hands on the reward … and they nearly succeed.
However, the American President, Franklin D Roosevelt (Gary Davis), a good friend of Mr Warbucks, pulls out all of the stops and uncovers the truth, saving Annie from a fate worse than the orphanage. Phew!
Every person involved in this production deserves their name up in lights. It was sheer perfection, pure and simple.
I honestly couldn't fault a thing. Every word said on stage was loud and clear; all singing voices were tuneful and the well-known songs came thick and fast – Hard Knock Life, N.Y.C., Easy Life and Tomorrow to name just a few.
Throughout, the choreography was amazing– the tap-dancing being a highlight. Live music, wonderful costumes, atmospheric lighting and a fantastic stage setting, plus the cutest dog (a very well-behaved Amber), all added to a great night's entertainment. I didn't want it to end.
Running until Saturday, April 6th, 2019; 7.30pm nightly with 2.30pm matinees on Thursday, 4th and Saturday, 6th. Tickets from £18. Call (01482) 300306; visit www.hulltheatres.co.uk
Reviewer: Jackie Foottit
Reviewed: 1st April 2019
North West End Rating: ★★★★★