This year's pantomime at Liverpool Empire is Peter Pan. It (supposedly) tells the story of the Darling children who go on an adventure to Neverland with Peter Pan to help defeat the evil Captain Hook. However, in this production, the plot of Peter Pan is barely recognisable as the star casting gets priority over the plot and the character whose name is the title of the show.
Bob Tomson directs the pantomime written by Alan McHugh. The show is packed full of traditional panto routines, including a hilarious skit about names of pirates, If I Were Not In Neverland, the wall love duet sketch and the injured body part routine. These are all executed brilliantly, although it is a shame there is no ghost gag in this show. For me, this pantomime has a few too much adult jokes – there are more jokes designed to go straight over the children's heads than I feel there should be in a family show. Paul Domaine's choreography is truly exceptional, performed by a tremendous ensemble of dancers.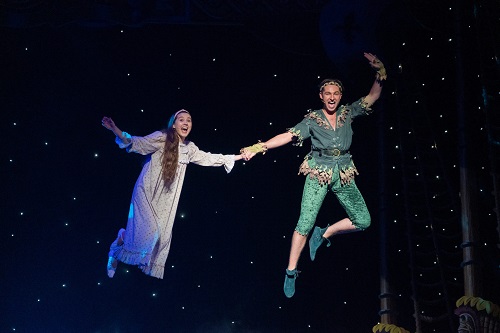 David Howe's lighting is great which is important as the set (the designer of which goes uncredited in the programme) is quite basic for such a huge venue. Personally I was disappointed by the set for this show, apart from the crocodile which was very impressive and realistic. There are some large set pieces that are impressive when they first appear but the majority of the sets are not much more than painted backdrops. The under the sea sequence at the start of Act 2, despite being completely unnecessary, was impressive visually with a whole host of fantastic costumes.
The cast is what makes this production enjoyable. Adam McCoy is a great Peter Pan alongside Cristina Hoey who gives a lovely performance as Wendy. They are strong vocally and bring their characters to life perfectly. Sadly they are very much side-lined in this production for the sake celebrity names who have been shoehorned into this production. Jamie Leahey and Archie Williams-Lawton are both brilliant as John and Michael Darling, although they both suffer similar fates to McCoy and Hoey.
Niki Evans plays Mimi the Magical Mermaid. She is vocally phenomenal and she has a brilliant stage presence. The character, however, is completely unnecessary. She has no plot significance and despite being called the Magical Mermaid, she doesn't perform any magic at all. Asa Elliott is cast as Tiger Billy (rather than Tiger Lily) and as expected, his vocals are fantastic in his few musical numbers. Elliott is very underused however. Often Tiger Lily would have a fairly significant part to play in the plot but in this production, it felt like the character was only there to get an extra big name into the cast.
Louis Emerick is very strong as Captain Hook. His vocals are brilliant and he knows how to command the audience. He brings the character to life very well and is perfectly evil and villainous. Tony Maudsley and John Evans are very much at the centre of this production as Cutlass Kenneth and Smee. They are a hilarious double act and bring a whole heap of energy to the show. There are a few too many dirty jokes from Maudsley but you can tell he and Evans are both pantomime veterans.
For me, as well as Maudsley and Evans, it is Georgie Ashford and the ensemble who steal the show. Ashford plays Tinkerbell and she is simply perfect in the role. Her characterisation is spot on and her vocals are lovely, although another song from her would have been nice. She is clearly an expert in her art and she knows just how to work an audience in a pantomime setting. The ensemble are all sensational dancers. Extra credit must also go to Tyler Stubbs, Connor Wells, Jamie Bell and Charlie Goddard who execute the sketch of confusing names perfectly, alongside Tony Maudsley and John Evans.
This is a fun production, with a very strong cast, that falls due to some poor writing and a lack of focus on the plot that everyone knows and loves. Despite the production itself being a little disappointing, the cast still manage to shine and showcase their immense talents.
Reviewer: Jacob Bush
Reviewed: 10th December 2019
North West End UK Rating: ★★★