Confession time…..your middle class theatre critic once accidently booked his family into an all-inclusive Spanish hotel very much like the run down Solona where this raucous version of the hit ITV show series takes place. Like the middle class couple who end up in this onstage hellhole our family eventually went with the flow and just like tonight's audience had a great time.
Benidorm was one of those hits that sailed under the turned up noses of the critics evidenced by the fact that when every time one of the six characters from the TV appeared there was a huge cheer before they even opened their mouths. This show is critic proof because it gives its fans exactly they want, which is a warm hearted version of themselves.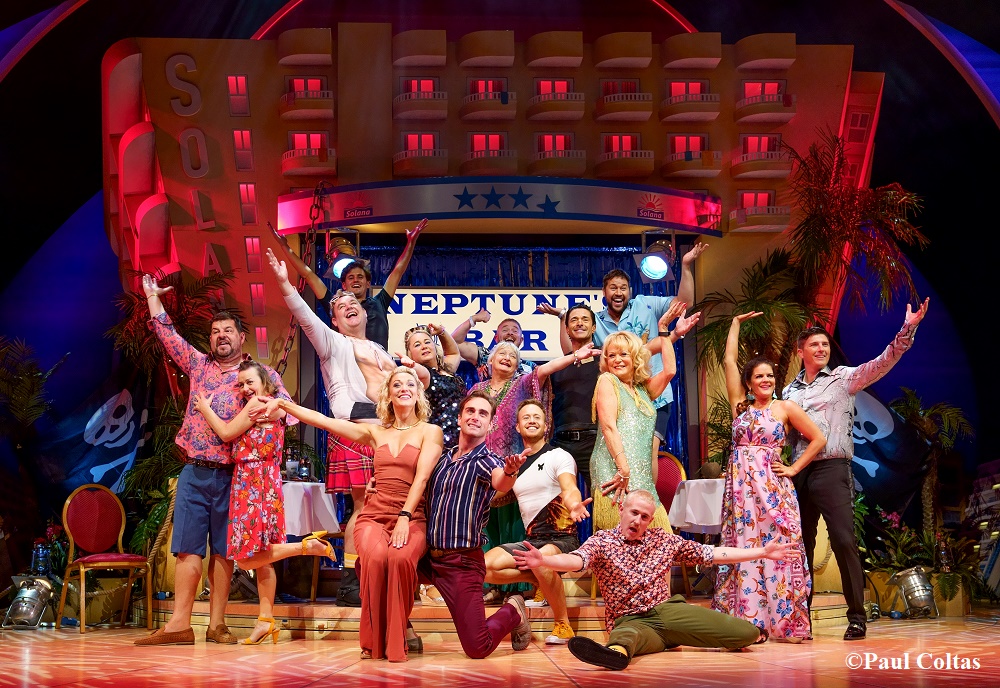 The plot such as it is harks to the early days of the TV version revolving round the hapless employees of the Solana Hotel who hear that their jobs are on the line if an undercover hotel inspector – who might or might not be middle class couple Ben and Sophie – gives them a bad review. Misidentification resulting in chaos is absolutely classic sitcom British sitcom territory and a strong cast who really know this show backwards run riot with it.
Derren Litten wrote many of the TV scripts and his witty book is a veritable explosion of double entendres of the British seaside postcard variety. Despite some of the stereotypes that sometime border on tasteless it is funnier than many supposedly highbrow comedies that are full of their own self-importance they don't get any laughs.
Now the TV show has been cancelled they managed to incorporate bits of the set from the studio in Benidorm and Mark Walter's flexible stage design give a talented cast the chance to have as much onstage as we are having. The last time I saw this much corpsing was at the panto, but you know that no-one cared.
Star of the show is Tony Maudsley as flamboyant hairdresser Kenneth complete with some monstrous age inappropriate clothes, including a mini kilt that is barely legal. He has a deft comic timing, and the interplay with Rada trained Adam Gillen as his daft mate Liam is actually quite touching in a bizarre way.
Jake Canuso has great fun with the seedy lothario Mateo strutting his stuff, and shaking his snakehips, with tongue very firmly in cheek, and old hand Sherrie Hewson as useless hotel manager Joyce Temple-Savage just about manages to keep things moving along. Of the newcomers the experienced Damian Williams is a wonderfully over the top stalker as he chases Kenneth round the stage.
The second half has too much karaoke, although this must be the first time at the Grand that a show has earned a standing ovation for a lusty version of cheesy 1970s number one Y Viva Espana, but it is a show that leaves its faithful fans with a spring in their step as they head off to book two weeks in the sun.
Benidorm Live is on at Leeds Grand Theatre until Saturday 23rd March. To book www.leedsgrandtheatre.com or 0844 8482700.
Reviewer: Paul Clarke
Reviewed: 18th March 2019
North West End Rating: ★★★