There's something wonderfully entertaining watching really good actors creating live Foley sound effects in this entertaining live recording of four specially commissioned mini-plays for broadcast on BBC Radio Leeds.
This version of Airplays follows on from Nick Ahad's Partition staged last year at the then West Yorkshire Playhouse in partnership with their local BBC station . This year they have roped in their other next door neighbour, Leeds College of Music, adding live music to the mix as the cast read their lines from scripts in hand into microphones ranged across the stage.
Just to add extra spice to this complicated live production being staged to celebrate the 70th anniversary of the arrival of Empire Windrush from the West Indies is all four 15 minute pieces are by newish writers.
The broad theme is migration, and first up is Emma Barnes' A Piece of Home, who cleverly uses a Polish migrant playing on a grand piano to show how music not only brings people together, but creates a sense of home wherever you end up.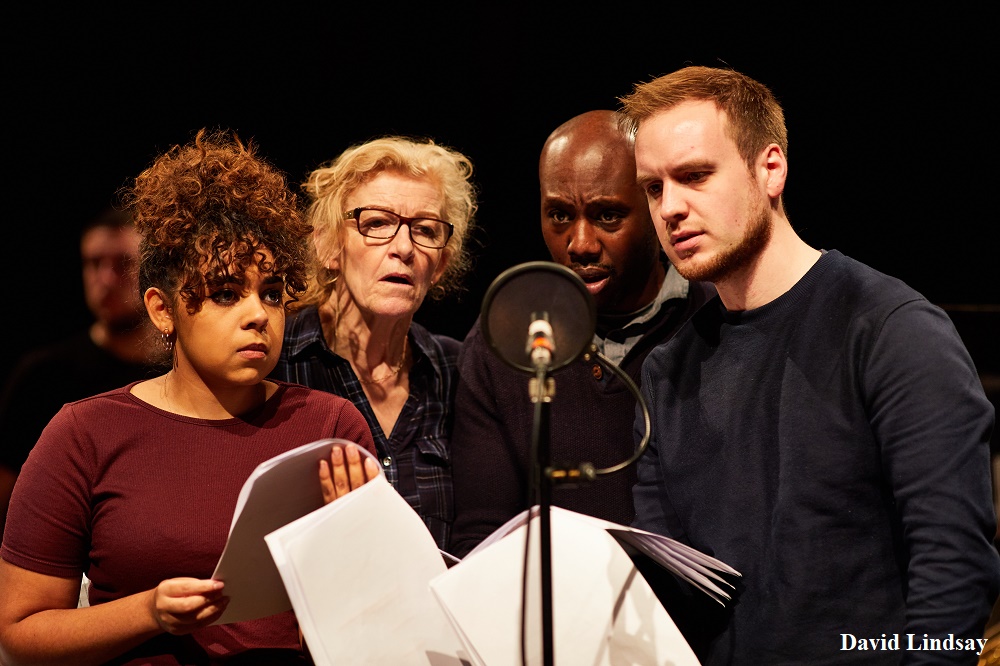 Pick of the bunch is Chris O'Connor's Exodus, which take its cue for the recent spate of apocalyptic dramas to think about what would happen if people in this country were suddenly forced to jump into dinghies to reach safety.
Kamal Kaan's On Hearing the First Cuckoo in Spring is the weakest of the quartet that whilst lyrical did feel more like a piece of prose than a drama.
Gemma Bedeau's Soon Come is a kitchen sink dialogue between two sisters separated by an ocean that speaks to the huge contribution of this city's vibrant West Indian community, who amongst other achievements created the UK's first Caribbean carnival that is still running five decades on.
All four writers show huge potential, especially as they are essentially writing short stories which most writers would rate as the trickiest part of the trade.
They are aided by a quality cast of six actors who switch effortlessly across a wide range of characters and accents, while getting on with pouring water into buckets, slamming doors or slipping on some brogues to add footsteps that create live sound effects for the words giving a rare insight into the magic of radio production.
Playhouse ensemble member Susan Twist is as always utterly believable in both her main roles, before gamely having a go at crashing some sauce pans as the characters cook a meal during Soon Come. All the actors push themselves under Kash Arshad's tight direction, but Alyce Liburd is a particularly strong presence who has a very big future.
The three College of Music alumni seem impossibly young to be making such mature music offering a fascinating insight into how even the most subtle of sounds can add real depth and atmosphere, especially in what is usually a non-visual medium.
This innovative partnership should become an annual event if it can offer this standard of new writing, and skilled performers, allowing audiences a rare and captivating glimpse into how radio is made whilst tackling a big topic that needs a platform like this.
Reviewer: Paul Clarke
Reviewed: 25th October 2018
North West End Rating: ★★★★