I first saw Chicago on Broadway with the mighty Ruthie Henshall ripping the roof off the theatre as Velma but since then it seems to have become a rest home for soap stars and reality show wannabes of wildly varying quality.
This entertaining touring production features three soaps legends in former Eastenders Jessie Wallace and John Partridge, who are joined by Corrie and Emmerdale's Hayley Tamaddon. But the good news is all three have considerable musical theatre experience, and unlike some of the other 'star names' have the chops to deliver all night.
If you are after a cosy night out then this show isn't for you as this is a relentlessly dark tale of corruption as murderesses Roxie Hart and Velma Kelly in 1920's Chicago literally get away with murder thanks to a corrupt legal system, and a supine press willing to peddle the most outlandish lies. Sound familiar?
All That Jazz remains one of the all-time great opening numbers setting the scene for the amoral and sensual mood of the show and as soon as Sophie Carmen-Jones as Velma stalks onto the stage surrounded by a posse of lithe dancers to know you are in safe hands. Carmen-Jones may not have been in a soap but she is a fabulous singer and dancer.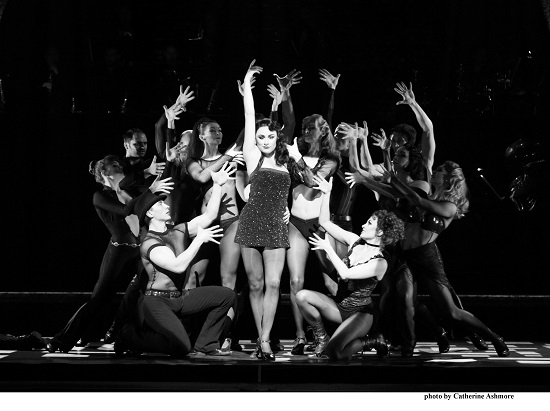 The setting is the traditional monochrome set with a crack band of musicians plonked in the middle, who not only blast out John Kander's tricky period influenced score, but also join in the fun. That means the dancers have to dance right in front of the audience which is a delight as all of them have to tackle Bob Fosse's timelessly brilliant and sexy, but physically punishing, choreography.
I love Fosse's work, and this is one of those rare shows where the 'supporting' dancers are just as vital as the leads, with each and every one of them delivering high quality hoofing all night full of his trademark shoulder rolls, side shuffles, sharp kicks and – yes – tons of jazz hands.
As for the soap stars Tamaddon proves to have a strong voice dealing with the complex steps well, but she is a tad too perky as Roxie as Fred Ebbs and Fosse's book requires complete moral emptiness.
Anyone who has seen the mediocre movie of this show will still be haunted by Richard Gere's disastrous turn as corrupt lawyer Billy Flynn, but Partridge has bags of stage experience and charm which helps erase that memory. He seemed to be struggling with his voice early on, but he was sublime during the demanding We Both Reached For The Gun where he turns Roxie into a puppet on his knees mouthing his lies. He had certainly found his stride by the show-stopping Razzle Dazzle which he landed perfectly as the dancers whirled with great precision around him.
The real surprise package here was Wallace – aka Kat Slater/Moon – who brought a strong set of pipes and genuine cynicism to the pivotal role of Mama Morton. Her powerful version of When You're Good To Mama was beautifully world weary, as was her acting as a woman who has a price for everything.
There is a supreme irony when a knowing show about corruption and the promotion of untalented media whores all too often employs reality shows puppets, so full marks to the producers for hiring actors who might have been in the soaps but are trained professionals who know exactly what they are doing.
Yes, there have been numerous revivals of this show but given the fact our Americans cousins have just elected an orange faced moron to the Oval Office its exposure of moral turpitude is timely.
Otherwise you could just sit back and enjoy a superior production of a show where literally every character is loathsome, but cleverly exposes darkness and cynicism in a way no other musical can get near.
Chicago plays Leeds Grand Theatre until Saturday 26 November. To book ring 0844848 2700 or www.leedsgrandtheatre.com
Reviewer: Paul Clarke
Reviewed: 22nd November 2016
North West End Rating: ★★★★