Following its huge success in Broadway and The West End, Kinky Boots is now strutting its stuff around the rest of the country. Arriving in Stoke this award winning musical with lyrics and music by Cyndi Lauper is certainly making an impact.
Kinky Boots is a comedy drama and based on a true story of a British Shoe Factory in Northampton and its new owner, Charlie (Joel Harper Jackson). The factory is struggling particularly since the death of Charlies Father, its previous owner. It is only when Charlie meets drag artist Lola that the future direction of the factory changes. Charlie's partnership with Lola (Kayi Usher) seems unlikely but an idea based on designing footwear for drag queens has a life changing effect on his previously struggling business. However it is perhaps the effect on him personally that makes the most impact as this is more importantly a story about acceptance and understanding of self and also of others. It does this very well indeed and delivered with both humour and sincerity, is not at all 'preachy' in the way it demonstrates this.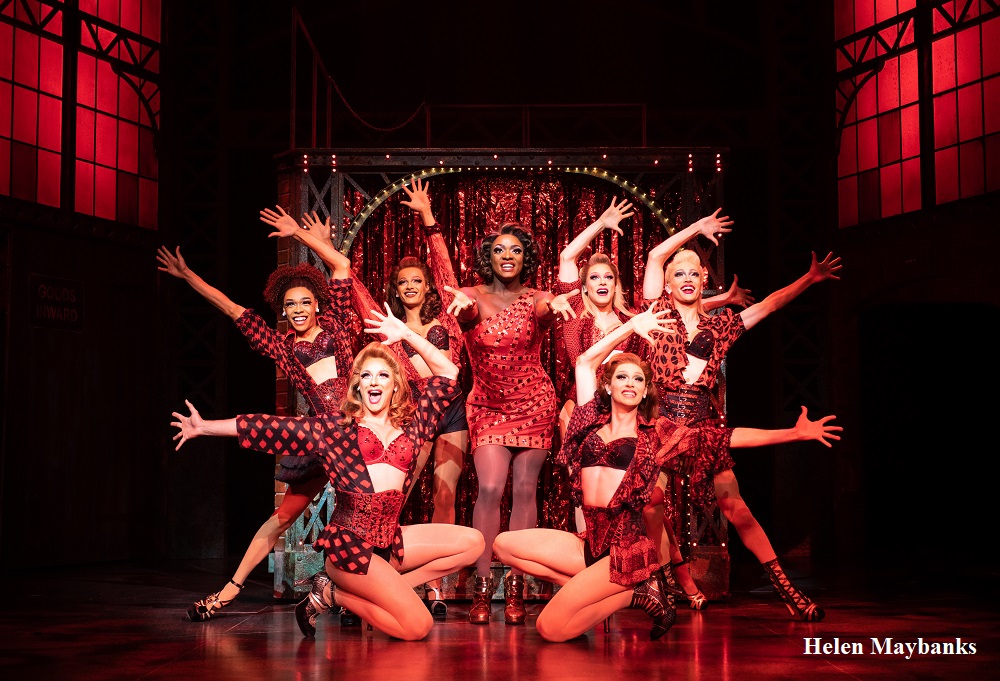 Joel Harper-Jackson playing the role of Charlie and returning to his home town of Stoke provided an extra special performance on Tuesday night. His role as Charlie was performed with a touching sincerity as he interacted with the other performers, particularly with the character of Lola. The two men could not be more different in stature and frame but complemented each other perfectly in their individual search for acceptance. Charlie's character was appropriately 'ordinary' whereas Lola's was outrageous from the moment she came on stage
Kayi Ushe as Lola was simply fabulous. Lola a drag artist, originally from Clacton was consistently vibrant and enigmatic, so much so that you could hardly take your eyes off him. Compared to his non drag artist character of 'Simon from Clacton' who made an appearance at the shoe factory - these two personas could not be more opposite if you tried. With a stunning, powerful voice, his rendition of 'Sex is in the heel' was unforgettable.
Stand out performances must include George played by Adam Price whose stage presence as foreman in the shoe factory and friend of Charlies recently deceased Father was spot on. His performance was touching in his relationship with Charlie, however his equally brilliant comedic timing was also hilarious to watch. A scene when he interacts with Lola was hysterical.
Dancing from Lola and her 'girls' was mesmerising. Clad in glamourous, outrageous outfits, dancing was first class. Technically adept, these girls knew how to put on a show. The comparison in costume between the factory workers and the drag artistes created a wonderful visual on stage. This, along with excellent lighting and stage set added to everyone's performance. The change from factory conveyor belt to cat walk was poignant and very well executed.
Kinky Boots is undoubtedly a feel good, fun musical and would brighten the dullest of days. Leaving the theatre with a little more of a strut on the way out, this was one fabulous night of theatre.
Surely there is nothing more to want in a musical- outrageously camp outfits, dancing drag queens and red sexy boots, yet this was also a touching story of acceptance and self-belief, in many ways perfect timing for a 2019 audience.
Reviewer: Angela Kelly
Reviewed: 29th January 2019
North West End Rating: ★★★★★