Writer Annabel Wigoder has transformed Lewis Carroll's poem into a lively and charming piece of children's theatre that was brought today to Salford's Lowry Quays theatre and is to run until Sunday 19th November 2017. However this production is not a dramatization of Lewis Carroll's celebrated nonsense poem but a retelling aimed at children aged four and upwards.
This adaptation of the poem is tale of adventure, bravery and above all the value of family (poignantly reminding us money can't buy everything or bring back lost mothers) – all set on an mysterious and magical island where a little bit of escapism and silliness never goes amiss.
The Hunting of the Snark has been reworked as the story of the Butcher (Polly Smith), Baker (Will Bryant), Banker (Simon Turner), Bellman (Ben Galpin) and Boy (Jordan Leigh-Harris) who head out on a the quest to find the infamous and illusive Snark.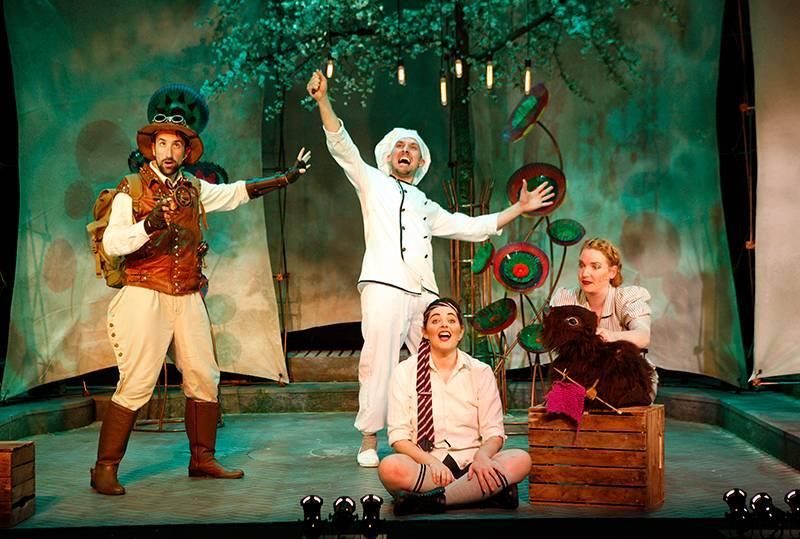 The boy's unavailable and aloof father, a greedy money worshipping banker, sets up a Snark hunt. Following supposed sightings and media frenzies that gives rise to the ever growing Snark fever. The Banker plans to snare the Snark and maximize cashing in on it.
He commissions a ship and assembles a crew: a captain, the Bellman (whose equipment includes a homemade Snark detector), a Baker, a Butcher (whose special cooking ingredient caused a whole audience to audibly retch) and a Beaver who spends all his spare time knitting. The Boy's father (the Banker) pronounces that his son (the Boy) can't come with them; subsequently leading the boy to sneakily stow away onto the ship (that does not allow animals or children), to join the quest to catch a Snark.
Justin Nardella's design transported the audience from grey, flat London to a psychedelic tropical island, complete with green sand, a purple sea and oodles of luminous flowers.
In my opinion Polly Smith gave the standout performance as the villainous blood thirsty Butcher, salivating at the thought of Snark meat and delivering the funniest lyrics of the show. Her comedic timing was superb and despite her vile character she was captivatingly funny and mesmerising to watch.
However it was the animal characters that really got my little companion giggling. The beaver with his exemplary knitting skills with a taste for Twix was a stylish piece of puppetry and my 5 year old loved him. Although it was the giant jubjub bird made of multi-coloured streamers that was greeted with shrieks of delight from my daughter every time it swished on to the stage. My little companion threw her head back in squeals of delight and I couldn't help thinking the bird resembled Rod Hull's Emu on a hallucinogenic drug with a psychedelic outfit, which actually made me laugh out loud also.
Gemma Colclough's production is complimented by Gareth Cooper's soundtrack of live music played mainly on an acoustic guitar. While the whole thing finishes without a snared Snark, it does have a happy ending after the mysterious Bandersnatch (a fantastically camp kleptomaniac) kidnaps the Boy consequently the Boy's greedy father finally converts from big banker to the father the boy was longing for.
For a production that features a Baker, a Bellman, a Butcher, a Banker and Boy – you can now add the words boundless and brilliant.
The Hunting of the Snark is a great piece of children theatre that has all the ingredients to guaranteed 75 minutes of pure indulgent silliness and fantasy.
To find out more visit www.snarkthemusical.com or to book tickets to see whilst at the Lowry Salford www.thelowry.com/family
Reviewer: Victoria Wilmot
Reviewed: 17th November 2017
North West End Rating: ★★★