Liverpool's Royal Court does a fantastic job at producing new musicals set in Liverpool and their current production of Girls Don't Play Guitars is no exception. This is a fantastic showcase of the cast's musical abilities and of the music of the not very well known all-girl rock'n'roll group The Liverbirds. The plot is simple but the show tells the story of how The Liverbirds were well on their way to be the next big thing but just didn't make it.
The cast is led by four very talented up and coming talents. Molly-Grace Cutler as Val is very entertaining. Her vocals are truly exceptional and she gets the chance to showcase a good variety in her acting. Alice McKenna as Mary is wonderful. She brings a wonderful innocence to the role which works very well. Her vocals are very strong but unfortunately she doesn't get much chance to show them off.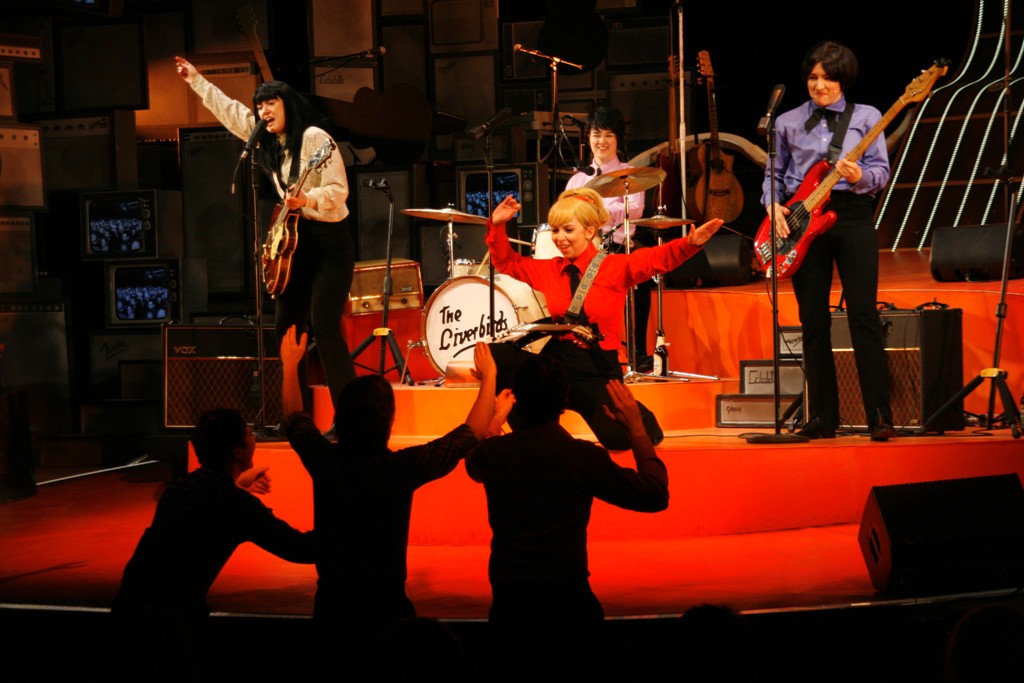 Sarah Workman gives a strong performance as Sylvia whilst Lisa Wright leads the group very well as Pam. She gets the dominating presence just right early on in the show and her vocals are enjoyable to listen to throughout.
They are supported by several multi-rolling male performers. Guy Freeman was great as Stephan and he had a great on stage chemistry with Cutler, although it would have been nice to see their relationship develop more. Jonathan Markwood had a great stage presence opening the show as the Beat Club Presenter and he does a great job as Manfred Weissleder.
Howard Gray must get a huge amount of credit for this production. The music is the highlight of this production and it sounds brilliant. Ian Scott's lighting is spot on and it works very well alongside Jamie Jenkin's projections to show different locations. Mark Walters design is simple but it works well for the piece. There were some creative moments but it would have been nice to have a bit more set at times.
Girls Don't Play Guitars is a great tribute to The Liverbirds and it is great fun. The show knows what it is and what it needs to be and it definitely delivers. Despite clearly not being the target audience for this show, I still had a great time. If you're looking for a fun night out with some great music, this is the show for you.
Until 2nd November https://liverpoolsroyalcourt.com/whats-on/girls-dont-play-guitars/
Reviewer: Jacob Bush
Reviewed: 9th October 2019
North West End UK Rating: ★★★★