Likeminded Productions' latest piece penned by Christopher Woodward and directed by Caitlin Bradley and Zara Marie Brown is set in the late 1970's/early 1980's and explores the emotional roller coaster of being in love, wanting to love, and wanting to be wanted in a world long before you could simply swipe right to engage in sexual relationships.
Set in a newspaper production office, we meet young buck Jasper (Lew Freeburn), who is apparently happy in his relationship with Sarah (Emma Webber) but has a roaming eye for the new recruit Iris (Sophie Tyrer). Throw in a vindictive boss Patricia (Deborah Elizabeth) and a work rivalry with Carl (Daryl Holden) and you'd think Jasper would appreciate the wisdom of elderly sage and sop Jeremy (Steve Dean) as the interesting clash of dynamics between the characters unfolds as over several years as compatibilities are explored, jealousies explode, and home truths are finally revealed.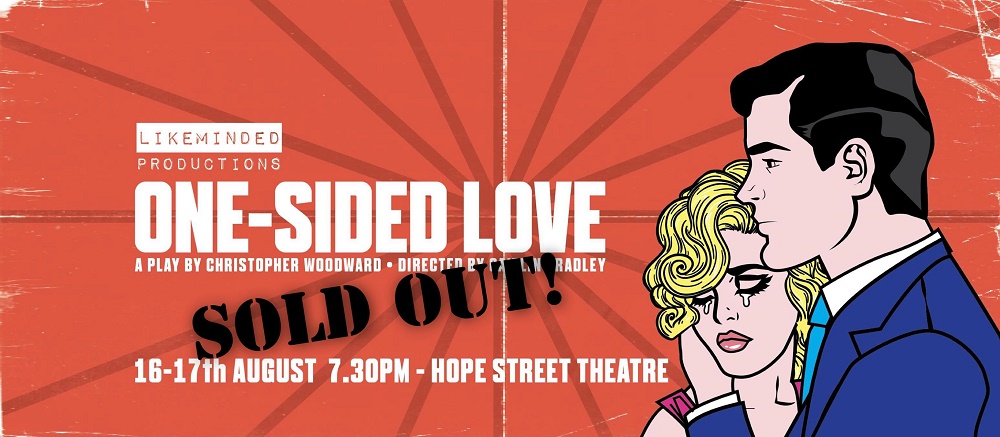 It's an interesting idea to explore as we have all encountered love and heartbreak in one form or another. Can you love two people at the same time? Is there a distinction between loving someone and being in love with someone? Do we have a choice who we fall in love with? Or do we fall in love with the idea of love and chase an eternal dream in a vicious circle of spiralling obsession? Whatever your view, love should most definitely not be one-sided.
There were strong performances from the cast with Freeburn's cocksure Jasper reminiscent of a young Finney whilst Dean's authentic portrayal of Jeremy captured the melancholic gloom of a life lost. The staging was kept simple and worked all the better for it under the management of Immy Wood and cast, replete with period specific props such as a rotary dial telephone, typewriter, and ashtrays on the desk. I liked the use of period-appropriate songs although there were some missed opportunities with lines such as 'slip away' and 'where do I go from here' crying out for a background chorus.
There was clever use of the space throughout – with some good choreography to start proceedings – and I liked the way the delivery was broken up with characters often stepping out of a scene and half-breaking the fourth wall to share their thoughts aloud. My only concern was sometimes this became a little extended with a tendency towards telling rather than showing, and on occasion this punctuated itself in the dialogue between characters too: I've always liked Gabriel Byrne's approach of assuming that your audience are intelligent and letting them work it out for themselves.
Likeminded Productions are a likeable crew and it is refreshing to see them exploring and delivering new ideas and material. As a writer I know how easy it is to become insular with your work and I wonder whether moving forward a third-party review might help to tighten things up.
The Hope Street Theatre is an interchangeable fringe venue in the heart of Liverpool's culture district that encourages and drives new work. Further details available at http://hopestreettheatre.com/
Likeminded Productions are a Liverpool-based production company bringing modern performance to the stage and screen. Further details at https://www.likemindedproductions.co.uk/
One-Sided Love performs once more at The Hope Street Theatre on Saturday 17th August, but it is sold-out. Likeminded Productions are hopeful of touring the production in the near future and on the basis of two sell-out shows – with the largest capacity audience I have seen staged at The Hope Street Theatre – then that should just be a formality.
Reviewer: Mark Davoren
Reviewed: 16th August 2019
North West End Rating: ★★★