Liverpool Empire Youth Musical Theatre Company present 'Rent'. There is no doubt that this young theatre company had a challenge on their hands by choosing a musical that is not only completely sung from start to finish but filled with difficult adult themes. However, tonight, on opening night, this company have managed to deliver a highly polished performance with both confidence and style.
Rent is a rock musical written by Jonathan Larson who tragically passed away the day before the show's first scheduled performance in 1996. The story follows a group of young New Yorkers as they try to manage money, love and the effects of the AIDS epidemic in the late 80s / early 90s. We meet housemates Mark (Jamil Abbasi) and Roger (Alex Hayden) who find themselves in trouble with landlord Benny (Charlie Douglas) when they can't pay their rent. Mark's former girlfriend Maureen (Charlie Mae McKevitt) has moved on to a new lesbian lover Joanne (Mica Sefia) however Mark and Joanne find themselves bonding when this new relationship gets rocky.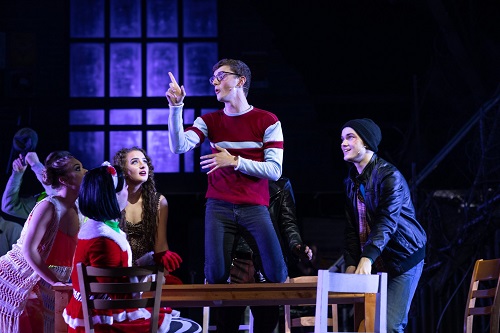 Meanwhile, love is also blossoming on New York Streets when Tom (Will Callan) meets his true 'Angel' (Kai Grósscurth) who saves him in so many ways when he has nothing left and Roger's new girlfriend Mimi (Ellie Norton) hides what she can as their relationship develops and it's unclear whether this pair can get past their difficult 'baggage'.
Due to the skilled delivery of this performance, it was very easy to forget that this was a youth production with a cast ranging in age from sixteen to nineteen years old. There is not a weak link in the casting and every single performer gave it their all. My personal favourites were Kai Grósscurth who played Angel in a funny, endearing way that made the audience fall in love with him and Alex Hayden who played Roger with stunning vocals that almost felt like they melted into my ears. However, I know every audience member will have their own favourites after such strong performances. The principals were supported well by a large chorus of thirty who brought energy and diversity to the stage as well as some noteworthy solo's. It was clear that every single performer in this production is very talented.
On a personal note, this was my first experience of 'Rent' and I did find the first act difficult to follow as I didn't know the characters or themes to look out for. Perhaps this is due to the nature of the storyline, but it wasn't until the second half that things started to click into place. The first act in particular felt like something was missing and I can't quite put my finger on what it was. The static set (which was beautiful) means that the audience must use their imagination to envisage a strip club, a café, a meeting room and much more. I am confident that those who are familiar with the story will not experience the same difficulties. The music is electric, and this company should not be afraid to bring forward as much rock and roll as they can find. The voices and harmonies produced within this show were absolutely, undeniably stunning and this cast could record a soundtrack that would give the originally a run for its money. Similarly, the choreography was very strong, and it was clear that these young performers had worked extremely hard to achieve something that was fun and energetic as well as emotive and touching.
I am confident that a large number of these performers are heading for bigger and better things and it is an honour to watch their raw talent at this early stage of their career. However, they did not get their alone and this company relies heavily on the support of a strong production team, namely Natalie Flynn as Director, Hayley Rose Rooney as Choreographer and Paul Lawton as Musical Director. This team, alongside the support of many others, have created something truly special by teaching and supporting this large cast to act, dance, sing and deliver. Congratulations to cast, crew and the whole company for producing one of the most challenging musicals with professionalism and passion. Rent continues at Empire Theatre, Liverpool, for ticket information, please visit https://www.atgtickets.com/shows/rent/liverpool-empire/
Reviewer: Blathine Maguire
Reviewed: 26th July 2019
North West End Rating: ★★★★