I am not a particular fan of murder mysteries on television so I was probably not the ideal reviewer for the stage adaptation of Ruth Rendell's 'A Judgement In Stone' this evening and in all honesty not particularly looking forward to this production by The Classic Theatre Company. Obviously, I was in a minority as the theatre at Blackpool's Grand Theatre had a good attendance of amateur sleuths.
So whodunnit? The play opens with the crime already committed with the murders of the entire Coverdale family (George and second wife Jaqueline and two children) being investigated by Detective Superintendent Vetch (Chris Ellison known for his appearances in many TV classics but possibly renowned for his role as Frank Burnside in 'The Bill') and Detective Sergeant Challoner (Ben Nealon). It is now five weeks since the Valentine's Day murder at the Coverdales home Lowfield Hall and housekeeper Eunice Parchman (Sophie Ward) is still in residence and being questioned about the events and her recollection of the day. Ward portrays her character perfectly, a working-class woman with simple needs and an earnestness that appeals to the middle upper-class Jaqueline Coverdale (Rosie Thompson) who has no hesitation in employing her. Thompson performs well as the nauseatingly patronising at times, Jaqueline, but also has an endearing quality.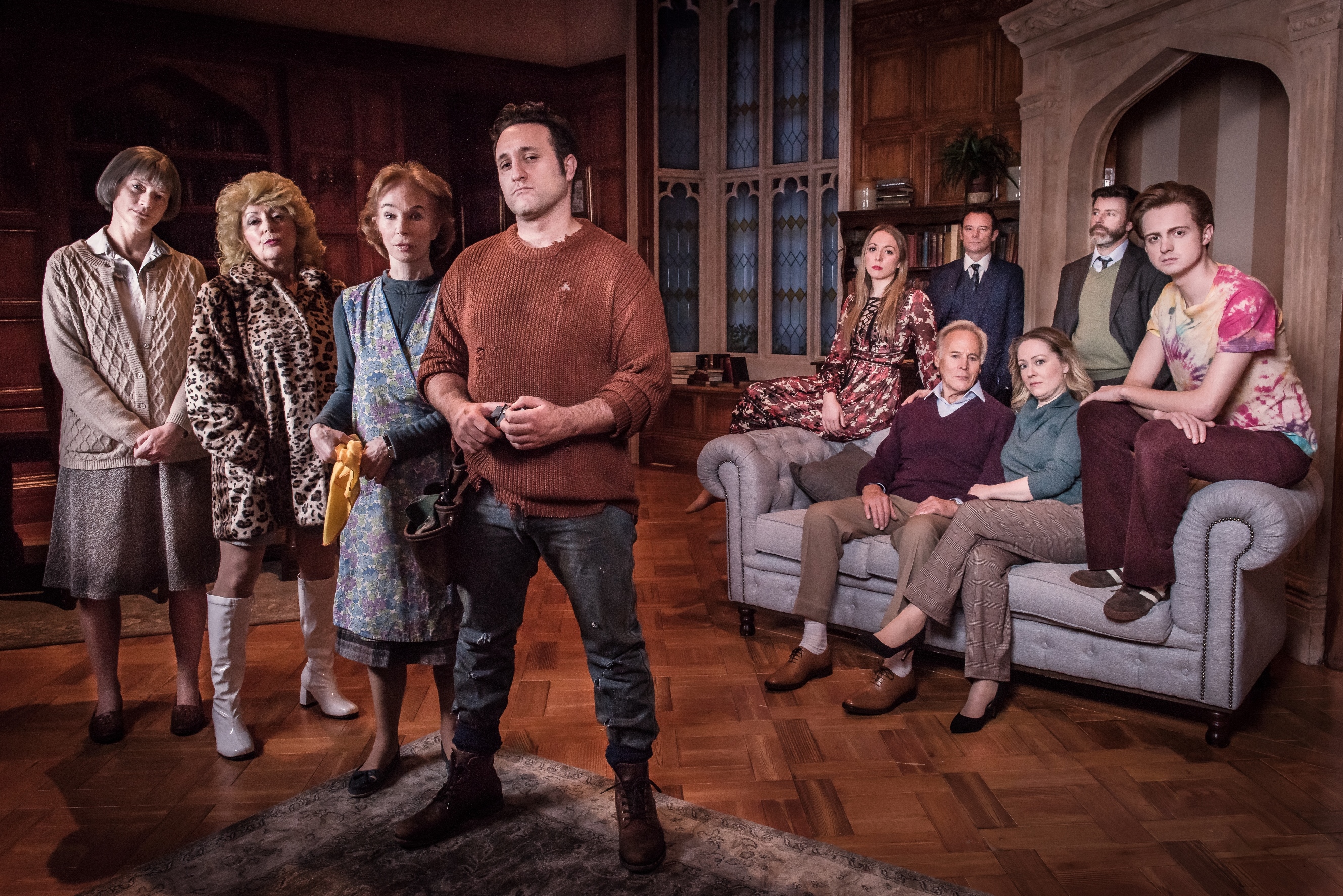 Set in 1978 and entirely in the lounge at Lowfield Hall characters and possible suspects are introduced to the play as the scenes to and fro with flashbacks to events before the murders and to the investigation day. This surprisingly, is executed smoothly and quickly as the lights dim slightly and actors leave or appear onstage. We meet Rodger Meadows (Antony Costa, ex Blue member) gardener/handyman with a criminal past and a nasty streak, reformed or not? Cleaning lady Eva Baalham (Shirley Anne Field) annoyed with her employers at the appointment of the housekeeper resulting in her hours being cut, an axe to grind? Joan Smith (Deborah Grant) brassy postmistress, unlikely god-fearing woman with a manic side and a link to George Coverdale (Robert Duncan). Giles Mont (Joshua Price) is the deep and troubled son of Jaqueline whilst Melinda Coverdale (Pamela Dwyer) daughter of George Coverdale holds a couple of secrets. Murder then suicide? Like all murder mysteries there is bound to be a reason for all to be the potential murderer. All is possible as this play unravels and motives and clues are unravelled by the convincing Detective Superintendent Vetch and Detective Sergeant Challoner.
There is no more to be said as I have no wish to spoil the intrigue other than to say I thoroughly enjoyed my evening. (Doubt I will be converted to the TV murder mysteries though!) This stage adaptation of A Judgement In Stone presented by Bill Kenwright won't leave your heart racing or have you on the edge of your seat but I can fully recommend if you get the chance to get along to see it as it is well acted by all the cast and makes for a great evening's entertainment. The current run is until Saturday 14th October at The Grand Theatre Blackpool. https://www.blackpoolgrand.co.uk/event/a-judgement-in-stone/
Reviewer: Lorna Weekes
Reviewed: 9th October 2017
North West End Rating: ★★★