Despite being over forty years old, The Rocky Horror Picture Show is still as fresh as ever, attracting audiences both old and new. It only takes one visit to see the show to see the level of public commitment and cultish gatherings of fans to get the "Rocky bug". My first visit to see this spectacular musical was a few years ago as part of the 40th Anniversary Tour in Milton Keynes, which was a theatre experience like no other. As all visits to Rocky Horror to date have involved audience participation and of course, dressing up as your favourite character! This week, the streets of Sheffield City Centre will be filled with such Rocky-esque costumes and last nights opening performance certainly did not disappoint for both audience participation and cast performance.
After a short run at London's Playhouse Theatre, which I had the pleasure of attending and meeting Rocky's creator – Richard O'Brien himself, the Rocky Horror Show, as it is now more commonly referred to, has been touring the UK and is currently performing at the Lyceum Theatre, Sheffield until Saturday 25th June. With several cast members continuing their roles from the run at the Playhouse Theatre, including Sophie Linder-Lee as groupie Columbia, Kristian Lavercombe as Riff Raff and Dominic Andersen as Rocky, with Richard Meek remaining also, however this time as the role of Brad as opposed to Eddie/Dr. Scott as played in the West End. Newer cast members include the X-Factor's Diana Vickers as Janet, S-Club 7's Paul Cattermole as Eddie/Dr. Scott and one of comedy duo Hale and Pace – Norman Pace taking over the role of Narrator.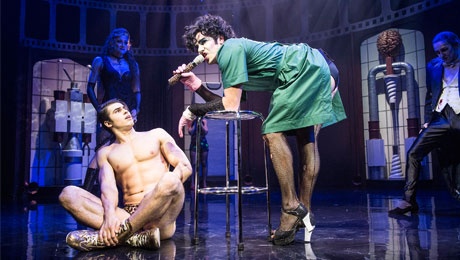 Kay Murphy set the scene and got the already excitable audience ready for the sensational performance ahead with a wonderful rendition of "Science Fiction/Double Feature" as the Usherette, later on giving an equally fabulous performance as Magenta. The stage set was the same as the Playhouse performance and worked wonderfully in this grand theatre. Richard Meek, having been fantastically cast as Eddie/Dr. Scott in the London production, gave an equally loveable performance as Brad, whilst Diana Vickers excelled as Janet, going from naive inexperienced Janet to giving herself over "to absolute pleasure". Liam Tamne proved he had come a long way since I first saw him perform at the Queens Theatre, London as Enjorlas in Les Misérables, giving both a camp yet butch performance as transvestite Frank-N-Furter and was perfectly paired with Dominic Andersen as Rocky, Frank's lab creation with "dark hair and a tan" – and Dominic certainly looks like he may well have been created in a laboratory, with such perfect looks and physique he had all the ladies – and the men's – hearts racing! The audience went wild for him!!
Kristian and Sophie, as Riff Raff and Columbia, still give a fresh performance despite having been in the show for some time – Kristian having done the show almost a thousand times and being part of the 40th Anniversary tour, the New Zealand tour and Asian tours. Kristian is on par with Richard O'Brien, who not only originated the role of Riff Raff, but is also, of course, the creator of the Rocky Horror Picture Show. Sophie's quirky personality and characteristics shine through in each performance as Columbia, with her high energy levels and personality shining brighter than her sequinned shorts in her awesome tap dancing solo in "The Time Warp".
This musical will still be as fresh and attract huge audiences in another forty years. There will always be a light over at the Frankenstein place!
The tour continues further in the year and will be returning to Yorkshire in time for Halloween, this time at Leeds Grand Theatre. I for one can definitely feel another visit in the pipeline, where I indeed will do the "Time Warp" once more.
Reviewer: Lottie Davis-Browne
Reviewed: 20th June 2016
North West End Rating: ★★★★