When Leeds Playhouse closed its doors for a long overdue refurb of its main space it created a pop up theatre to be the home for an ensemble of actors a modern rep company and they are about to finish their year long journey in Amanda Whittington's Be My Baby.
Former Brookside star Susan Twist was one of the more experienced members of that ensemble producing some outstanding work especially as a confused older woman in an electric revival of Jim Cartwright's Road that announced them as a force to be reckoned with.
"Be My Baby is set in 1964 over two months in a place called St Saviours, which is a Church of England mother and baby home, you know, those places where girls who were pregnant and not married were sent," says Susan. "I play the matron of the home and as it is 1964 there is all this great music like Chapel of Love, the song Be My Baby and lots of Dusty Springfield. It's quite moving by the nature of it as this girl Mary has been brought in by her mother.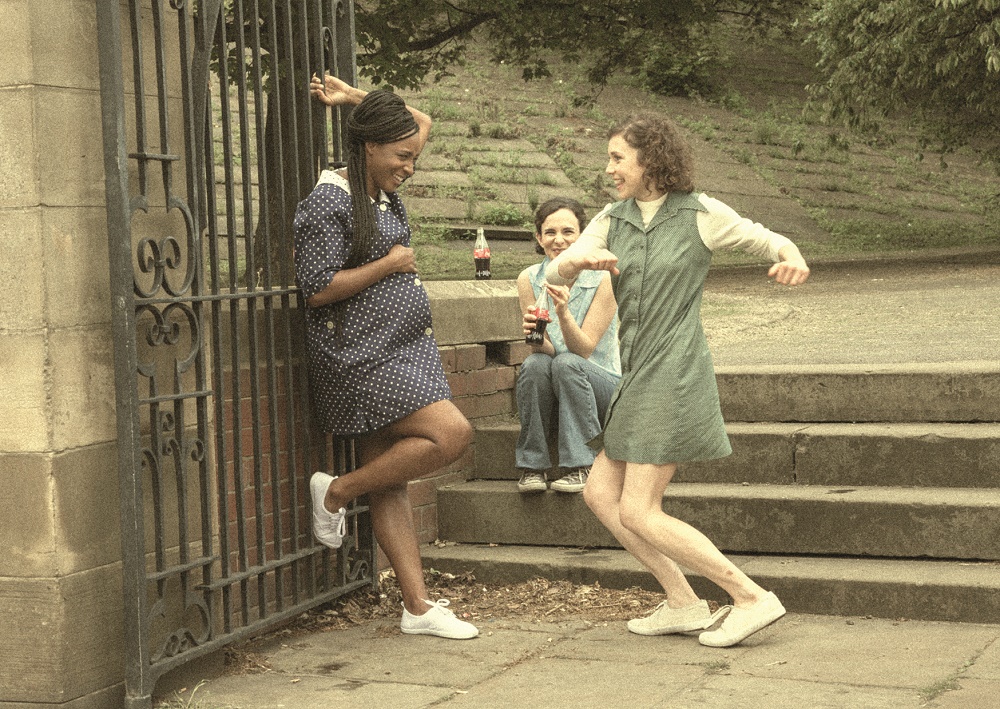 "The nice thing is they all different types of people, so it's like the army where they are brought together, Mary is quite a middle class girl and an only child. It's the innocence of in those days as they didn't know anything, we think, and sex wasn't talked about, and it is quite funny. We've done a bit of singing as I think in the original they just put the records on, but we've done a bit of recording of the songs."
Joining the all-female cast for this show is the talented Anna Gray who plays Norma, a young mum to be with learning disabilities. Even today around 90 % of parents with learning disabilities have their children removed from them, so is Matron sympathetic to the young women, or a Nurse Ratched style bully determined to have her way?
"She can be like that as she's not terribly warm, but you do gradually get to know her, hopefully she is a human being, but strict. We also have the lovely Anna joining us from Mind the Gap, who work with actors with learning disabilities and that is interesting as matron can be quite patronising to her. Hopefully she's not too awful."
Susan also has personal memories from a time when our nation's attitudes to single mums was rooted in outdated Victorian thinking, and a need to punish vulnerable young women.
"The director Jacqui Honess-Martin and the designer didn't want it to feel like a historic piece and it is all still relevant. You see women in their sixties and older still missing those children, it happened to my cousin, and we didn't know about it as she was whisked away.
"You never forget, and we watched a documentary which was heart-breaking talking to the women who were in these homes and weren't told anything. The rule was they had to have them for six weeks before they were torn away from them, which is appalling whether it is straight after the birth or in six weeks."
It has been a rare and fascinating experience for the Playhouse audience to watch the ensemble develop over the last 12 months taking everything from David Greig's rarely performed Europe to a warm-hearted take on A Christmas Carol as their festive offering. Even for a hugely experienced performers like Susan the ensemble experience has been richly rewarding.
"It's very different to 41 years ago when I left drama school, you went into rep, and that was usually an ensemble that was brought together for the season," recalls Susan. "Every town had a rep, and it was so great to be part of a group of people for that length of time as there is comfort being with people you know how to work with, and there is something unspoken something that happens.
"I think you can tell onstage, and I noticed that with the boys when they did Around the World in 80 Days as there is a shorthand there. Mostly these days you do one play with maybe a three week rehearsal, it's on for three weeks and then you are away. It's a lovely thing the Playhouse Artistic Director James Brining has done, which he did in Dundee, as he likes the idea of an ensemble company, and it doesn't happen that often."
And for the younger actors like Tessa Parr who led the critically acclaimed modern take on Hamlet this may be their only chance to be part of the rep experience that shaped the careers of most our theatrical Dames and Knights. A rare chance to spend months developing their craft that all of them have eagerly seized.
"I'm thinking of the younger people like Dan Parr or Tessa, and you are learning from each other. You are always watching people in rehearsals and I think you feel more relaxed to try things and play and experiment more when you feel more comfortable. You don't feel as restricted especially with our director Amy Leach who encourages us to play and work together.
"Olwen May who is a lovely actress came to see Road, then Hamlet, and the first thing she said was you can just tell you have been working together for a while. It's so great to play so many different types of roles and it has been a great opportunity for all of us."
Be My Baby is at Leeds Playhouse from Saturday 11th May to Saturday 1st June. To book 0113 2137700 or www.leedsplayhouse.org.uk