This was my first visit to the Lawrence Batley Theatre and I must say I was impressed, the staff where very pleasant and helpful and the actual theatre itself cosy and it felt like you were part of the performance.
Evita is another musical masterpiece by Tim Rice and Andrew Lloyd Webber, Tim Rice was fascinated by the life of Eva Peron and this was the driving force in producing lyrics for this musical.
The musical was performed by Huddersfield Musical Theatre Company and I must say they produced an excellent show, with some excellent performances from Sonya Morris and Joe Medlock as Eva and Che.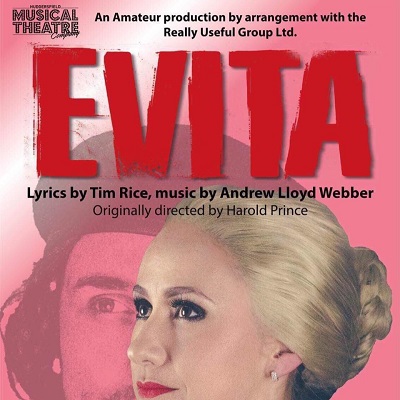 The story is well known and is a theatre classic and the audience appreciated the hard work that had gone into the production of the show. It was brilliant to see so much upcoming talent.
The staging was very well done and in this intimate theatre it certainly transported you back to Buenos Aires in the 1940s .The orchestra was excellent playing Lloyd Webber's fantastic score and it was so good to see an amateur production with live music and the musical director Robert Durkin should be justifiably proud of the production and the sound produced.
The cast was a mix of adults and some children, all gave very good performance, costumes fitted very well into the era of the show and you could see a lot of work had gone into the whole production of the show.
If I was to be a little bit critical, I do think there could have been more props on the stage at times, it looked a little bit empty, but it did not detract from the overall production and story.
This was their opening performance! The performers and creative team put in an awful lot of time in producing shows off such a high standard, for anyone looking for a good show to see in north Yorkshire this is a must, runs until Saturday the 9th November. https://www.thelbt.org/shows/evita/
Reviewer: Eugene Griffin
Reviewed: 5th November 2019
North West End UK Rating: ★★★★