Like the elusive Godot one of the main protagonists in Charley Miles' latest play never appears and that is right because There Are No Beginnings is about giving millions of women their voice back.
As background for her third play Miles talked to dozens of women about what it was like when Peter Sutcliffe spent half a decade murdering 13 women and leaving seven more for dead. Her response is four women going through the cycle of insidious terror, and then fighting back against the Yorkshire Ripper during that dark period between 1975 and 1980 when a pall of fear seemed to hang over the North in particular.
June Collier (Julie Hesmondhalgh) works in a unit for vulnerable women that takes in Helen (Natalie Gavin), who is being exploited by her pimp 'boyfriend'. Helen make friends with June's naïve teenage daughter Sharon (Tessa Parr), who is of a similar age, but more concerned with mooning over Donny Osmond. Fiona (Jesse Jones) is an ambitious young West Yorkshire copper who spars with June as the Ripper investigation carries on in a spectacularly incompetent way driven by machismo.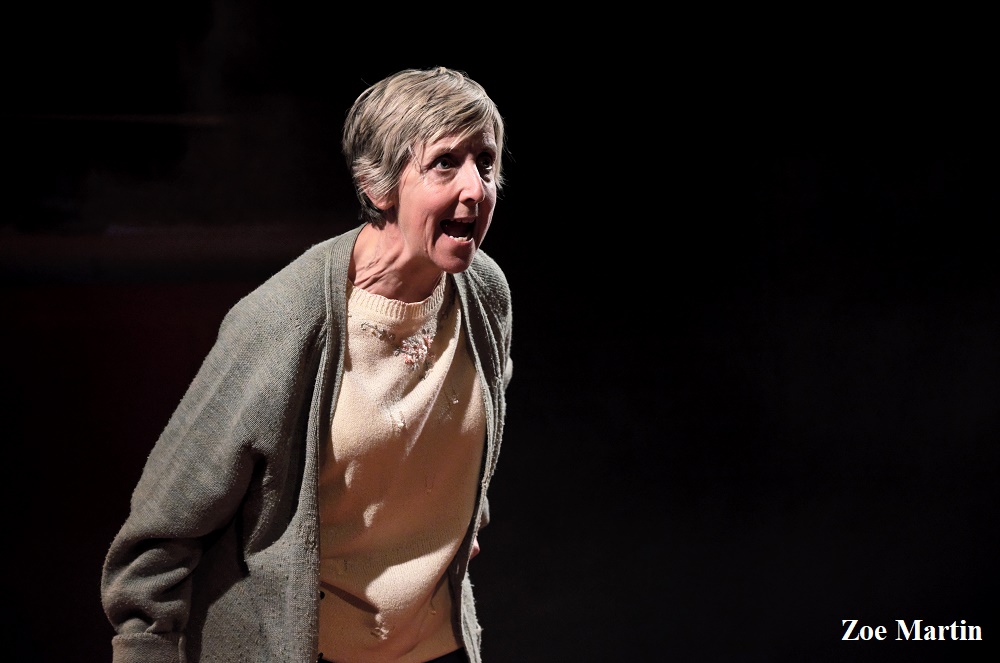 Miles wisely gives her intelligent, and often funny, text room to breathe as time is needed to examine how a fear of a madman June describes as 'a pathetic little boy' becomes terror, and then turns outwards into defiance. As Sharon muses why do people want an 8pm curfew for women when it is a man who is doing this?
This is the first production in the intimate Bramall Rock Void space which amplifies the claustrophobic fear the women face as their worlds seem to shrink on the bare stage. The cast quickly change costumes pegged up on the walls as the years progress punctuated by eerie bursts of contemporary coverage, including the now infamous Wearside Jack hoax tape.
It is also a treat to watch Hesmondhalgh in such an intimate space as her wonderfully expressive face and raw humanity shine through making the spiky June, who is based on a real care worker, complex and flawed like all of us. When Hesmondhalgh shifts gear from wary warmth with Fiona to full fury as she suddenly realises her erstwhile mate thinks June's husband could be the Ripper is full of such control that all actors should watch it.
Tessa Parr has just come off a year in the Playhouse's acting ensemble, where she really grew as an artist, and she brings all that extra nous capturing the gaucheness of a careless teenager who matures to join the Reclaim the Night Marches as local women fight back. Anyone who had had to deal with a teenage daughter knows Parr has the attitude and mannerisms spot on, and it won't be long before she is on a national stage.
Gentleman Jack's Natalie Gavin has a much trickier role playing a damaged young woman who ends up in the frontline as a sex worker, but her raw and utterly honest performance makes Helen less of a victim, but a real person who finds a kind of uneasy security with the Colliers.
It's actually quite scary that this is Jones' first big job as an actor as she confidently matches the vastly experienced Hesmondhalgh, who clearly relishes their sparring, in some really intense double headers. Jones is definitely a talent to watch, and the powerhouse cast benefit from Amy Leach's sympathetic direction guiding the smart acting choices that make the women whole people not mere cyphers.
Spending millions on a brand new theatre is pointless if the work doesn't match up, and this is exactly the level of brave and pertinent emerging work with a top-quality cast that needs to be staged in this space. More than that in an age of #MeToo it acts as a reminder that those women stand on the shoulders of Northern giants who also faced up to misogyny and violence of the very worst kind.
There Are No Beginnings is at Leeds Playhouse until Saturday 2nd November. This is a small theatre so limited availability at www.leedsplayhoue.org.uk or 0113 2137700.
Reviewer: Paul Clarke
Reviewed: 17th October 2019
North West End UK Rating: ★★★★