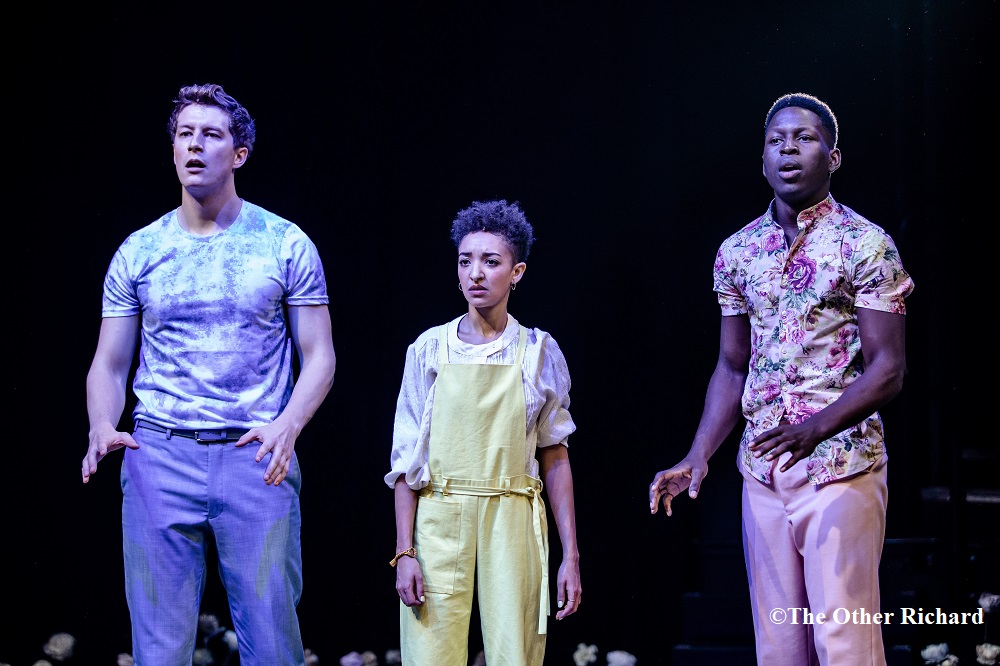 There was a real buzz in the air tonight at The Crucible Theatre, Sheffield for the official press launch of William Shakespeare's 'A Midsummer Night's Dream', and after witnessing this incredible re-imagining of the literary genius' work you can see why! The fact of the matter is that Sheffield Theatres has done it again!!
Robert Hastie, Artistic Director of Sheffield Theatres has taken one of William Shakespeare's best known works and wilfully and creatively re-imagined it. It was contemporary, rich, refreshing and exactly how Shakespeare's work should be performed.
The capacity audience which included the likes of David Walliams and Jonathan Hyde, certainly got more than they bargained for with this production – there were surprises around every corner and at times you certainly couldn't believe what you were seeing.
Music plays a central role in this colourful production and I was delighted to see that the Feeling's Dan Gillespie Sells, co-creator of Everybody's Talking About Jamie, the hit British musical that began life at the Crucible Theatre, had written the score for this production.
The visual element of this production certainly makes a big impact, including Neon fairy costumes, blue sequin dresses, bright pink suits and fur lined overcoats. Designer Chiara Stephenson minimal but impressive set included a huge moon suspended over the round stage mottled with stars and surrounded with white flowers, a Grand piano in which people appeared from and huge blue drapes which opened later to reveal some beautifully lit planets made for an impressive look. This makes for a lively production. Unfortunately, the pacing and delivery of the lovers are not as lively towards the beginning. However, as Oberon (Peter Cheadle) begins to meddle with them, they gather pace and are much better for it.
For those who haven't seen A Midsummer Night's Dream, this production is essentially comedy and Director Hastie has worked hard to ensure that the comedic element of the production is well polished. Daniel Rigby (who returns to Sheffield theatres fresh from his role as David Frost in Frost/Nixon) as Bottom, is hilarious throughout and Sophia Nomvete, as Peta Quince has much comedic timing – working well with Rigby, they completely change the pace of the production. Francesca Mills is perfectly bubbly as Snug- look out for her show stealing tap dance! Bobby Delaney, as Puck is lively – adorned in Glitter and with a bright blonde crop – you could be forgiven for thinking that he had just stepped out of the Cast of 'Jamie'.
This production is accessible, very funny and I loved the whole feel of the production, and based on the reaction of the audience to the Mechanicals getting their moment in the 'moonlight' so did a whole host of other people. The moment I refer to sparks the production into life! It was as if someone had flicked a switch, the production was alive! The spandex, wigs, the platform boots and glitter and live instruments ensures that the cast deliver 10 minutes of sheer and absolutely hilarious madness.
This is a production that breathes new life into Shakespeare and should be celebrated for it. You do not want to miss it! This production runs until 20th October 2018. Tickets are available from www.sheffieldtheatres.co.uk or by calling 0114 249 6000.
Reviewer: Chris Hanlon
Reviewed: 2nd October 2018
North West End Rating: ★★★★