Sometimes it's easy to define what makes a city - it might be a Liam Gallagher style swagger for Manchester or the humour that is supposed to represent Liverpool.
Leeds might be Yorkshire's biggest city, but what makes it unique is perhaps less clear than other Northern Powerhouse cities, so a cast of people recruited from the community set out to find out what makes their city tick in a final burst of storytelling before the Quarry theatre closes for a refurb.
The big cast, who are all non-professionals selected by audition, range from eighteen year old Luke to 83 year old Peter, and are aided in their search for what makes Leeds what it is by BAFTA winning writer Mark Catley. He has woven together a series of real stories from Leeds folk into a loose narrative that on the whole are pertinent, warm and funny.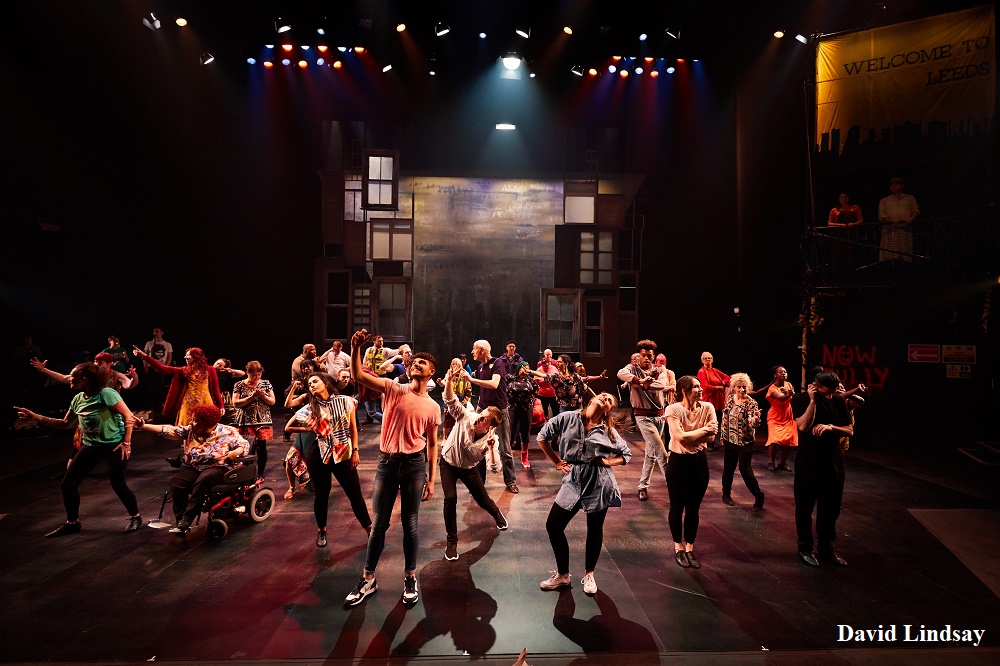 The stories are collected from the cast in a series of short vignettes by a local woman, convincingly played by Hopi Gavin-Allen, who is dispatched off on a quest to find what makes Leeds a diverse melting pot by Peter Bartram's dry and mysterious figure that might or might not be a grumpy Tyke god.
Along the way she meets people at bus stops across the city, and in community groups, who tell their stories, but at times the variable quality of the stories and their delivery slows the narrative.
So for every moving story about a disabled woman making her way into mainstream education there is a tiresome tale of someone's false boobs. Then you get Maureen Kershaw and Anne Reynolds who sparkle as a pair of lifelong friends recall their carefree days as a teenagers, which is cleverly brought to life by their younger doppelgangers as they tell their tale.
The cast have been working with Leeds based dance masters, Phoenix Dance Theatre, so there is plenty of well drilled movement onstage, but this a big, big space that professional actors can struggle to fill.
Musical director Christella Litras has also thrown her considerable experience in smartly weaving in short snippets of pop classics by Leeds musicians like Tainted Love and I Predict a Riot played by a great house band. You'd have to have heart of stone not to be moved by The World Anthem, co-written with refugee Jaber Abdullah who provided the lyrics.
Some of the little flourishes help keep the pace up like the copper endlessly chasing a young scally round the theatre, and teenager Hossien Ahmadi's timely tale of fleeing his native country, but becoming fluent in his new language in a year.
Director Alex Ferris does tease some strong and heartfelt performances from most of this cast of newcomers as they battle with the vastness of the task they've been set. The search for the heart of Leeds still goes on but this cast and crew, who really do represent what this city looks and feels like, have a very good stab at finding it.
Reviewer: Paul Clarke
Reviewed: 22nd June 2018
North West End Rating: ★★★★