Ok, let's acknowledge the elephant in the room created by the media - Strictly finalist Louise Redknapp can definitely cut it as a musical theatre performer turning in a confident turn as Sally Bowles on her debut in a big touring show.
We knew she could dance after her TV exploits, she could hold a tune as part of minor pop band Eternal and Redknapp can also act judging by this performance. The only slight misstep was Sally was played as the sort of tiresome fame hungry monster you see on today's reality show rather than a force of nature that can bend people to her self-obsessed will. Director Rufus Norris needed to do a bit more with a newcomer like Redknapp to make the character more rounded.
That said Redknapp has a surprisingly strong voice nailing her solo version of Cabaret, and given the constant media scrutiny of her personal life she may have been channeling that pain during a wistful Maybe This Time.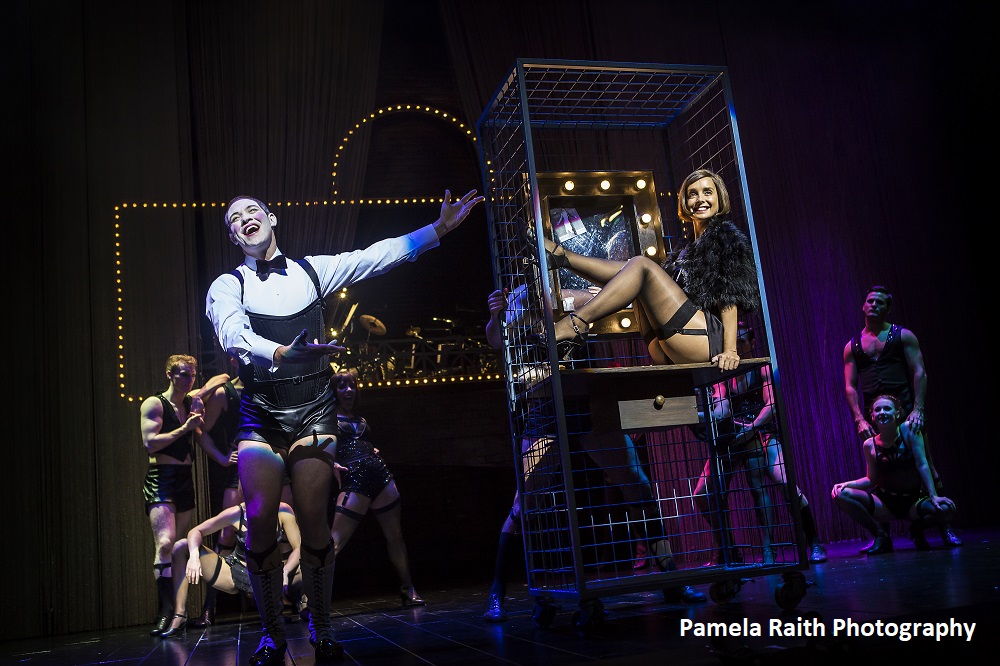 Kander and Ebb's glorious tunes and tough lyrics remain as powerful as ever telling the tale of naïve and sexually confused American Clifford Bradshaw falling in love with vacuous drunk Sally, who is a sometime performer at the seedy underground Kit Kat Club in Weimer Germany presided over by the Emcee.
Another Strictly star Will Young is back turning in a witty performance as the impish Emcee running riot in onstage sketches mocking the Nazis in the months just before Hitler swept to power. He leads his motley crew of decadent performers with utter confidence in a beautifully saucy Two Ladies, and a lively The Money Song, but lacks the sinister, knowing edge that made Alan Cummins such a great Emcee.
Old hands Susan Penhaligon as Clifford's elderly landlady Fraulein Schneider and the impressive Linal Haft as the doomed Jewish merchant Herr Schultz are in great voice during the moving duet It Couldn't Please Me More celebrating their short-lived engagement ruined by Nicholas Tizzard's suitably brutal Nazi Ernst Ludwig. There was actually a gasp in the audience when Ludwig revealed his swastika armband such is the enduring power of that hateful symbol.
The staging of Nazi anthem Tomorrow Belongs To Me with the German people as puppets was just a bit too obvious, but when Basienka Blake's Fraulein Kost reprises it you suddenly see how previously decent people voted the Nazis into power seduced by their twisted ideology and fake news.
Decent money has been spent on this show with Katrina Lindsey's big, bold and smart design seamlessly moved the action from the club to the boarding house where Clifford and Sally are holed up. The hard working supporting cast are all outstanding switching from broad comedy to Javier De Frutos' demanding Fosse tinged choreography in the big numbers down at the Kit Kat.
Norris' masterstroke is a raw ending that showed all the horrors of mindless hatred that was a like a punch to the stomach, and seemed especially pertinent as fascism is on the rise across the globe.
This is an intelligent and fresh take on a classic show that still pulls in the crowds, and Louise Redknapp's brave decision to take on this tough role means she can proudly take a well-earned place alongside the long list of onstage Sally Bowles over the years.
Cabaret is at Leeds Grand Theatre until Saturday 28th October 2017. Book online at www.leedsgrandtheatre.com or call Box Office on 0844 848 2700
Reviewer: Paul Clarke
Reviewed: 24th October 2017
North West End Rating: ★★★★