Based on the popular 1992 film by Baz Luhrmann this new stage adaptation sees its international debut play out at The West Yorkshire Playhouse this December. Staying faithful to the film throughout, this production is a joy to behold from start to end and incredibly well executed by its strong ensemble cast.
Taking the lead is American Sam Lips who plays Scott Hastings, a leading young ballroom dancer who is no longer content with dancing the same old steps and threatens to shatter the world of Kendall's dance studios, run by his over-baring mother Shirley (Tamsin Carroll) and Les Kendall (Richard Grieve), by daring to try his own steps. When his dance partner leaves him he is forced to find another and it is here he finds Fran – Just Fran, a dance beginner and floor sweeper who is willing to dance with him his way. What develops is a story about love, following what your heart tells you and of course the passion of dance. Sam Lips is good in the role of Scott with a beautiful chemistry with Gemma Sutton as Fran. His singing voice carries well, as does his (mostly) sustained accent but where he really excels is in his dancing which, as you might expect, is delightful to watch throughout. Sutton plays the blossoming wallflower role superbly and really delivers in her solos and in the striking duet "Love is a Leap of Faith" with her Grandmother Abuela (Eve Polycarpou) which becomes one of the highlights of this fast paced production.
Richard Dempsey is suitably camp as our something master of ceremonies, JJ Silvers, complete with the sparkliest jacket you could ever imagine and more than just a twinkle in his eye. Grieve as Les Kendall is excellent as the flamboyant studio owner who has excellent rapport with autocratic mother Shirley Hastings, played to comic perfection by Tamsin Carroll. She is a joy to watch throughout bringing a real energy to the role. Julius D'Silva brings just enough panto villain to his role of Barry Fife, the president of the Ballroom Dance Federation, complete with a taupe which threatens to upstage him throughout. Yes, the characters throughout are presented with more than a homage to the film and at times they can come across as brash caricatures with many of them seeming more like stock characters from a pantomime (well it is the season) but they only serve to enhance the real human connection between Scott and Fran or the person with the dance.
The design of this production to me was striking with Soutra Gilmour's revolving set, unfolding like a story book moved slickly by the cast throughout as the narrative unfolds seemingly effortlessly, managing to capture the spirit of the fast pace of the film editing of its predecessor. Completed with chandeliers, mirror-balls, giant coke signs, nods to the film and careful use of the imposing scaffolding, the set is minimal and functional allowing the cast to bring the story to life for us. They are of course aided by the wonderful costumes by Catherine Martin, who has possibly shipped all of the sequins in Australia over to Leeds for her lavish and beautiful outfits.
The music in this musical is part juke box and part original, bringing together a number of composers which is mostly successful, but perhaps not with the same spark that Lurmann has in in his films. The ballads are the strongest and Eddie Perfect's lyrics the wittiest, but compared to other musicals, it is probably not the songs you are going to remember. The sound in this production was impressive, as was the lighting design but it is however the dancing and choreography which leaves the greatest impression. Director and Choreographer Drew McOnie has quite rightly captured through the dancing the heart of this musical. Dance forms the very backbone of the direction as the company Rumba, Cha Cha and Pasa Doble through each scene and transition. The choreography is intelligent, witty and beautiful in equal measure, often giving us an insight into characters that the script doesn't offer. Here lies the true passion of the evening and its soul is tucked away inside the choreography –in particular within the male ensemble lyrical section as Scott battles his demons and the show-stealing Fernando Mira whose performance was the very embodiment of passion and strength.
On the surface, to many, this may appear a shallow and glitzy production, but underneath all the camp, glittery bravado is a heart that beats furiously and captures wonderfully that tension between following your heart and daring to set out your own path, rather than conform to what is expected of us. This was an evening of great storytelling wrapped up in dynamic choreography, strong performances and a truck load of glitter, which captivated tonight's audience and brought them to a standing ovation. Strictly Ballroom may not be the most sophisticated musical, but where it lacks in class it certainly makes up for it in heart, passion and style.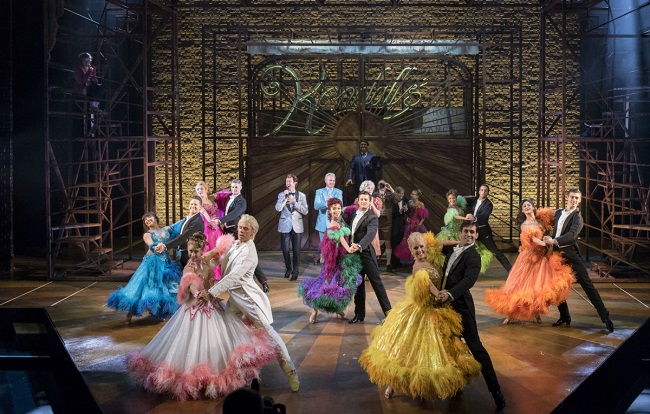 Reviewer: Ashley Price
Reviewed: 6 December 2016
North West End Rating: ★★★★★
Image: Alastair Muir