Hard to know where to start. I'm so impressed.
In all honesty, my initial thoughts prior to seeing Joseph were whether it would offer anything new or exciting with Joe McElderry at the helm. Well it absolutely did not disappoint. From cheering prior to the first scene, to a standing ovation at the end, this performance did not lack anything. It was absolutely stunning.
Joseph and the Amazing Technicolor Dreamcoat is the long running biblical musical that is essentially about Joseph and his 11 brothers. Sold as a slave he ends up in jail and is then freed by the Pharoah whom he eventually works for.
Most would have first heard of Joe McElderry from his success in X Factor back in 2009. He has flourished beyond belief since then and has now perhaps demonstrated that he belongs on the stage. Back in the day Jason Donovan was the stand out Joseph for me however McElderry has surely pipped Donovan to the post. If there was ever a man born to perform this role then this man is certainly McEldrerry. A warm, generous actor whose unbelievably powerful, vocals impressed on a full audience. He was absolutely flawless. His charisma and personality shone through all night.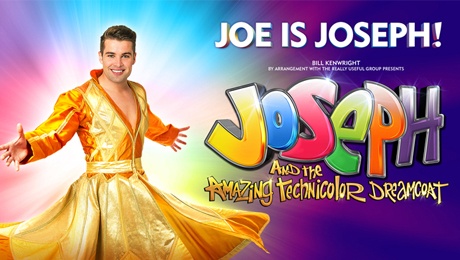 Special mention must also go to Trina Hall who narrated the performance- her clear engaging vocals and her interaction with the children in the choir told the story to perfection. The children in the Joseph choir tonight were from Chester and Wirral Stagecoach and must also be commended on a fabulous performance. Professional throughout, their voices blended beautifully amongst the lead roles.
I would also like to mention the role of Asher played by Tatenda Mademombe. The performance of Joseph is his debut performance and he is certainly one to watch. Strong vocals in the Calypso Scene he was an exciting and energetic actor with much musicality.
Humour injected throughout the production that ranged from the surreal to the bizarre. Inflatable sheep and speech bubbles to an Elvis impersonator (Ben James- Ellis) who played the role of Pharaoh (yet could equally have stepped straight out of a wedding chapel in Vegas). This surreal injection to the show was hilarious and James- Ellis was certainly rocking Egypt to the max. Choreography for this scene was fabulous that would surely put a smile on the grumpiest face.
The orchestra were on point with every aspect of the impressive Rice/ Lloyd Webber score and stand out songs for me were 'Close Every Door' and 'Those Canaan Days'. The familiar 'Any dream will do' had the audience belting out the words and clapping along.
Joseph may have been running for many years but tonight it demonstrated a freshness that would make me think that this musical has many more years in it. This triumphant, vibrant performance was exciting and fast paced yet had a warmth about it that will surely ensure that it will go on for many more years to come.
Always good when you leave a theatre beaming! This for me is musical theatre at its best and I'd say it's pretty much a guarantee that Joseph and his very swanky coat will not disappoint.
Reviewer: Angela Kelly
Reviewed: 24th October 2017
North West End Rating: ★★★★★