At 23 I'm not the most likely of people to love all things 60s. But growing up my mum was a Mod so some of that love has been passed down to me. With that said, The Small Faces weren't a band I knew a lot about. Nevertheless, I was still excited to see the swinging sixties brought to life on stage last night. I was expecting your typical Jukebox Musical where the storyline is created to surround the music of the band. However, what we as an audience are greeted with is the story of the late and great Steve Marriot.
This retelling of what can only be described as his tragic existence was both humorous and heart-breaking simultaneously. The script kept pace throughout, it did leave a few loss ends which I came home and googled because the show has left me with a new found love for the band and their history.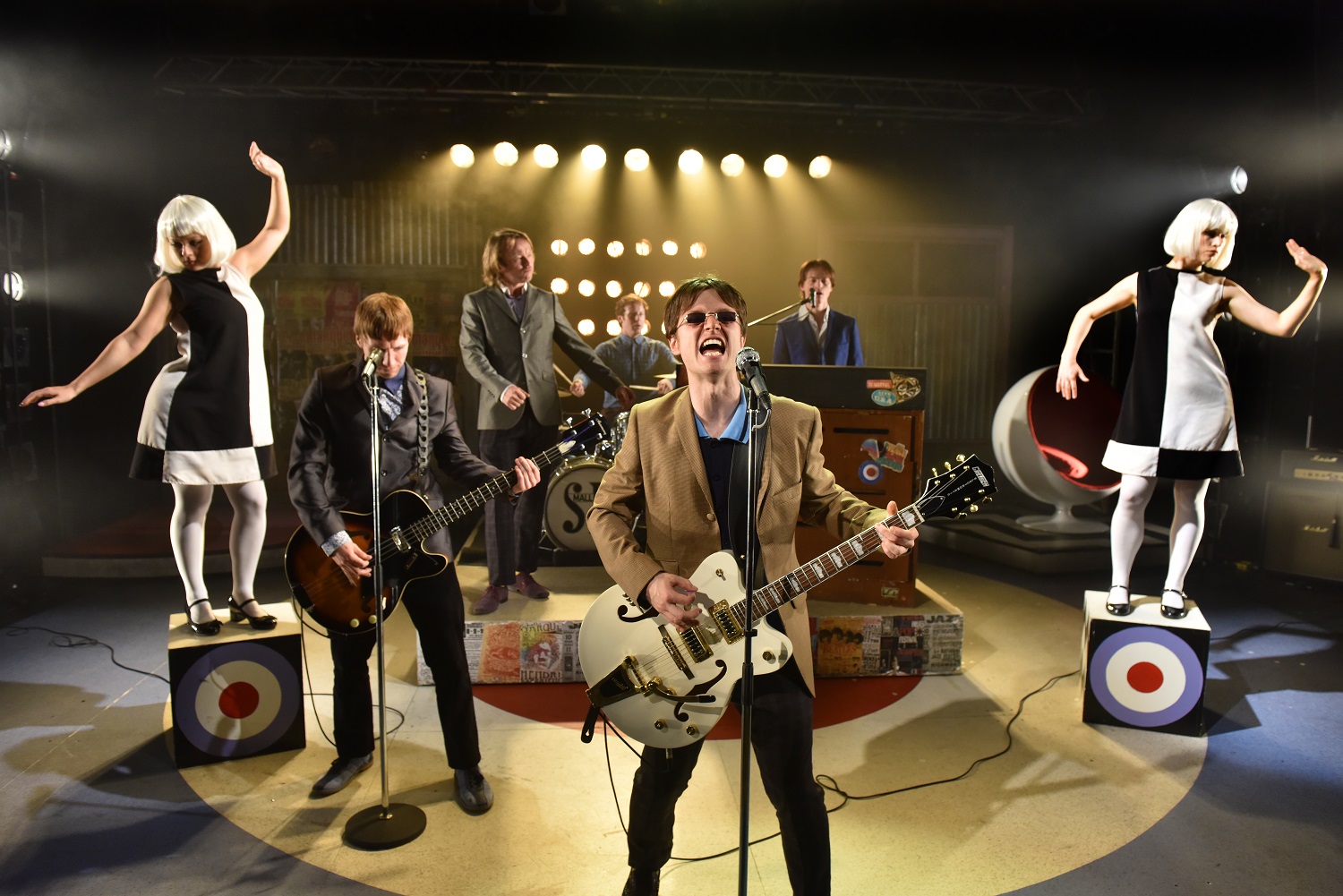 The script written by Carol Harrison who also directed and starred in the production. She played Steve's caring and at point's pushy mother Kay. I did some research online to find out why she'd taken on such a mammoth task with this musical and it turns out she was friends with the Small Faces front man himself. Her Performance was absolutely captivating. As an audience member you hung on every word she said. She brought true and very raw emotion onto the stage, especially in the scene between Harrison and Martin Teall towards the end of the show was possibly one of the most moving musical scenes I have witnessed.
Teall, who was understudying the older version of Steve Marriot who narrated his own story to the audience. His performance was in a word phenomenal, he held the audience in the palm of his hand, he brought light and dark to this role and he kept you fully engaged throughout. He was clearly loving his time on that stage as he was absolutely beaming. The man could no wrong on that stage. He told the story with complete grace and watching his demise throughout broke every audience member's heart. There is a very poignant scene between mother and son at the end of the show which the whole theatre fell silent for. You could have honestly heard a pin drop. Just breath-taking.
Stanton Wright, who played the iconic Ronnie Lane. Had a real spark of innocence surrounding him, he played the role with grace, passion and drive he'd built up a brilliant relationship with Josh Maddison who was understudying Young Steve Marriot. They had such a lovely air of friendship and comradery surrounding them. When Stefan Edwards and Alexander Gold were thrown in The Small Faces came to life on that stage and gave us a masterclass in Music Theatre as they sang, acted and played every instrument needed to bring the band known as the pioneers of Mod to life.
All other roles in the show were acted to sheer perfection too. Two definite stand out performances were Russell Floyd and Daniel Beales who brought the comedy out in the show continually.
This show was an absolute delight to watch, I wish there were more people in the audience last night as it's a theatrical masterpiece. There a few points in the script which I felt were a bit unnecessary like Dusty Springfield, there were also a few sound problems in the show. But overall I absolutely loved it. I implore you to go and see it, its sheer brilliance. I'd give it five stars on the acting alone.
Reviewer: Leanne Ashworth
Reviewed: 31st May 2017
North West End Rating: ★★★★★