Stoke-on-Trent said Thank you for the Music last night as the Regent Theatre is playing host to Mamma Mia for two weeks. The show which features the music of Abba has been running in London for many years and even made into a film with Meryl Streep as Donna.
The show takes place in a remote island in Greece during the nineties. The set reflected this brilliantly its very simplistic but you were always engaged and present in the scenes with the set being mostly white and blue throughout it wasn't ever distracting from the show itself. The costume as you would imagine varies from denim overalls to the brightest spandex suits and platform boots. These worked perfectly I also loved the themed costumes for the wedding scene I thought these worked wonderfully.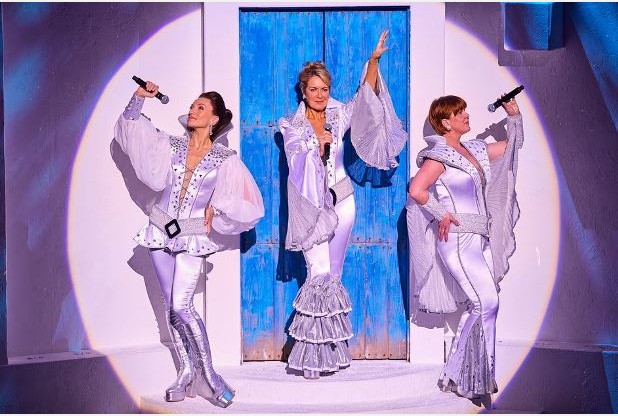 The cast were outstanding as a whole. But the star performances came from Helen Hobson, Gillian Hardie and Emma Clifford. Who played 'Donna and the Dynamos', these three blended together so well it was like Absolutely Fabulous meets French and Saunders and it was an on stage masterclass of comedy and friendship. Hobson who played Donna singing 'The Winner Takes it All' was another masterclass this one being less is more she sang this song with such a grace and had everyone in the audience in the palm of her hand. The response this received from the audience was so special there were cheers and claps from everyone. Hardie gave us a lovely Liverpudlian Rosie she and Christopher Hollis as Bill Austin had everyone on floods of hysterics during 'Take a Chance on Me. 'Hardie had the comedy of Walters but gave it her own twist and gave us a stunning performance. Clifford who played Tanya was another comedy genius her version of 'Does Your Mother Know' was hilarious she picked up on the movements and faces of Louis Stockil who played Pepper perfectly. The chemistry and height difference between these two was brilliant.
Alex Bourne as Sam Carmichael had such a charm about him whenever he was onstage he gave a sweet and gentle performance, his voice was also stunning. Jamie Hogarth as Harry Bright gave another really sweet performance but in a different way to Bourne he was so perfect for the role he had some exceptionally cute moments with Hobson during 'Our Last Summer.' Christopher Hollis as Bill definitely gave us traveller vibes with his Australian accent. He was a brilliant comedy character.
Lucy May Barker and Phillip Ryan as Sophie and Sky had brilliant onstage chemistry. Both gave stunning performances and the love between the two of them came across beautifully. The both had incredible voices and stage presence. Barker did an amazing job of picking up the mannerisms of Hobson and they really did come across as mother and daughter.
Overall, this was a fun filled musical. If you're looking for a feel good night out at the theatre look no further than Mamma Mia. Go be the Dancing Queen or King and have the time of your life! You don't need to take a chance on this show just book now I guarantee you'll love it. I loved it so much I'd go again tonight!
Reviewer: Leanne Ashworth
Reviewed: 19th April 2017
North West End Rating: ★★★★★