Dirty Dancing hot foots its way into the Regent Theatre this week and the first performance was a complete sell out, hundreds upon hundreds of people poured through the doors to watch the classic film brought to life on stage. The atmosphere surrounding the show was electric, I witnessed many people taking photos of the cloth branded in pink, many including wine as well. This gave the show that chick flick air before it even started.
The show opened to 'Baby' reliving her memories of that famous summer played by Katie Hartland. She played the role with complete conviction and had incredible comic timing making the role of Baby fresh and interesting. She and Lewis Griffiths had such incredible chemistry throughout. Griffiths was every inch Johnny Castle, he embodied Castle in the Patrick Swayze style but still made the role his own. He had everyone eating out of the palm of his hand and hanging on his every word. When that very famous line came out everyone including me cheered. I heard other audience members in complete anticipation say 'He's gonna say it! He's gonna say it.' These two were perfectly cast for these roles, they brought the film to life onstage. I could talk for hours about these two as honestly they were perfection and could do no wrong on that stage. Oh, and the lift, that iconic lift was just something else.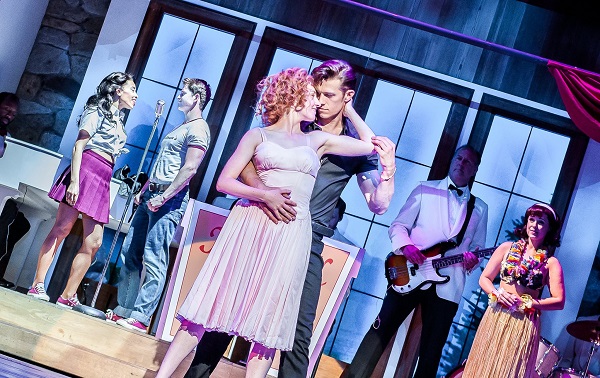 The set for this show was unlike anything I'd seen before. Every piece of scenery took you further and further into those classic moments of the show. The water and log scene was done incredibly, the use of both set and technology to create this scene was almost effortless. I say almost for one reason, the splashing sounded a bit off and fake. Some scene changes took a while which were played over with the soundtrack of the show. Kellerman's itself was bright and beautiful whilst looking rustic the set design for Kellerman's alone was incredible as it got you there straight away.
My favourite performance in the show came from Micheal Kent who played Billy, cousin to Johnny Castle. Firstly he has the most adorable face and his smile beamed throughout the theatre it was slightly hard not to love him from that alone. But his voice. Well it was like silk his rendition of 'In the Still of the Night.' It was stunning in a word. He was brilliant, as was Lizzie Ottley as Lisa baby's sister. I think she got one of the biggest cheers of the night for Lisa's Hula. A classic moment performed faultlessly.
What to expect from this show? An amazing girly night out watching a classic brought to life in front of your eyes. Lots of cheers and jeers from the audience which some may find irritating personally I loved it. It adds to the atmosphere of the show and lastly a brilliant show that recreates everything you love about the film and gives it that extra bit of life as well. It's like attending one huge Hen Party and I loved it for that! So, lift yourselves off your seats and go and see this show while you can, you will (here comes the cliché) have the time of your life.
Reviewer: Leanne Ashworth
Reviewed: 7th November 2016
North West End Rating: ★★★★★