The students at Pendelton Six Form Centre (part of Salford City College), have a reputation for excellence and taking their ages and experiences into consideration, they never disappoint. But tonight's offering of a vibrant, urgent and immediate West Side Story, played in the round, has raised the bar even higher!
A very bold and daring idea by director Kelly Cullen to transform the Eccleston Theatre from a front-on floor-stage with one-sided raised seating, to a large rectangular playing area with seats on all four sides. It was intriguing, and the immediacy and intimacy this created was superb. Sadly though, for my money at least, this inspiration didn't flow for the whole Musical. The 'Gee Officer Krupke' song, which should have been the comedic catharsis before everything spirals out of control, was very flat, missing all the humour from the wonderful lyrics; and asking poor Tony to wander aimlessly during his plaintive solo songs was rather offputting too. Just because there is an audience on all four sides doesn't mean that everyone has to try and face all four sides all the time!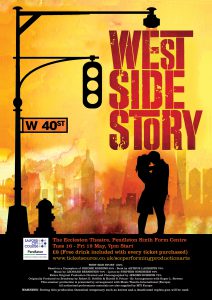 However, I am nit-picking perhaps. The acting, singing and dancing was indeed extremely good. In fact the choral singing was wonderful, and the dancing (Hannah Birch) the best I have seen from Pendelton. Exciting, thrilling, and totally in-keeping with the genre, making some lovely 'pictures'.
All the main leads were well cast. Deane Dixon-Foster made a sincere, intelligent, and slightly wacky leader of The Jets, Riff; whilst Sharks leader, Bernado was played with quiet malevolence by Dareo Holuj-Knott. For me though, there were two absolute stand-out performances. Harriet Dean's Anita was superbly measured. A very adult and centred performance, and it was her eyes which told me everything! It is a rare talent indeed for any actor to be able to convey so much simply through the eyes. Wonderful. And newcomer Freya Humberstone made one of the best and most truthful Maria's I have ever witnessed. Vocally stunning, with a pure and sonorous soprano voice; the accent spot-on, and a lovely, easy-to-watch style making her totally believable. She absolutely nailed it! This meant though that as good as Tom Plant's Tony was, it fell a little flat in comparison. A personable performer with a nice voice.
The ensemble work was stunning; the knife fight very realistic, and the denouement superb. The build-up in tensions created superbly, and the chemistry between cast was second to none. The lighting design was good (just not always on cue!), and the band very good indeed. There were some sound level issues though this evening sadly, so hopefully those will have been rectified for further performances.
I can heartily recommend anyone to visit performances by these students you won't be disappointed! https://www.ticketsource.co.uk/event/ELEJIL
Reviewer: Mark Dee
Reviewed: 16th May 2017