The Moon Under Water is a one man show by self-styled thinker, poet, artist, artiste and "Mum's favourite son", Andrew James Brown, based around – and named after – an essay by the nearly-as-legendary George Orwell, "a pessimistic soul". It was to be Orwell's last contribution to the Evening Standard, towards the end of his life, in which he describes his ideal pub at length – the fictitious and therefore perfect, Moon Under Water.
The title alludes to the moon's reflection: it isn't real, it's just an illusion and therefore unattainable. The J.D. Wetherspoons chain has 15 pubs of this name, including one on Manchester's Deansgate, which is reputedly the largest pub in the city, some say England, some say Britain, some say "Same again, love." But they generally slur it.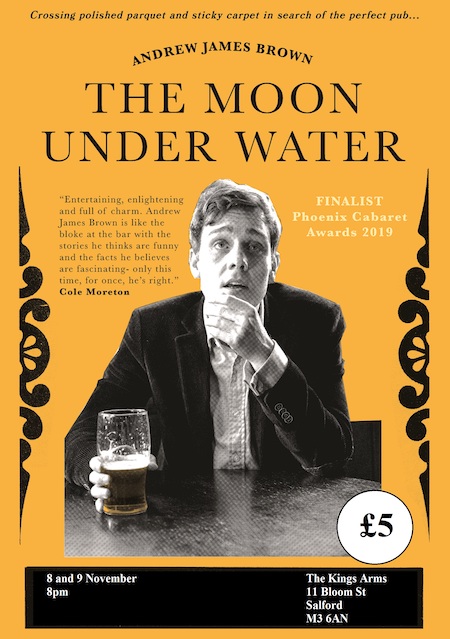 Tonight's show is staged in the Vaults of the King's Arms in Salford. It's a cellar, a whitewashed cellar, but it's an interestingly different venue for an interestingly different show. The Vaults is only a small space, but it's completely packed out. Though he's now based in the south, this is Andrew's home ground and I'm surrounded by his family and friends. Dad's on the back row, brother – and presumably his mum's least favourite son – is on the front row. They've come out in force to support their son/brother/nephew/cousin. Or because they got lost on the way to the toilets.
Andrew James Brown is wearing a black jacket and white shirt and seems youthful, but strangely anachronistic, just as a poet should. He looks like he would always have something interesting to say. He's also an observer of life, usually – it seems – from behind a pint glass. He loves pubs, all pubs, but not wine bars. He's instantly likeable, very natural, with an infectious, warm style. He compares himself to Robert Burns, but points out that Burns was born in a snowdrift, which immediately provides a poetic image, whereas, Andrew was born in a hospital... which doesn't.
He eases his audience into poetry with a few amusing Haikus. I should stress, this is NOT a poetry evening, it just happens to have a few poems thrown in. Andrew rambles on about pubs and the characters therein, with more poems, anecdotes and enactments. There is a lot of laughter, a lot of chuckling and a lovely atmosphere.
On the way here, he'd researched the venue, Salford's King's Arms, which has apparently catered for some famous drinkers in its time, including: "Marx and... Who's the other one?"
"Engels." someone shouts.
"I was thinking of Spencer," he fires back, "but never mind."
Andrew touches on pub gossip, relating tales he's heard, including a man who got into bed and slipped into the indentation in his memory foam mattress, made by another man, thus giving away his wife's infidelity. He then asks if anyone is drinking Guinness. I am. I think about not confessing, but I fear the woman next to me might betray me, so I reluctantly raise my hand. Thankfully nothing terrible happens. Instead, Andrew delivers a manic poetic diatribe about Guinness, Guinness drinkers and the painful slowness of its pouring. Thanks to the smooth black alcohol, I can cope with all this, though I will probably never drink Guinness in a public place again.
Using his £70 flip-chart (Yes, he has props, including homemade Morris Dancing legbells!) Andrew goes through Orwell's list of ten requirements for the perfect pub:
1. The architecture. Should be Victorian. But Andrew likes all pubs, including – alarmingly – modern, flat-roofed varieties.
2. Although portraying himself as a working class man, Eric Arthur Blair parading as George Orwell, wants darts in a separate room, so they don't interfere with him.
3. No music, so the writer can chat.
4. Friendly staff. So the writer can chat. Again.
5. It must sell cigarettes (!), stamps (!!) and Aspirins(!!!)
6. It has a variety of snacks available. ("Quentin Crisp survived on champagne and peanuts… Well he didn't survive, because he's dead."
7. Good, but inexpensive food available upstairs.
8. Serves draught stout.
9. Drinking vessels should have handles, or preferably be pink china. (That's not going to happen, George.)
10. It has a beer garden – for the women and children to sit in. (!)
With the help of the audience, Andrew assesses our venue against Orwell's checklist and – as a group – we determine that the King's Arms gets an Orwellian 7/10. (Failing on points 2, 5 and 9… None of which are deal breakers, or even realistic in this age.)
It's a great, feel good show. And a good, feel great show. I felt warm and fuzzy. Which was mainly the show. Probably. I think. It was like being amongst friends. It probably especially felt like this for Andrew.
I spoke to him afterwards. He said he worried that "it might come across as shambolic". I'd describe it as a warm, human show. Considering it includes poetry, it is in no way pretentious, it is accessible and down to earth – which also describes the host, and also describes what a good pub should be. In a period when pubs are closing at an alarming rate, it's timely to have a light-hearted celebration of what makes a pub special. Pubs are full of character – and characters. They are the heart of the community, a home from home and a (sadly declining) part of British life.
I have always been a fan of George Orwell. Now I'm a fan of Andrew James Brown as well. His show refreshes the parts other shows can't reach. Lap it up. (But don't go in with a Guinness.)
Reviewer: Gray Freeman
Reviewed: 8th November 2019.
North West End UK Rating: ★★★★