Northern Broadsides – a Yorkshire based theatre company and the New Vic Theatre, Newcastle-under-Lyme, have partnered to produce a new production of this much-loved classic. Both companies work extensively to produce work that stimulates community and youth involvement. Interestingly, North Broadside have created an App whose digital resource creates a new exciting environment to encourage children to engage in classical text - 'Much Ado About Nothing' and the children's version 'A Muddle in Messina' help to break down the Shakespearean language and offer a modern fun way for children to interact and study the play.
This adaptation of the play is set at the end of World War II. Don Pedro (Matt Rixon), Don John (Richard J Fletcher), Claudio (Linford Johnson) and Benedick (Robin Simpson) return from War to stay on the Estates of Leonato, Governor of Messina (Simeon Truby). After meeting previously, Claudio and Leonato's daughter Hero (Sarah Kameela Impey) began to fall in love and these feelings are re-kindled. Beatrice (Isobel Middleton) and Benedick, however, do not see eye to eye.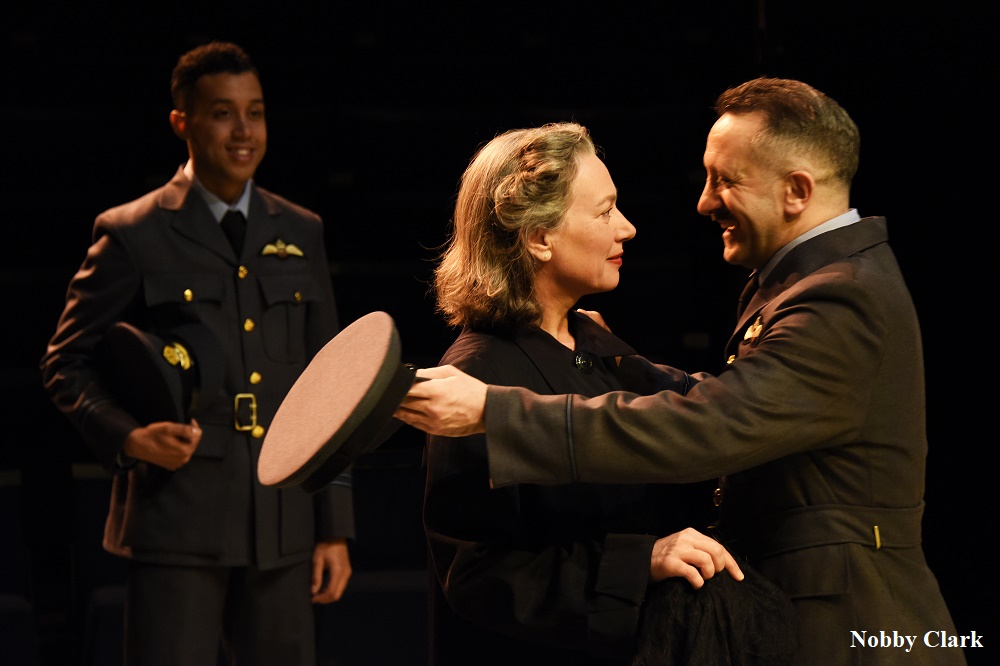 They spar rather than talk and as Beatrice has the upper hand, Benedick suffers from wounded pride. The adaptation has its own style but stays faithful to Shakespeare's story of love and deception.
Shakespeare writes about the human condition and there is an element of freedom as to which era the plays are set, as they are so easily adaptable. The World War II theme is interesting as it brings a musicality as this was an era of 'Swing' music and dancing which is incorporated into the party scenes effectively.
Sometimes the dancing did feel a touch clumsy, but it did make it feel authentic and communicated the romantic theme well.
As this is a play about romance and comedy, the RAF uniforms certainly add to the romance of the period (the girls love a uniform) and the costume department and designers have to be congratulated on providing varied costumes for a large cast of fifteen which helped to define the post war feeling. The staging was kept very simple - but I did not feel that it added anything to the play as the dialogue and content were so engaging that it really did not need anything to be added visually. This simplicity meant scene changes were sleek which helped the play to flow.
'Much Ado' was Conrad Nelson's final production with Northern Broadsides, and we can see his influence runs through the core of the play. This is one of the easiest to understand, Shakespeare plays that I have seen so far. It is far too easy to make Shakespeare feel like a middle-class experience with clipped RP accents and flamboyant costumes.
Anyone could go along to see this play with a very basic knowledge of the story and easily follow its meaning. It is presented with regional northern accents which makes it feel less stand offish than other productions I have seen.
Aside from anything else, this is a very funny play! Even if you took away the fact that it is Shakespeare, the actors have taken Shakespeare's text and have opened it up to everyone. The role of Benedick was very well done, some 'nudge, nudge, wink, wink' slapstick fun made the audience laugh out loud and made for a relaxed enjoyable experience. I must express my delight of the whole cast, who connected and delivered memorable performances. This could not have been achieved without good direction, so the final thanks go to the Director and creatives behind the scenes. This is an ideal introduction to Shakespeare for those wishing to dip their toe in the water!
The play runs from 7th – 11th May 2019 at The Lowry https://thelowry.com/whats-on/much-ado-about-nothing/ and to book for the rest of the tour go to https://www.northern-broadsides.co.uk/whats-next/
Reviewer: Caroline Worswick
Reviewed: 7th May 2019
North West End Rating: ★★★★