Splendid Productions bill themselves as a theatre company and an education company. The Quays Theatre at The Lowry filled up to bursting with young theatre students and I think Splendid delivered.
Kafka's Metamorphosis is a story of Gregor Samsa who wakes up one morning to find out he's turned into a giant insect. Kerry Frampton's adaptation of the originally claustrophobic and dark tale is much lighter and accessible, lovingly transcribed into a production suited for younger eyes.
The house lights remain on for this relaxed performance, more of a workshop than a night at the theatre, as the well-rehearsed trio unpack Metamorphosis via Brechtian stylistic techniques and hyper-characterisation. Although the famous Berkoff adaptation wasn't directly referenced by Splendid, it is highly influenced by his work and uses the same direct breaking down of the fourth wall, choral vocal techniques, and stylised movement.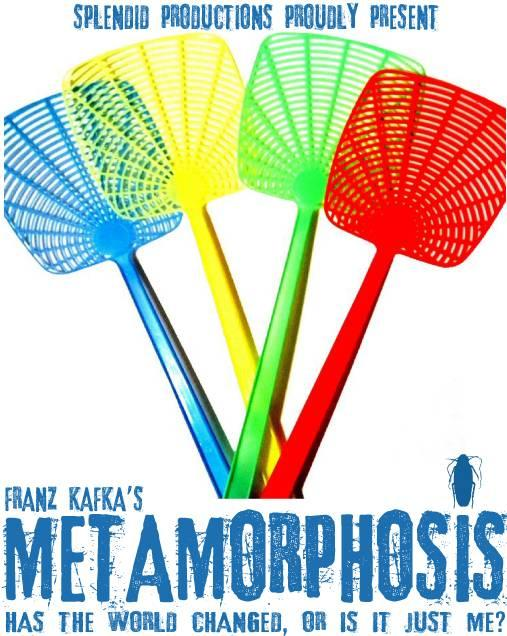 As with any workshop style performance audience interaction was inevitable. From the start the performers were greeting the audience on the door, they were asking the audience questions throughout and even had a couple of members up on stage with them. The engagement tactics worked well and the audience remained transfixed on the stage for the whole hour performance.
Sound was used very well in the adaptation. The trio used a loop pedal to live record some of their soundscapes, which was particularly great to create the muffled non-human noises of Gregor as an insect. Vocals were great as each character had a distinct well-defined accent and even explored song for the great character of the 'lady in the painting on the wall'. Staging and props too were very cleverly utilised and true to style with heavily stylised and minimalistic non-props like rope and sheets to make up a variety of the scene setting.
The adaptation was comical most of the time, but occasionally some of the melancholy of the original was allowed room on the stage. The theme of 'What Is Normal?' recurred and resonated with us all and helped us to envisage Gregor Samsa's transformation as one in our own lives.
The performance was like watching a top level GSCE theatre studies essay on stage and via a multitude of creative mediums including sign language and song. I would highly recommend Splendid Productions for workshops in schools and to promote learning through the arts.
Reviewer: Jo Flynn
Reviewed: 16th November 2017
North West End Rating: ★★★