A young couple with their lives ahead of them. A stroll home from a night out. A mugging that goes horribly wrong, leaving a grieving widow and her murdered partner trapped between this world and the next. Yep, folks, it's Ghost - a beautiful story made famous by Demi Moore and Patrick Swayze in the 1990 film and then reworked into a musical.
It's a show with plenty of tension and last night at the Lowry's Lyric theatre it was in abundance. Part of the script of course - and Andy Moss's clenched fists spoke volumes in his frustration at trying and failing to communicate with Molly. But it may just have been the tension that comes from sudden cast changes and everyone trying just that little bit too hard. Thespians are human and affected by illness and so on like the rest of us and when they know an audience is out there not only does the adrenaline kick in but also the stress. However, the 13 players left did Bill Kenwright's production justice by working their socks off and the audience, a little lukewarm at the beginning, enjoyed every minute.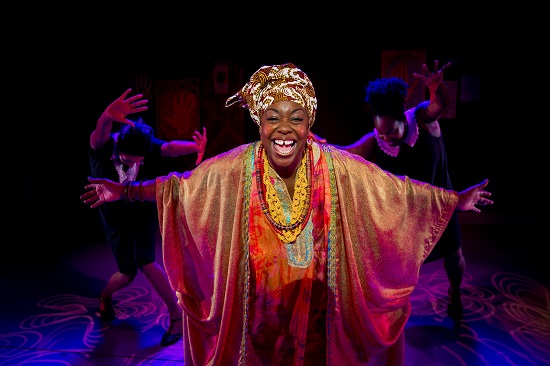 Andy Moss brought Sam to life in all his differing moods and his strong voice captured all the emotions from the delicious Unchained Melody to Teach Me How. His scenes with Kelly Hampson, taking over the role of Molly, were caring, tender, and angry as needed but there was not quite the chemistry between the couple, particularly in the famous pottery wheel scene. Kelly seemed a little apprehensive at times but portrayed the character well with strong duets and a poignant rendition of the hauntingly beautiful With You.
Stepping into the role of Carl was Ethan Bradshaw who brought every facet of the character to the fore. As Sam's best pal but the instrument of his death he was super matey, super arrogant and super sinister as required and there were certain audience members who were very appreciative of his physique when he took his shirt off (even if the wolf whistle was not quite appropriate!) Of course, it was down to the irrepressible Jacqui Dubois to lighten the mood as Oda Mae Brown, the role made famous by Whoopi Goldberg. She was obviously having a great time and the audience loved every move, every nuance and every outfit from the moment she walked on stage. A laugh a minute!
James Earl Adair was a relaxed and accepting Hospital Ghost while Garry Lee Netley was his complete opposite as the huge, fierce Subway Ghost who helps Sam learn his tricks. This reworking of the show does not have the same, big budget illusions that I was maybe expecting but there were plenty of convincing special effects and the clever set and smooth, seamless scenery changes were a joy to behold. The "who's who?" cast deserves the highest praise for what must have been a difficult night, living up to the adage that "The show must go on."
Reviewer: Mary Maden
Reviewed: 24th April 2017
North West End Rating: ★★★