There was giggling galore on Tuesday night, when the panto, Aladdin, came to Hull New Theatre – and that was just from the cast on the stage.
Of course, we in the packed audience giggled along – we couldn't do anything else, it was a laugh a minute.
The main cast of seven was aided and abetted by a lively ensemble, plus youngsters from the local LWHS School of Dance. Talented, each and every one.
Aladdin (Blue singer, Simon Webbe) is secretly in love with Princess Jasmine (Charlotte Barnes), but knows the Princess's father, Emperor Ming (Keith Higham), would never agree to his daughter marrying someone so poor.
However, this is panto, it's almost Christmas and magical things can happen.
It's no secret that this age-old story has a happy ending for the two young lovers (but maybe not for one member of the cast!). But what kept us all booing, hissing, laughing, screaming, ooh-ing and ah-ing all night long, on Tuesday, was the journey that led to that ending.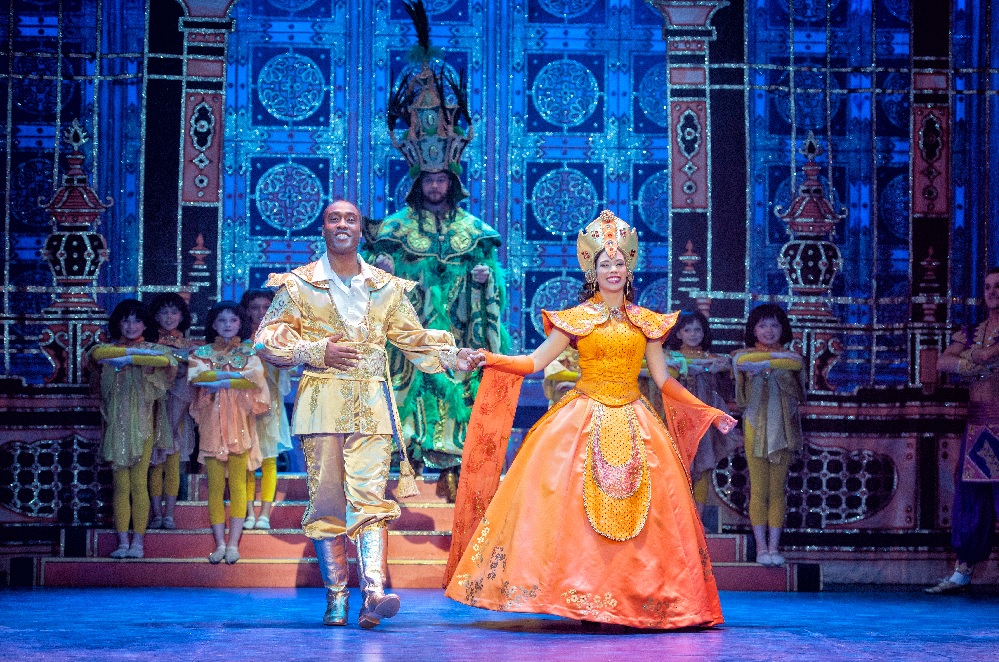 Aladdin's mother, Widow Twankey (Darren Machin) was no shrinking violet and set her sights on the Emperor with hilarious results – her costumes getting more outlandish by the minute.
However, the Emperor's headgear put Twankey's outfits in the shade at times - getting higher and bigger as the night wore on. Aladdin's brother, the cheeky Wishee Washee (Neil Hurst), in an unscripted moment, I'm sure, had the Emperor in stitches after commenting on his tallest headwear – a Chinese-type temple. Well, it was set in Peking!
Benidorm's Jake Canuso as the Spirit Of The Dance, had the ladies in the audience drooling as he sashayed around the stage, calling himself Beni Dorm.
This is panto, so there has to be a baddie – and Robin Askwith as Abanazar, got it just right. We booed and hissed him until the curtain went down.
The stage setting veered from the dull laundry belonging to Widow Twankey, to the opulence of the Imperial Palace to the dark cave where Aladdin was taken by Abanazar, to retrieve a magical lamp.
The evil sorcerer promised Aladdin a world of riches if he could bring him the lamp – but he only had two minutes to get it out of the cave or he would be sealed in forever.
Two minutes passed and, you've guessed it, the cave opening closes. Aladdin knows what to do, rubs the lamp and to all our amazement, a giant genie floats into view. And I mean giant.
The genie grants the boy three wishes and quick-thinking Aladdin asks for a way out of the cave, plus untold riches. The genie grants him both and everything is hunky dory … until the boos start again, meaning Abanazar has walked onto the stage.
Disguised as an old Austrian (me neither), he tricks Twankey into handing over the lamp, in exchange for a bright, shiny new one, and then reveals his real self, whisking the startled Princess away to join his harem in Egypt.
The helpful Spirit Of The Dance conjures up a magic carpet for Aladdin to fly to Egypt on, to bring back his Princess.
The unbelievable sight of Aladdin flying over us in the audience is a scene I will remember for a long time – it was simply amazing.
As in all fairy tales, good overcomes evil and most live happily ever after – all except Abanazar who definitely gets what he deserved!
This spectacle had everything – great singing (Simon Webbe, Charlotte Barnes and Keith Higham, not forgetting Neil Hurst), dancing, very funny gags (for adults and children), live music, amazing lighting and scenery, colourful costumes and flashes, bangs and wallops galore.
I must mention, as my regular reader will know, my worst nightmare – audience participation. Thankfully on row N, I was too far from the stage to be a victim, but a poor woman in the audience, called Jan, caught the naughty Wishee Washee's eye and all I can say is, it serves her right for sitting on the front row.
But she took it all in good part.
In another very amusing interlude, four youngsters were invited up on to the stage to sing a tongue-twisting song. The words "felt smart" were instantly mixed up by eight-year-old, Charlotte, with hysterical results.
Of all the talent on stage, for me, the star of the show was comedian Neil Hurst as Wishee Washee. Every move he made and every word he uttered made us laugh out loud. I felt he definitely had all the best lines and, boy, did he make the most of them.
But everyone played their part in keeping us thoroughly entertained – oh yes they did (sorry, I couldn't resist).
Running until Sunday, December 29th, 2019, mainly nightly at 7pm, but check website for 1pm or 2pm matinee dates. Tickets from £14.50. Call (01482) 300306 or visit www.hulltheatres.co.uk
Reviewer: Jackie Foottit
Reviewed: 10th December 2019
North West End UK Rating: ★★★★