Hoylake and West Kirby (HAWK) theatre group were formed in the 1920s where they performed in the YMCA for many years. They present various shows each year at numerous venues around the Wirral. Last year they were chosen to perform at the NODA awards in Manchester where they performed a medley of songs from their previous show, Grease.
Tonight I was at the Gladstone Theatre in Port Sunlight to see HAWKs version of Peter Pan the panto. This year's panto was directed by Ami Clewlow who played the lead part in Peter Pan back in 2003 so has the experience needed to know what this show is all about.
The opening of the show was set behind a gauze with a bright light shining on it and Peter Pan and Hook fighting, their silhouette being projected on to the gauze and creating a nice set up for the show ahead.
Chris Davies played a very natural and humorous Mr Darling. I would have liked to have seen more of Davies as his character was only on for a short time but made a big impression. Sarah Badley made a nice Mrs Darling and sang a beautiful version of Over the Rainbow later in the show which showed her emotion of missing the children.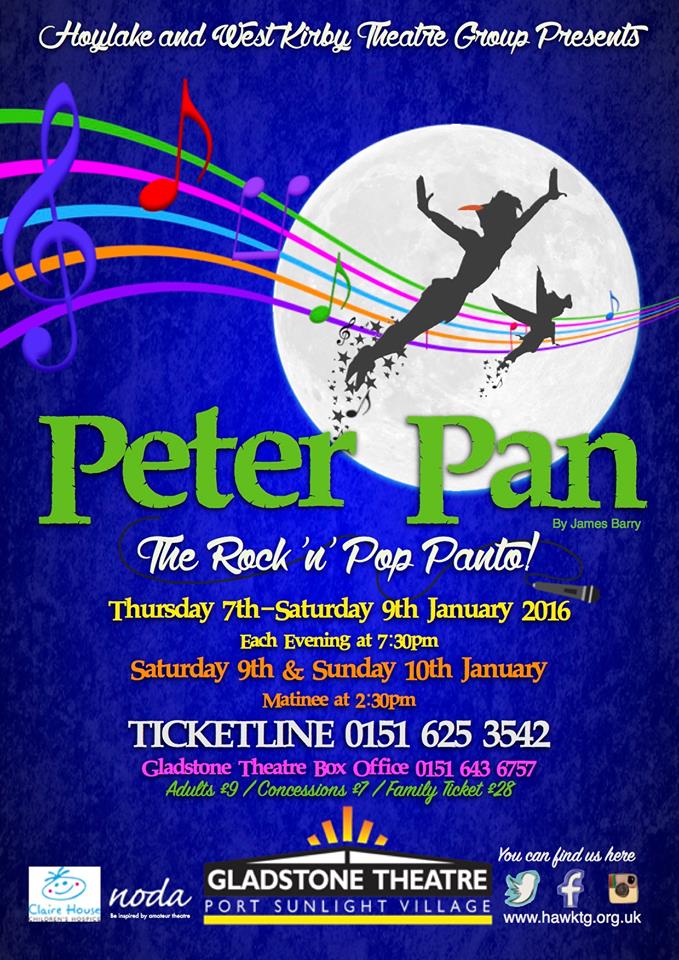 Lois Founds did a good job as Peter Pan, some nice acting and good control while in flight. There were times when Founds was singing alone that there seemed to be a little trouble with some notes but while in duets there were beautiful harmonies, especially with Megan Clarke as Wendy during We're Breaking Free.
A great energy and uplift of the evening came from Paul Henderson as Tiger Lily. He was very funny in the role, great comic timing and wore fantastic costumes. Another highlight was the introduction of Tinkerbell, played by Leah Hughes. Firstly just a green lazer light zooming around the stage followed by Hughes rushing on in a pair of roller boots. She had the cheekiness and energy just right for the part.
Carl Howard as Hook was wonderful. Cocky, demanding and everything you wish for in a panto baddy. He commanded attention and had the whole audience booing so loud all through.
Every panto has a silly comedy character and this show comes in the form of Smee, played by Alan Earl. Sadly, for the majority of the show the comedy was lost with Earl as the lines were rushed, spoken too quietly or seemingly made up, trying to fit the moment but not quite working.
On a brighter note we had a lovely surprise in Louise Gleave as Myrtle who has a wonderful and powerful voice. Gleave shone during Relight my Fire.
We did manage to enjoy Chris Davies later on in the role of the crocodile who is after Hook. Although this was one of the nicest crocodiles I've seen and made it more enjoyable to see humour within the role.
A big bravo must go to Jeff Broadbere as Musical Director and his band who sounded fantastic the whole way through.
The set changes for most part were very slick and the set looked great, especially the Jolly Roger which was assembled in seconds in front of our eyes. Huge well done to Dawn Smith and the backstage crew. Lighting for the majority if the show looked great apart from a few slow cues with great effects overall.
Slick choreography from Rebecca Smith was delivered well by the majority if the cast, some sadly looked as though they were not happy to be on stage and did not smile for the whole performance, possibly down to first night nerves. Rose Evans on costumes did a brilliant job, they all looked in keeping with the show.
I did feel that although this was advertised as a panto and the leads were played by the opposite gender, the show felt as though it was a nice version of Peter Pan with some jokes and 'It's behind you' thrown in quite a lot. I feel this show would have worked better as just Peter Pan without the panto part, as although the cast gave their all, it felt like a lot of the panto qualities were lacking and for most it was more like watching a musical Peter Pan.
Peter Pan continues at the Gladstone Theatre until Sunday (10th January).
Reviewer: Damian Riverol
Reviewed: 7th January 2016