Sometimes you just have to sit back after watching a show and let what you have just witnessed sink in. Tonight, the first thing being this was an amateur production, not professional yet it outshone virtually every professional Pantomime I have ever seen in my 30+ years of theatre visits. Secondly, the scale of the show is mind-blowing, and finally the cast are faultless.
Earlier this year Manor Operatic Society produced the biggest ever amateur production of Ghost the Musical, something that was noted by the official online outlets for the professional production. I was lucky enough to witness what was quite literally a technical masterpiece in the splendour of City Hall, Sheffield.
So could this talented company match their previous production? Well yes actually they can! Gone are the huge video walls that spanned the entire stage previously and in their place a simple yet hugely impressive traditional pantomime set complete with Crystal Carriage to top a mind blowing transformation scene. Add to this a horse, ponies and a gorilla and you realise everything this company does is big, and long may it continue!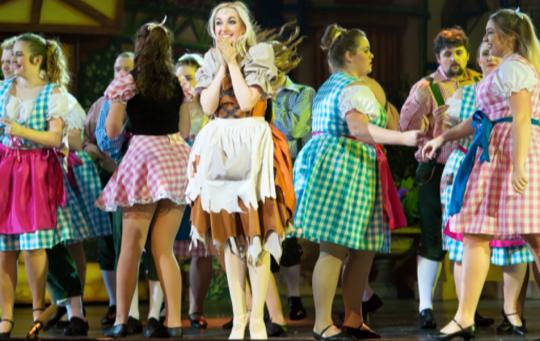 The show, Cinderella is probably one of the best known Pantomimes of them all. The timid Cinderella, a slave to her Ugly Sisters and idolised by Buttons falls in love with the Prince Charming during a trip to the woods to collect sticks for the fire. From that moment on her life would never be the same again despite meddling from her sisters as she gets to go to the ball and eventually marry her Prince.
The show opens with a young Cinderella (Evie May Bradford) singing and dancing with her friends in the village of Stoneybroke. Suddenly, in the blink of an eye Cinderella has grown up and transformed into Emily Mae Hoyland. This was the first thing that took away the breath of the near capacity audience tonight, but certainly wasn't the last.
James Smith as Buttons is the usual likeable character (who can moonwalk) we all know and love with his jokes that awful they were actually funny. The sketch with him and the Ugly Sisters (Margarita – Robert Spink and Mojito – Gary Rossitter) was as accomplished as you will ever see in a Pantomime. I dread to think how long it took to write, never mind rehearse.
Emma Holmes as Prince Charming and Holly Parker Strawson as Dandini bounce off each other well as master and servant swapping places in the woods in order for the Prince to meet somebody under the guise of a commoner. Once the Prince meets Cinderella Holland and Holmes are given a number of songs to showcase their powerful vocal abilities.
Handy Andy (Paul Hill) and Fix It Phil (Chris Hanlon) provide additional comedy throughout the evening, however I thought they could have been used a bit more as their chemistry on stage was refreshing and their exuberance stifled somewhat by lack of stage time. Lord Chamberlain (Andy Finnerty) was tongue tied all night mixing his words up (on purpose), and the Sergeant Major (Richard Coddington) led the Palace Guard protecting the Prince Charming.
I could go on all night naming this exceptional cast of nearly 50 including ensemble but I need to mention the Baron and Baroness Hardup (Simon Hance and Emily McGeoch). The Baroness isn't usually seen in most versions of the story, however her introduction made for some funny scenes with her daughters Margarita and Mojito.

Music was very much a huge feature of this production with songs spanning 5 decades being performed with slight lyrical changes as ever in Pantomime. And playing these songs was the huge 11 piece band under the direction of Andy Collis, the biggest band I have ever seen at a Panto, and boy did they sound amazing. Clearly having read the script they all made a swift exit during the kitchen scene! I shall say no more than that…..
Producer and Director Richard Bradford and Co-Director and Choreographer Linda Kelly have produced a sensational Pantomime which suits the City Hall in Sheffield perfectly. Their imagination and ambition seemingly knows no bounds. I am told they negotiated long and hard with City Hall to remove part of the ceiling to accommodate one of the special effects seen in the show.
If you are in or around Sheffield I cannot recommend this show highly enough. Grab a ticket before they are all gone for what must be one of the biggest and most certainly the best amateur Pantomimes in the country.
Next up for Manor is the circus musical Barnum in May 2016. Judging by the scale of their last two productions I for one cannot wait to step foot back into City Hall, which I understand is to be transformed into a huge Big Top, and follow the 'Manor Operatic' band!
Cinderella continues at Sheffield City Hall until the 3rd January with limited availability for some performances. Tickets can be booked via the box office on 01709 365108 or the City Hall box office on 0114 2789789.
Reviewer: Paul Downham
Reviewed: 28th December 2015