Well now, what could be charming than a selfie with Duncan of Blue? A riveting production of oh no, not Cinderella again? Unfortunately, that goes for all pantos; variety in this genre provides spice only if everybody involved goes all out to come up with something original, and I still remember the last time Cinderella played here, although, fair enough, I had forgotten it was actually a dozen years ago.
So for me personally, it would just be 3*, but this production has earned itself an upgrade. Yes, there is life in the old girl yet, or rather the young lady, with some interesting changes: no Baron Hardup or wicked stepmother. There again, no need for the latter because, as my companion remarked, or, quite rightly, complained, the Ugly Sisters (Daniel Taylor as Hernia; James Templeton as Verruca) are disconcertingly horrible, a pair of damn near psychotic bullies.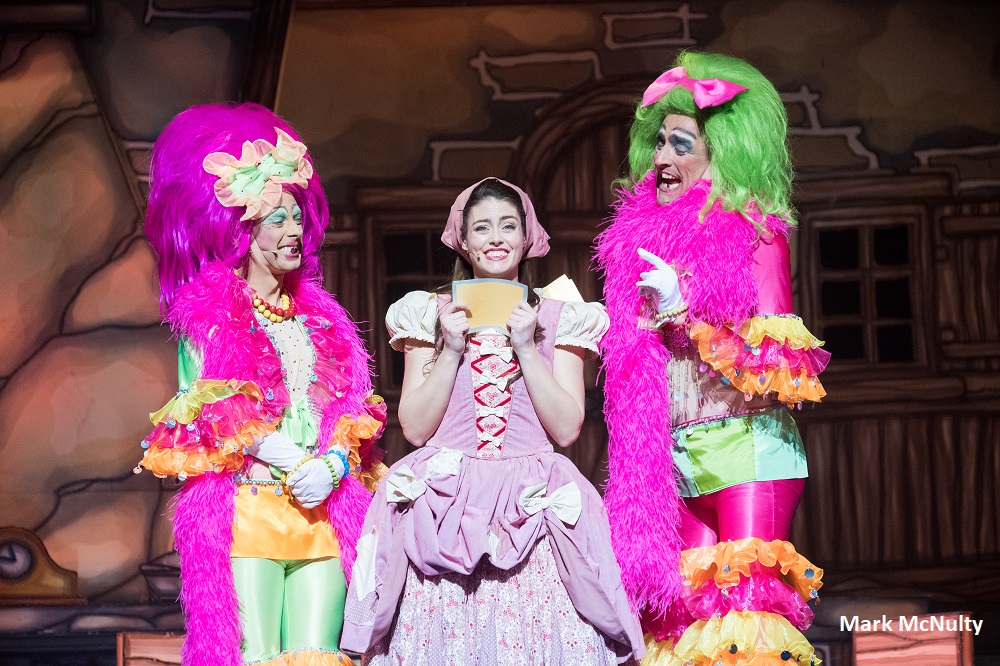 Their costumes may be as eye-wateringly dreadful as you'd expect, but a degree of endearing foolishness should lighten their words and actions. Not here; their insults are as malevolent as they themselves appear physically violent. And no sign of redemption or any kind of come-uppance; when frogmarched offstage by hunky palace guards, they clearly regard it as being on a promise rather than any kind of threat.
Swiftly moving on, apparently, it's a mark of passage on Planet Celebrity to make your mark in Panto; I found myself wondering how long before some bright spark comes up with The Ugly Brothers, modelled on, oh I don't know... re-christened something like Liable and Nomark? Anyway, here we have, as mentioned, the charming Duncan James as the Prince, swapping places with the equally accomplished Dandini (Scott Mobley), while Jodie Prenger as the Fairy Godmother almost overshadows the delightful Cinderella herself (Olivia Sloyan), although both are wonderfully adept at singing and dancing. And comedy.
This is where Buttons comes into his own, especially as the mc in charge of a large, unruly audience. John Evans puts in such a lot of effort to make it all appear effortless, he's a worthy successor to the inimitable Les Dennis. The best scenes showcase his talents in top speed, scattergun style, in particular one based on Chinese Whispers with the Ugly Sisters. Plus puns galore, old and new, utilising a mobile sweet shop, then a Q&Q session with the Fairy Godmother featuring apposite snatches of pop music.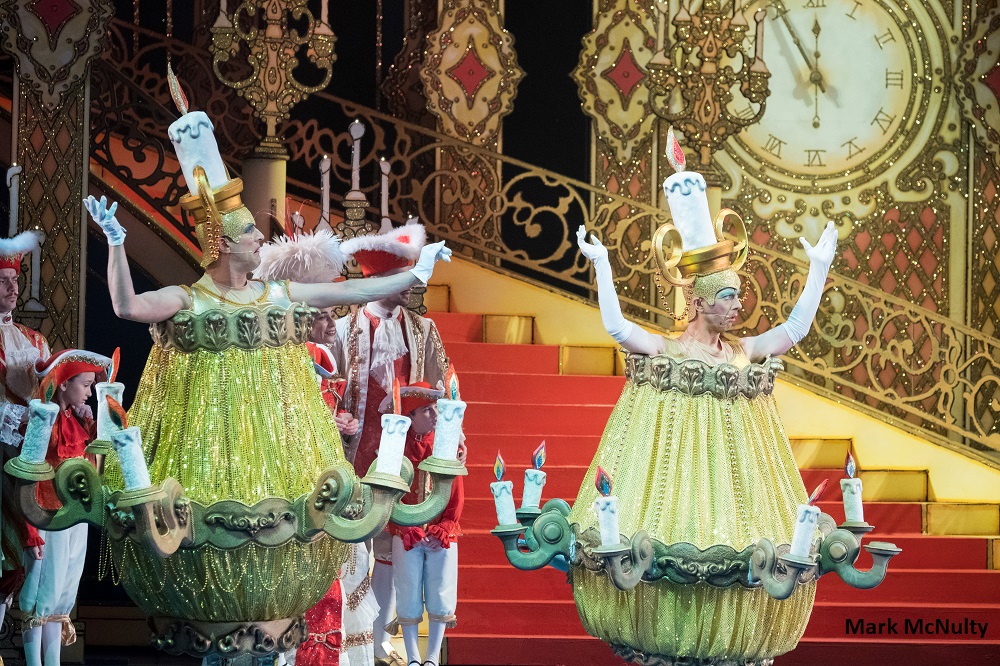 As for background, scenery was basically sophisticated cartoonery, from dilapidated mansion (Hardup Hall) to the Palace, via the enchanted forest with its dear little animals. Special effects were limited, hence all the most effective: an elaborate swing for the Fairy Godmother, and even more, Cinders' coach, drawn by an amazing animatronic winged horse. Just as amazing, and indeed, even more magical was her transformation from rags to riches in the twinkle of an eye. Being picky, it was a bit odd that the gown then seemed to have changed again in the subsequent scene. And there were other inconsistencies with elaborate set ups fizzling out; the call and response of 'all right/ok' had just one outing. However, such a lot to fit in here, overall, it's stuffed full of goodies, and one of the best, having been faced with some dire colour schemes in the past (turquoise and burnt orange, anybody?), this time, it was all in the best possible taste, whether subdued pastels for the peasants or majestic crimson, gold and ivory for the ball.
Same old, same old? With such an excellent cast and an enthusiastic, receptive audience, proof positive that Panto should still be in the news, alive and well, and thriving at the Empire. Cinderella continues until the 7th January 2018. http://www.atgtickets.com/shows/cinderella/liverpool-empire/
Reviewer: Carole Baldock
Reviewed: 19th December 2017
North West End Rating: ★★★★