It's that time of year again. Christmas songs are blasting out as shoppers trudge the high streets in search of the perfect gifts for their loved ones, kids are getting more excited by the day and theatre stages the length and breadth of the country are crammed with the latest batch of reality TV stars for panto season.
Aladdin, the latest offering from LHK Productions, opened at the Epstein Theatre in Liverpool last night. The rags to riches story, of a poor street urchin with dreams of becoming wealthy and marrying the Princess, gave everything you come to expect from a good panto. There was songs-a-plenty, colourful set and costume, camp and larger than life characters and the obligatory collection of double entendres.
The production had a live three piece band headed by Musical Director Matt Lawton and accompanied by Paddy Monaghan and Matt Heery. They opened with an energetic rendition of Lionel Richie's 'Dancing on The Ceiling,' changing the words to 'Dancing in Peking,' given the story is set in China.
Sean Smith, who some may remember as being one half of the brother-sister duo Same Difference from the X Factor in 2007 played Aladdin and impressed with his stage presence and vocal skills. A highlight was his solo rendition of Take That's 'Rule the World' complete with flying carpet.
Young local actor Lewis Pryor has an impressive list of credits to his name and delivered a good performance as Wishy Washy. His Christmas-cracker one liners were delivered with confidence as he maintained a positive rapport with the audience throughout. Another local lad who received a rapturous reception was Mark Byron who played the Slave of The Ring. Mark gained popularity in the Big Brother house in 2014 and this year has decided to tread the boards. A standout moment for him was the complete chaos and confusion you want to see in panto during a comical '12 Things of China' routine set to the music of '12 Days of Christmas.'
Jordan Davis, who claims to be the best thing to come out of Wales since Tom Jones was the token 'hunk' of the show. Jordan has appeared on various reality TV shows including 'Magaluf Weekender' and MTV's 'Ex on The Beach.' Scantily-clad throughout, he played the Genie. Not renowned for his acting skills, he was fair game for being the butt of various jokes; one in particular where Widow Twankey suggested that this year 'the producer had decided to blow the budget on a reality TV star who couldn't act.'
Huge credit must go to Michael Chapman who not only starred as the Dame, Widow Twankey, but also wrote and directed this year's show, his 15th show with LHK Productions. For me, he was the stand out performance and highlight of the evening, with excellent comic timing akin to Matt Lucas.
Natasha Hamilton playing Princess Jasmine gave some stunning vocal performances including a worthy rendition of Beyonce's 'Love on Top' as well as an expected sample of the Atomic Kitten back catalogue. She had great stage presence and a credible chemistry with Sean Smith, eventually finishing with a duet of 'Whole Again,' after numerous lyrical puns throughout.
Mentions must go to Lesley Butler who starred as the Empress and Tom Burroughs who played a great panto villain in Abanazar. The cast was complete with a team of dancers led by the impressive Paul Bullock and an array of young performers including LHK Youth Theatre and The Works Academy. They all brought energy, fun and smiles to the show.
The production on the whole was good, with belly laughs, water fights with the audience, an impressive cast and a cheeky script. The only downside was the length of the show, which you come to expect from pantos; but this guarantees a fun night out for all the family and is worth seeing.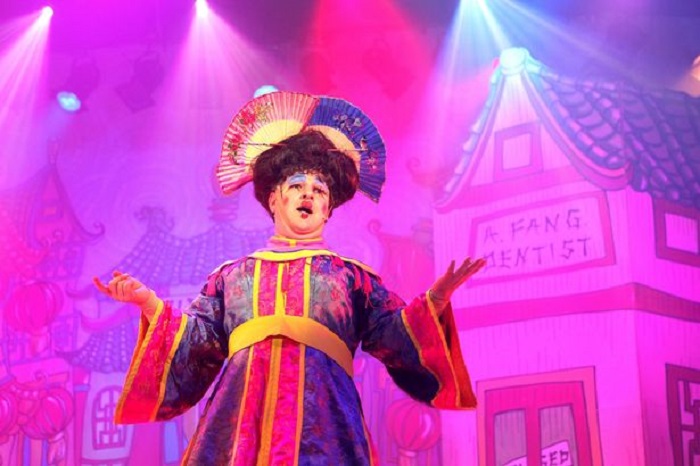 Reviewer: Matt Houghton
Reviewed: 12th December 2016
North West End Rating: ★★★
Photo: David Munn