JB Shorts never fails to deliver exceptional pieces of theatre, consisting of talented actors, writers, and directors from all different levels and experience of work. The collaboration of creativity is what makes this show very special indeed, and after previously reviewing the JB Shorts 18, I couldn't wait to sink my teeth into the next one.
When you first walk into the room, the stage is arranged with an assortment of props such as a dart board, a Persian rug, and a car tyre; one of the many delights of the Shorts- you never know what to expect!
The opening performance of the night was 'I've Tried It Once' by Dave Simpson, which follows the married life of Audrey (Victoria Scowcroft) and Godfrey (Shaun Hennessey). After the passing away of her husband, Audrey reminisces the first time she met Godfrey, taking the audience on a journey through the past. We discover that Godfrey and Audrey struggled in their sexual life, and not everything seemed to work in the bedroom department! Audrey reveals her frustration and angst to experience what women should be experiencing in a marriage; the big "O". After the death of her husband, her quest for a good night in the sack continues; as she goes on to meet different men who might fit the bill. It is only till she comes across her husband's Will that she discovers the reasons behind their troubles…This piece of writing was exceptionally well-written by Simpson, and his previous experience in writing for BBC radio plays did him credit for this performance, as the narration of the story was perfect in its detail. Scowcroft played the role of Audrey beautifully, expressing all the feelings of a women stuck in a lifeless marriage. Hennessy was excellent in his portrayal of not only Godfrey, but of the many colourful characters that weaved in and out of Audrey's story telling. I must also applaud the director (Alice Bartlett), as the rapid scene changes were executed effortlessly. Great choices of music and lighting were made, which created a slick and satisfying pace. Overall, this Short was my favourite of the night as the comic timings, zest of energy, truthful performances, and fabulous writing, all helped to generate an enjoyable theatre experience!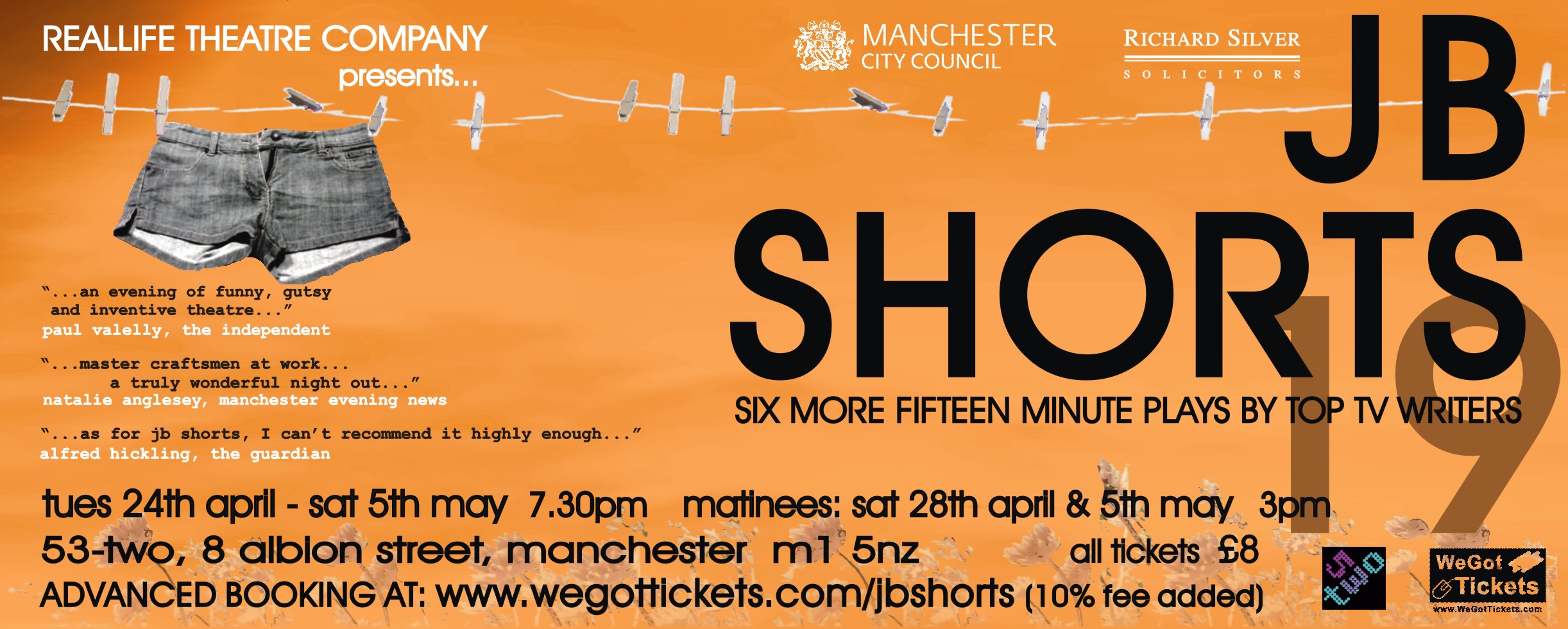 After opening the show with a bang, the bar had been raised considerably high for the next performance, however, the energy and buzz that had been created by the first piece quickly fizzled out for the second Short. 'One of Our Boys' by Trevor Suthers centres on the character Steve; a young lad who has returned home after serving in the Armed Forces. The scene opens up with his family and friends in a pub, discussing how well Steve is doing considering his unfortunate leg injuries. Steve eventually enters the pub, creating a tense atmosphere, and it is clear to all that more damage has been done beyond what we can see physically. Steve has changed, and is not the same person he once was before. Although the story has an interesting topic (one that is very current today), it was, however, very tedious to watch. The writing was very monotone and repetitive, the sort of dialogue you would expect to hear on a soap- had this been a storyline on Coronation Street then it would definitely spark interest- but TV shows have the luxury of time to develop a story; for a 15 minute piece of theatre, the story didn't progress or evolve in any way. Instead of a gripping, thought provoking performance, I felt as if I was sat in the middle of a domestic spat. Steve, played by Keaton Tyler Lansley, certainly evoked feelings of anger and resentment to his new life, but his character felt very two-dimensional- I wanted to sympathise with Steve, but the constant stomping around on his crutches and the lack of range that his character had, left me feeling irritated and unsatisfied. This does not diminish the actors abilities, as their portrayal of the characters were played very well; however, the direction and writing really let the piece down for me.
After a disappointing second Short, I was yearning to be elevated by the next performance, 'Our Club' by Ben Tagoe. Emma and Stig have been attending football matches to their favourite club since they were kids, but answers are needed when new owners take over the club, and changes are put into place that may affect the running of the business. Emma (Sonia Ibrahim) is the fiery football fan that shows that passion and love is something money can't buy… well maybe some fish n' chips! Stig is the best friend that almost follows along with the crowd, and not really understanding what is going on, played brilliantly by Paul William Fox - great to see a familiar face from the previous JB Shorts. Their queries are dealt with by a calm and collective public relations worker, Caroline (Sandra Cole), who acts as the wise and experienced voice to the play. Although this piece was comical and performed exceptionally well, the story at times was a bit flat, and the pace dropped slightly in parts. The plot wasn't very clear to begin with, which for the first half left me quizzing the motives and intentions of the characters. The ideas and feelings were there, but the bulk of story was a bit boring and lacked impact.
At this point, the standard seemed to have slipped since the first act, and so I was apprehensive by what the next Short might bring, however, I was pleasantly surprised. My faith in the JB Shorts had been restored after witnessing the powerful and gripping performance of 'The Stretch' by Joe Ainsworth. James Lewis plays the character Lee, an ex-boxer who is locked away for a ten-year prison sentence after being involved in an unfortunate scenario in his local pub. The play spans the entire decade of his sentence, narrated to the audience by Lee through poetic, witty, verses. Lee's persona and strength of spirit deteriorates as the years pass; a miserable life of redemption for what he has done. The play flashes from past to present fantastically, from the stillness of the prison cell, to the chaotic memories of his boxing matches. Lewis plays the part of Lee incredibly well, expressing powerful, raw emotions with compelling conviction. You really feel for his character, and develop an understanding for what he is going through, despite the fact he has done wrong, the real meaning of the story is that the decisions we make in our life can have extreme life-changing consequences. The story is aided by the prison guard and the boxing coach (both played by David Howell) which helped to establish the switch from past to present. Howell perfectly demonstrated the two different characters, with his swift change of body language. The direction from Simon Naylor was extremely precise and accurate - the lighting and sound cues were delivered faultlessly (credit also to James Mason and - sound and lightning technicians). The play was intensely atmospheric and deeply moving, and elevated the energy in the room once again. A superb, cleverly written play by Joe Ainsworth.
After an intense and visually enticing performance, the piece that followed after was a pleasantly light-hearted one. 'Equivalent' by James Quinn seems like a normal day for Pickering (James Quinn) and Shirley (Meriel Scholfield), sat at café in a service station, drinking coffee. The pair don't have anything in common, and sensing an awkward silence, Pickering feels the need to strike up a conversation. It's not until the conversation develops that we discover the duo have something very particular in common- which is not what you expect it to be! Very funny and likeable characters performed both by Quinn and Scholfield, equipped with witty remarks, insults, and a ton of bricks… An easy to watch, and enjoyable piece of theatre, written and performed by a wonderful cast.
Finishing the night, and with style, was the satirical (and speeded up!) version of Leo Tolstoy's 'War and Peace', adapted by Peter Kerry and Lindsay Williams. What can I say, a thoroughly entertaining show, full of charisma, energy, and funny wigs! This cleverly adapted piece was extremely hilarious, poking fun at the ridiculous plot lines and characters of the famous novel. I honestly couldn't single out any performer as every actor attacked this piece with sheer stamina, power and slap-stick humour. The comedic style was very similar to that of Blackadder, which went down very well in my books! As you can imagine, condensing an entire novel of 'War and Peace' into a 15 minute piece of theatre can't be any easy task, but through the direction and choreography of movements by Joyce Branagh, this was accomplished ingeniously. I admired the great use of props to tell the story, such as a mop for a horse and a balloon for a bomb! The stage was a scene of chaos and silliness, and so many colours. A commendable, side-splitting, uproarious show, performed brilliantly by a phenomenal cast!
Overall, the JB Shorts 19 had a mixed variety of talent, some performances being better than others, having said that, everyone who participated should be extremely proud of their efforts, as it is always a delight to witness fresh and invigorating pieces of theatre. Despite some inconsistencies of the night, the show always has something for everyone- the beauty of 15 minute plays- thus, I will always look forward to see what else they pull out the bag!
JB SHorts continues at 53Two until the 5th May http://www.jbshorts.co.uk/
Reviewer: Parissa Zamanpour
Reviewed: 24th April 2018