There is something for everyone when it comes to the JB Shorts productions, combining comedy, drama, and politics into a series of original, short plays. After almost ten years since the first production, it continues to showcase outstanding pieces of work from creative individuals that never fail to deliver.
The first short play I had the pleasure of witnessing was Artistic Differences by Lindsay Williams. After the death of a friend, two ex-band members talk of a reunion, only to realise that they have conflicting ideas of how they want to showcase their music. There is a rift between the two characters, Jez (John Mackie) and Ash (Stephen Donald), which parodies the relationship of the Oasis brothers. There are some witty, original songs incorporated throughout, both played by the multi-talented John and Ash. The friction between the artists is kept in order by their manager, a feisty redhead, Angie (Keeley Fitzgerald), who is determined to make them a success again. But with the ever changing demands of the music industry it brings to question; is money all that matters?
Shortly follows, is Making Waves by Jan McVerry, set on a boat voyaging between Liverpool and The Republic of Ireland, where three Irish women risk the law by acquiring pills for an abortion. McVerry interestingly exposes the opposing views of the matter through the character Sorcha, played by the believable and intense Amy Forrest, who proves that some people will go to extreme lengths to get their point across- sometimes fear is the best way to get your attention… A thought provoking piece played by a commendable cast!
The third play has to be the highlight of the night for me, a dazzling piece of writing that stayed with me till the end. Forever Eighties by Dave Simpson & Diane Whitley is a romantic telling of a young couple in the 80's, Mary (Jennifer Hulman) and Alan (Peter Stone), eyeing up their prospects of their future together. Whilst enjoying the 80's music played by the jazzy DJ (Joseph Jacobs), their relationship takes a turn when Alan reveals certain circumstances, and misinformation, that brings their endearing partnership to an end. After years of separation, they are reunited again, which is shown by an older version of themselves, played by Martin Wenner and Kerry Willison-Parry. The two versions swift between past and present, revealing the life that they had, and the life that they chose. With the aid of the disco ball, glimmering down on the audience, and the sweet nostalgia of the 80's music, it reminded me of those movies where anything is possible. A classic Meg Ryan and Tom Hanks story; some people are just destined to be together. A beautiful performance from Kerry, her emotions were truthful and heart felt, as well as an honest and believable performance by Martin. Fantastically directed by Sue Jenkins, all great choices were made, which left me tearing up at the end.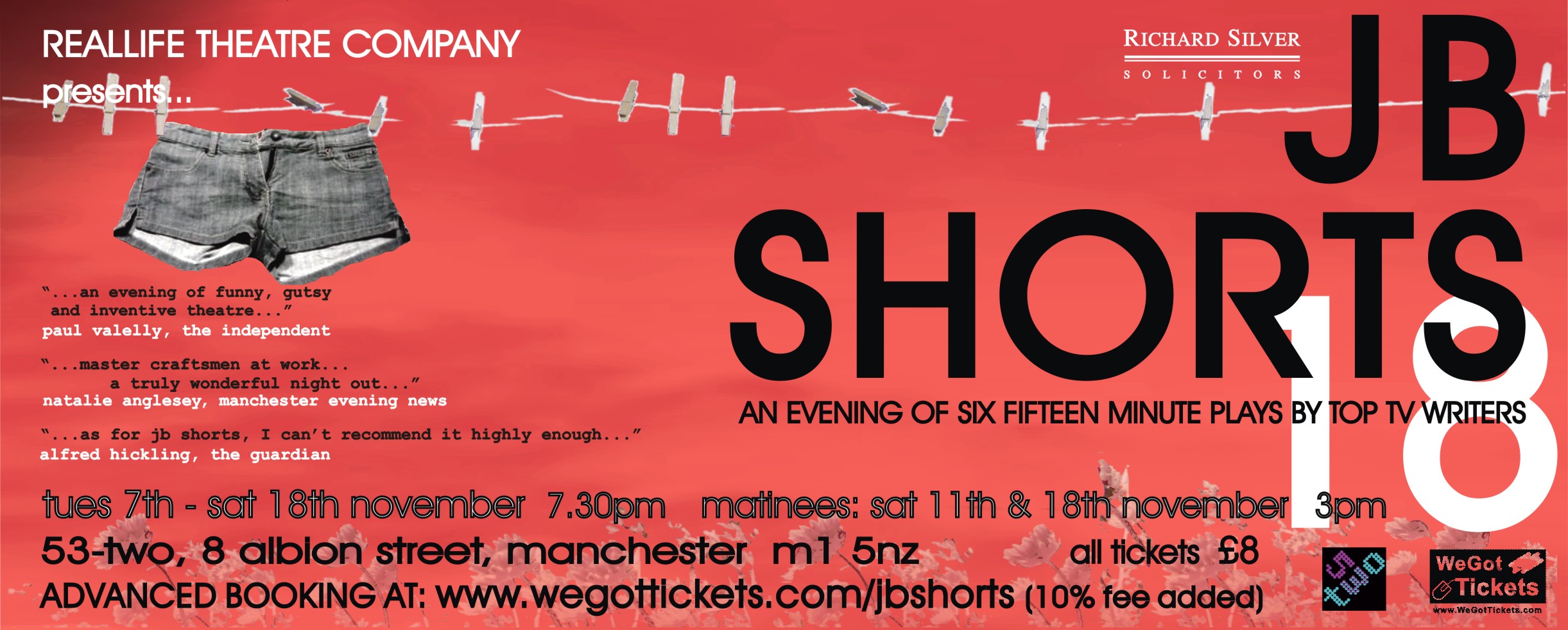 Playmates by Trevor Suthers, is an ingeniously written play which portrays the world through children's eyes. Jeremy (Peter Ash) and Catherine (Kimberly Hart-Simpson) play young kids imitating the lives of their parents through imaginary games and adventures. Their stories are fuelled by what they hear their mummy and daddy say to each other, as well as what they see on television, impersonating celebrities such as Angelina Jolie and Donald Trump. The innocence of how children perceive situations reveals how ridiculous they are in reality, such as mocking their parents when they're arguing. It's only till we see the real versions of the parents that we begin to understand the difficulties that surround adult life, and the innocence that is stripped away. Great direction by Miranda Parker, and phenomenal performances from Peter and Kimberly, whose facial expressions and enthusiasm were spot on. Brilliant writing, great chemistry, and an overall laugh-out-loud performance.
If you're fancying something different, you'll love Just Sayin' by Peter Kerry and James Quinn, which pokes fun at how ludicrous social media can be. Seemingly set in a bar, three friends discuss politics which leads to opposing opinions, eventually escalating into a full on debate. It's not until the odd ''like'', ''hashtags'' and ''emojji'' references come about, that you discover they are presenting a real-life form of social media. This kind of scenario is no stranger to the world of Facebook, which allows freedom of speech; however, by cleverly portraying the online conversation in a casual bar, it questions the illusions of the social media world. Would you act the same way in real life as you would online? Martin Gibbons directs this piece with a slick and comical approach, with the aid of a talented and amusing cast. The finest moment has to be the waitress (Victoria Oxley), whose sole purpose is to 'upload' newsfeeds by bringing newspapers to each character! A smart and cunning comedy for the modern world.
Bringing the show to an end was Flotsam and Gypsum by Peter Bowker, which depicts the life of Florence (Val Tagger), an elderly widow suffering from Alzheimer's. Presently, her living room is being plastered by her son's co-worker, Paul (Wiliam Fox), who discovers the illness when Florence is convinced that Paul is her son, Steve. Paul goes along with the pretence, as to humour Florence, and as a result, an unlikely friendship emerges which makes you think that in the end, love is all that matters. An exceptional performance by both Val and William creating a magical comedy duo. A charmingly written play that hits all the right notes- this definitely warms the heart!
A whirlwind of imaginative, rich, and colourful stories, brought to life by an energetic cast. Don't miss out on witnessing the unique and unforgettable treasures of JB Shorts.
Reviewer: Parissa Zamanpour
Reviewed: 9th November 2017
North West End Rating: ★★★★★