The Exorcist is one of the all-time classic horror films, a staple of 20th century cinema and a benchmark that other horror thriller films try to hit. In fact it is probably up there in my top 10 favourite films of all time, so when the review for this new production of the exorcist on stage came up I snatched it with both hands. Set in an American house, the play follows Regan, a young girl who is possessed by a demon and commits awful acts of violence and sacrilege as the priest Father Damien Karras tries to find a way to save the girl.
Paul Nicholas was strong as Father Merrin, with a great command of his space and a real sense of his worldly wiseness. Sophie Ward was good as Chris MacNeil, with her desperation to get her daughter back again really hurting in the later scenes in the play. Ben Caplin was superb as Father Damien Karras, showing the man's vulnerabilities with his faith and his inner turmoil brilliantly.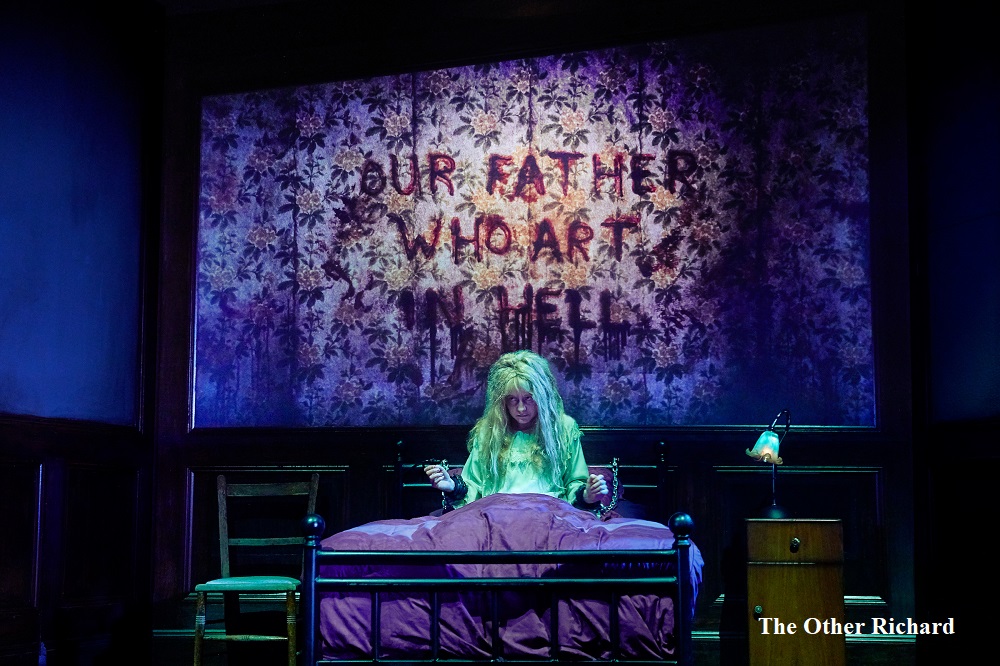 Stephen Billington, Joseph Walker and Patrick Toomey were all fair in their parts as Doctor Strong, Father Joe and Doctor Klein respectively and Tristam Wymark was a real scene stealer as Burke Dennis, with his brilliant flamboyance and charm making the audience feel even more for his unfortunate ending. However, my absolute highlight in this show was Susannah Edgely as Regan MacNeil. She was utterly enthralling in this part, from her movement and tics that really made you believe she was this young girl to when she was possessed and effectively the vessel for the demon. This actress has some real diversity and this was on full display in this production.
The set looked magnificent for this show, staying very similar to the set from its west end residence, however the technical issues they were having with the wall moving in and out every five minutes was massively distracting to me and something that the audience just ended up laughing at and ridiculing, completely ruining the suspension of disbelief and the tense mood in the room. A shame really as that is my only major fault for the production, but it almost ruined it for me.
Overall whilst this did annoy me somewhat and make my focus slip sometimes, i still found this to be a very enjoyable show and I would recommend watching it. Tickets are still available at the box office for the rest of its run.
Reviewer: Adam Craddock
Reviewed: 24th September 2019
North West End UK Rating: ★★★