A classic comedy farce with smart dialogue about misunderstanding, miscommunication and English, middle-class duplicity. Alan Ayckbourn's play was first performed (under the title Meet My Father) in 1967 and there have been over 350 performances since, establishing Ayckbourn as a notable English playwright. The Carlton Players, under the directorship of Steve Youster, have served up a treat to keep the production fresh thanks to a cast which delivers timing and personality to the characters and the complex plot.
The show opens in the flat of Ginny (Fiona Williams), a young, vivacious girl of the sixties. She has been entertaining her less experienced boyfriend (Dylan James). Whilst Ginny is happy-go-lucky and radiates modernity and sexual liberation, Greg is hapless and naïve. The flat is sixties chic with Beatles and Mod posters and the narrowest of beds.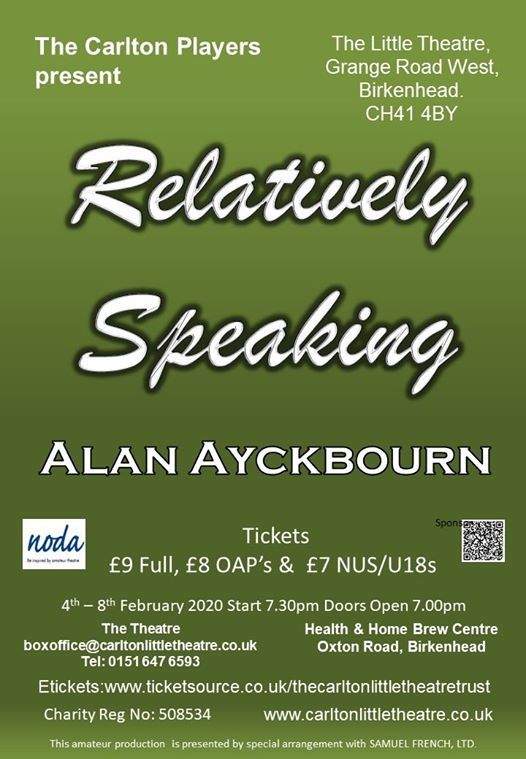 Greg is concerned about the regular 'silent' phone calls to Ginny's flat as well as the numerous bunches of flowers and boxes of chocolates which litter her apartment. He is besotted with Ginny and doesn't want his suspicions, that there may be another man in her life, to ruin their romance. However, the discovery of a strange pair of men's slippers under Ginny's bed and her unconvincing explanations about the calls, flowers and chocolates lead Greg to follow Ginny on a dubious trip to Buckinghamshire, supposedly to visit her parents but she is actually going to break up with her older married lover and insist on the return of her love letters.
The next scene is in the garden of pompous Philip (Alan Kenny) and his baffled but fearsome wife Sheila (Katy Downes), whose marriage is clearly no rose garden. Sheila has her suspicions about Philip and his regular business trips, whilst Philip has his suspicions about Sheila as regular mysterious letters arrive for her, including on a Sunday!
The garden is beautifully manicured with shrubs and trees, table and chairs. Sheila flounces around fussing over all manner of drinks and snacks while Philip is forever searching for a missing hoe.
Ginny misses the early train, so Greg arrives first and wrongly assumes that they are her parents. Greg asks for Ginny's hand in marriage from Philip, while Philip mistakenly believes that this stranger is asking permission to marry his wife, Sheila. Well, these are liberated times and, although shocked, Philip sees this an opportunity to escape a stale marriage.
When Ginny arrives, she convinces Philip to play the role of her father. Philip is relieved that Ginny has not come to reveal their affair to his wife. Meanwhile, Greg believes that Sheila is Ginny's mother. The situation becomes increasingly complicated and comical and the play builds to compelling finale. There are plenty of laugh-out-loud moments and audience-wincing as painful truths and half-truths are revealed.
There is lovely interplay between all the characters as Ginny is positively urban and Sheila is distinctly rural. Greg is wonderfully innocent and simple while Philip is scheming and controlling and is comfortable in both worlds. English manners, politeness and the desire not to cause offence over sherry is wonderfully portrayed.
The Little Theatre rises to the challenge of turning the stage from a sixties flat into a convincing English summer garden. The production keeps to Ayckbourn's wish for rooting the play in the period with convincing dialogue and costume.
Reviewer: Bob Towers
Reviewed: 4th February 2020
North West End UK Rating: ★★★★