Old Fruit Jar Productions have taken to the Hope Street Theatre this week to perform Jack Thorne's version of Georg Büchner's classic play Woyzeck. It tells the story of Woyzeck, a soldier working for the British Army in Berlin during the Cold War, and the extents he'll go to try and make a better life for his child and his girlfriend, Marie.
Jack Thorne's script is fantastic and the dialogue feels completely natural. It keeps you intrigued in the characters' backstories by not giving you everything in one go. The characters all feel fully fleshed out and flawed which makes for a very believable piece of theatre. Alex Carr's direction is spot on and he does a great job at keeping the play interesting and constantly moving even with a very simple set.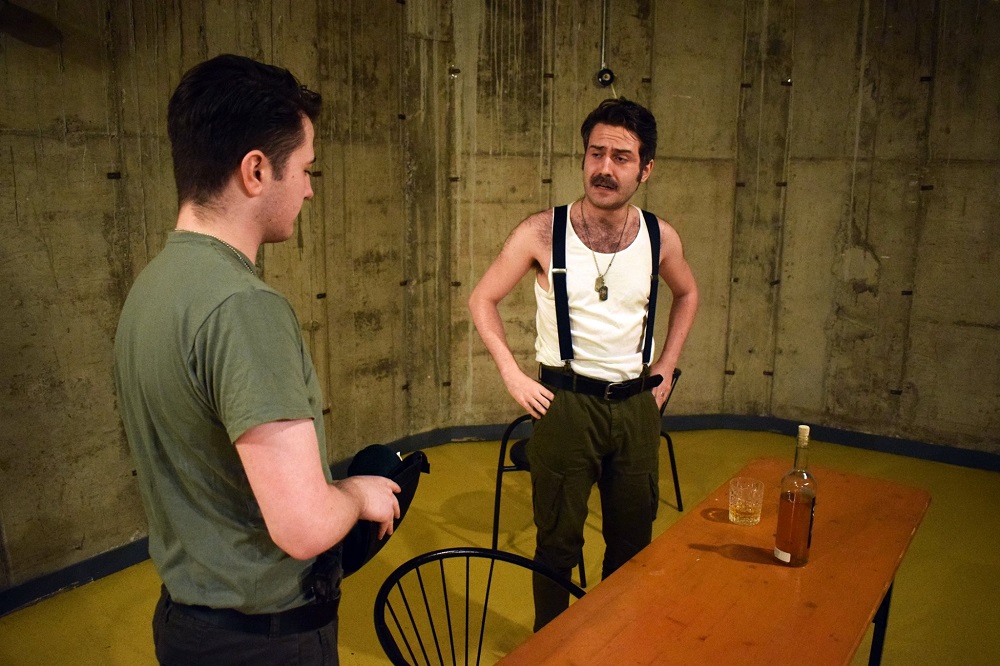 Jordan Barkley leads the cast as Woyzeck. He does a great job in the role and particularly shines in Act 2. His incredibly believable performance gives a very harrowing ending. Anthony Roberts plays Woyzeck's friend, Andrews. He does a very good job at portraying this flawed character, who becomes quite unpleasant. However I did feel some of his characterisation in his later scenes felt a little disjointed and didn't entirely feel like he was playing the same character. There's very little build up to him turning against Woyzeck.
Rachel McGrath does a terrific job as Maggie and she is perfectly unlikeable and snobby. It would have been interesting to see more of this character's backstory though as she just comes across as unlikeable and self-centred. Christina Rose is great as Woyzeck's Mother, although she is very underused. Jamie Peacock gives an excellent performance as Dr Martens. Although he doesn't get a huge amount of stage time, he still creates an intimidating presence.
For me, it was Josh Ennis and Florence King who stole the show. Ennis plays Captain Thompson and he is perfectly cast. He fully embodies his character and he demonstrates great comic timing too. King portrays the conflicted character beautifully. She has great onstage chemistry with Barkley.
Woyzeck is a harrowing production and is definitely worth seeing if you are in or around Liverpool this week. Old Fruit Jar Production's Woyzeck runs until 25th January 2020.
Reviewer: Jacob Bush
Reviewed: 22nd January 2020
North West End UK Rating: ★★★★