Achy Breaky Bride is a new musical telling the story of wedding dress shop owner Jolene and her struggles with her own love life whilst trying to make other people have the perfect romantic day at their wedding. The show uses pre-existing Country classics including Jolene, Crazy, Rose Garden and Achy Breaky Heart. The show is cheesy and feel good and it includes some of Liverpool's very best talent. The show feels like it is made by Liverpool for Liverpool and the combination of this American Country music is strange but it works in the context of the show.
Philip Olivier, of Benidorm and Brookside fame, plays Sue (to force in a Country reference that I didn't get) and he gives a great performance. Although his singing could be stronger, he makes up for that in his fantastic stage presence and characterisation. He is completely likeable and his performance is a joy to watch. Adam Curtis as Hank is fantastic. His vocals are very strong and he has a great stage presence. Jenna Sian O'Hara is very underused as Shelley, Leah and Hattie but she does a great job in these roles.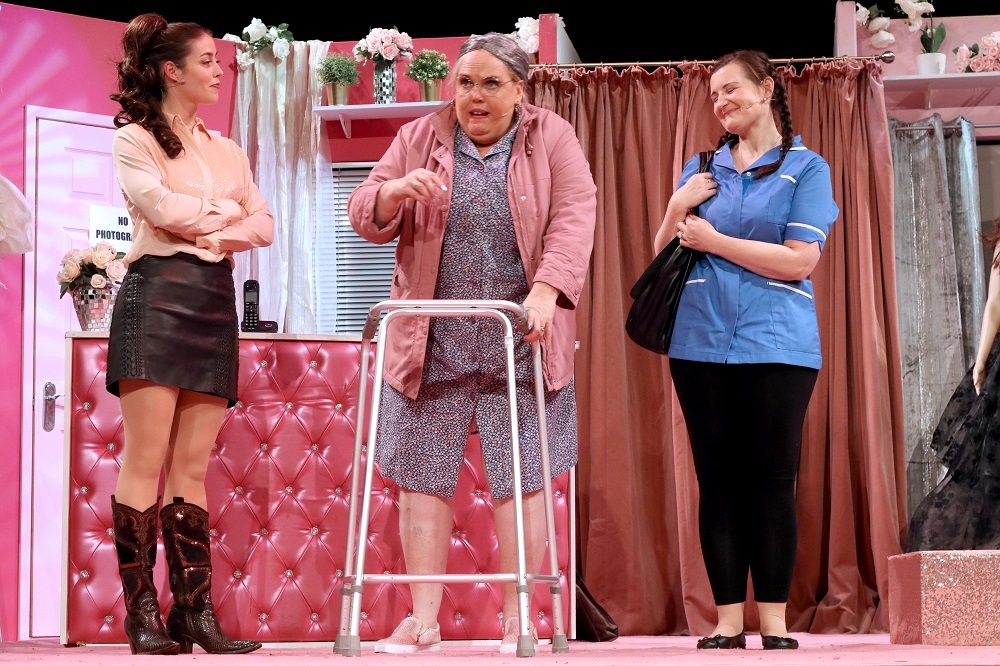 She has a lovely warmth in her performance and she characterises the young brides perfectly. Emma Vaudrey is fantastic in her various roles. She has a great singing voice, she has great comic timing and she demonstrates her versatility as an actress in how different she makes all her characters.
David Heath, of The X Factor fame, delivers flawless vocals as Breathless and Mikey. He is funny, he has a great on stage chemistry with Olivier and his songs are a joy to listen to. Lindzi Germain plays a huge variety of characters, each one funnier than the last. Her singing ability is strong and her comic timing is truly exceptional. She is definitely one of the UK's greatest comic actresses.
Olivia Sloyan and Leanne Campbell lead the cast as Faye and Jolene. Sloyan's vocals are very strong and it's a shame she doesn't get more to sing. Her characterisation is spot on and the audience really feels for her as we learn about her relationship struggles. Campbell is given top billing for this production and rightfully so. She is a fantastic actress and has a great rapport with all her co-stars. Her singing ability is outstanding and she is given plenty of opportunities to show that off.
My biggest issue with this production was the musical staging. Emma Culshaw and David Paul's book is strong and very funny and Sarah Walker's choreography is good fun but the musical numbers feel a little detached from the rest of the action due to the way they are staged which makes them feel more shoehorned in than they are. At times, the musical numbers feel like they pause the narrative and the action for a moment. I also felt this production could have done with a few extra songs to move the narrative along and develop the characters more and it would have benefited hugely from having a live band.
This show is good fun though – it knows what it needs to be and it delivers. For a fun night out and a showcase of some of Liverpool's best talent, this is where you need to be. Until 19th October https://www.epsteinliverpool.co.uk/events/achy-breaky-bride/
Reviewer: Jacob Bush
Reviewed: 10th October 2019
North West End UK Rating: ★★★★