Blithe Spirit is a comic play by Noel Coward. Written in 1941, it reflects not only the fad for séances following the incredible losses of World War I but also serves to mock sudden death at the very time that bombs were bringing it to Britain at the outset of World War II. For over thirty years it was the longest running comedy in the history of British theatre.
Carlton Players production, under the direction of Eliane Davie, starts as socialite and novelist Charles Condomine (Robert Thunder) invites an eccentric medium, Madame Arcati (Jill Breckon) to hold a séance at his house as part of his research for his next book about the occult. At the séance, attended by his second wife, Ruth (Katy Downes) and family friends, Dr Bradman (Michael Hunter) and his wife, Mrs Bradman (Susan Braddock), Madame Arcati inadvertently summons Charles' first wife, Elvira (Danielle Jones), who has been dead for seven years.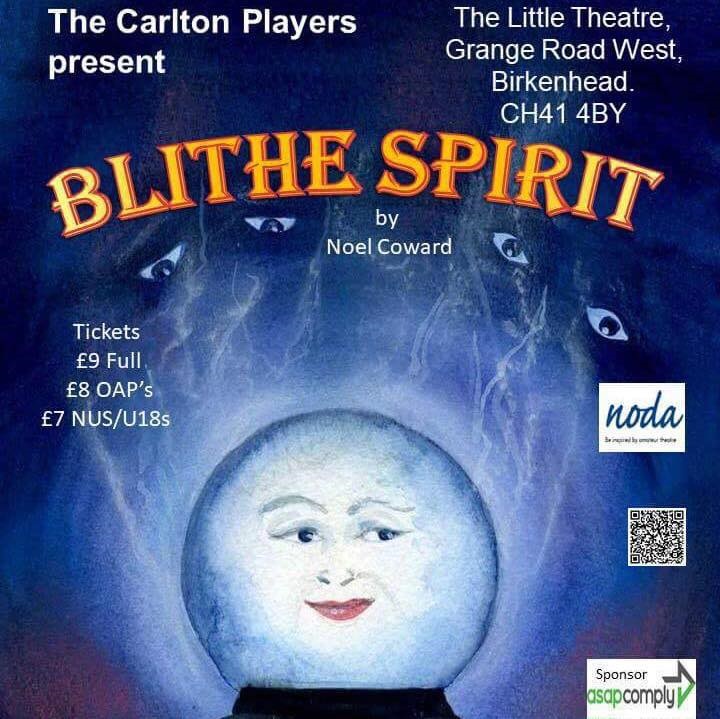 Or does she? Only Charles can see or hear Elvira so is his erratic behaviour a result of too many dry martinis? Or perhaps the stress of writer's block? Or is it an attempt to drive his current wife to despair? The only thing for certain is that there are strange goings on taking place and someone needs to get to the bottom of it: cue the return of Madame Arcati with some timely assistance from put upon housemaid Edith (Fiona Williams) to make 'séance' of it all – and if you want to find out what happens next then head across to Birkenhead where this production performs through to Saturday night.
As a big Coward fan, his works can often be ruined by over the top acting so it was pleasing to see understated performances from all the cast in this enjoyable period comedy full of English mores and behaviour, although at times it felt a little flat which may have been first night nerves. More importantly, what is key to a successful Coward production is timing the delivery of his impeccably written lines and on the whole that worked well tonight. Williams' slapstick opening scenes as the scatter-brained and frantic maid made an immediate impression on the audience, and there was some good comic interplay between Thunder, Downes, and Jones, for the audience to delight in as his frustrations come to the fore.
The set under the stewardship of Pam Buckle captured the essence of a 1930's Kent country house living room, with the cast resplendent in period costume prepared by Elizabeth Youster and team, and the props from Laura Smith and Lorraine Smith allowed the play to conclude with one of Coward's signature theatrical devices with the house beginning to fall apart as the curtain falls on Charles' departure.
The Little Theatre in Birkenhead is a delightful venue complete with bar and seating almost 300 including full disabled access. There is free parking to the rear of the theatre from 6.30pm.
The Carlton Players are the resident company and produce several plays throughout the year including a pantomime. They are always looking for new members so why not get involved?
Upcoming productions include Old Time Music Hall (23rd February 2019); David Copperfield (19th to 23rd March 2019); Rope (23rd to 27th April 2019); and Secondary Cause of Death (11th to 15th June 2019). Further details can be found at www.carltonlittletheatre.co.uk/
Blithe Spirit runs through to Saturday 9th February 2019, doors open at 7.00pm with performances commencing at 7.30pm. Tickets £9 (£8 OAPs, £7 NUS/Under 18) and available at the Box Office on 0151 647 6593 (email: This email address is being protected from spambots. You need JavaScript enabled to view it.) or via www.ticketsource.co.uk/thecarltonlittletheatretrust
Reviewer: Mark Davoren
Reviewed: 5th February 2019
North West End Rating: ★★★