According to the programme notes every hour of the day, a curtain rises on a Verdi opera. As La Traviata is widely considered one of his most famous operas, chances are high that the curtain will be rising on this show. Curtains feature heavily in Tanya McCallin's Tissot inspired design for this revival of David McVicar's production. As the audience settle in their seats notebook wielding men prowl the dust sheet strewn stage cataloguing what's there.
This foreshadowing of later events is carried through McCallin's design, where funeral drapes frame the stage and Violetta's epitaph is etched on the floor. As the opera reaches its dramatic, and inevitable, conclusion the curtain literally falls. The symbolic use of colour in the design is effective, if a little predictable. Violetta is dressed in purple for her opening introduction, white when living in bliss with Alfredo and red once she's broken his (and her) heart.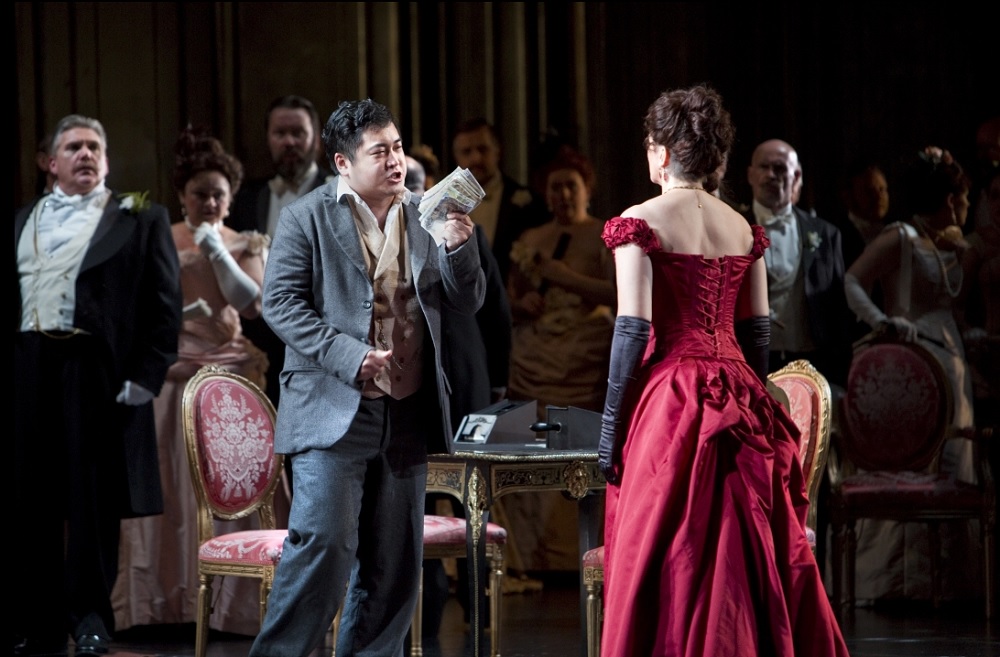 McVicar's production, here revived by Sarah Crisp, has been criticised for lacking the political punch and radicalism of Verdi's intention. La Traviata was envisioned by Verdi to be 'subject for our own age' – something he never got to see as the censor insisted he move the action back a century and a half. This production sets the action in the late 19th Century, as Verdi intended, allowing the timeless love story to take centre stage and avoiding the pitfalls of updating the story for a contemporary audience. The opera has itself inspired contemporary interpretations most famously in Baz Luhrmann's Moulin Rouge - which is now heading for Broadway in a new musical version. And the echoes within Pretty Woman (also recently reincarnated as a Broadway musical) are highlighted by the film's extensive use of the opera – Edward takes Vivian to see La Traviata and plays one of the opera's most famous numbers when he arrives to sweep Vivian off her feet at the end of the film.
There is no doubting the emotional credentials of the opera, and Crisp and McVicar draw some evocative performances from the principles. Roland Wood is a suitably dominant presence as Giorgio Germont, Alfredo's father, lending his rich baritone to the senior Germont's paternal concern and intervention. Linda Richardson perhaps lacks some of Violetta's sultry appeal but comes into her own in the second and third acts finding beautiful colour in Verdi's work, and as realistic a portrayal as one can achieve when dying of consumption whilst singing a soaring aria. Kang Wang's Alfredo is wonderfully nuanced, vibrating with rage as he confronts Violetta at a party after she's left him for James Cleverton's suitably slimy Baron. The chorus are also in strong voice, evidently enjoying their decedent party scenes – although at times their acting distracts from the central story. A real highlight is Andrew George's choreography, with additions from Colm Seery (who appears himself to great comic effect), which brings some much needed light relief to the tragic tale.
James Southall's conducting evokes dance as he commands the wonderful Welsh National Opera Orchestra, breathing new life into these well-known melodies. This is a smart production, which does what it sets out to, unearthing rich emotional depths on the way.
Reviewer: Clare Chandler
Reviewed: 7th November 2018
North West End Rating: ★★★★