Tonight I had the joy of reviewing "Nativity The Musical" which has been adapted for the stage by Debbie Isitt, the creator of the much-loved movies. Being unfamiliar with the film 'Nativity' and its two sequels, this show was completely fresh to me and proved to surpass my expectations. This is a brilliantly ridiculous, cheerful show that makes you smile until your face hurts, as long as you are willing to have a good time!
The storyline depicts the journey of three best friends who aspire to be successful actors but end up on different paths as one elopes to become a Hollywood producer while the other two become primary school teachers. Competition arises when both teachers are given the task of directing the school's Nativity play in their schools and so begins the quest to gain that all important "5 star review". Mr Poppy is employed as a classroom assistant to support the direction of the school play in St Bernadette's Primary School however with his immature nature and childlike behaviour, he proves to be more difficult to manage than all of the kids put together! Filled with laugher, fun and over the top silliness, Mr Poppy and his adventures bring to the stage a wonderful, imaginative and magical tale.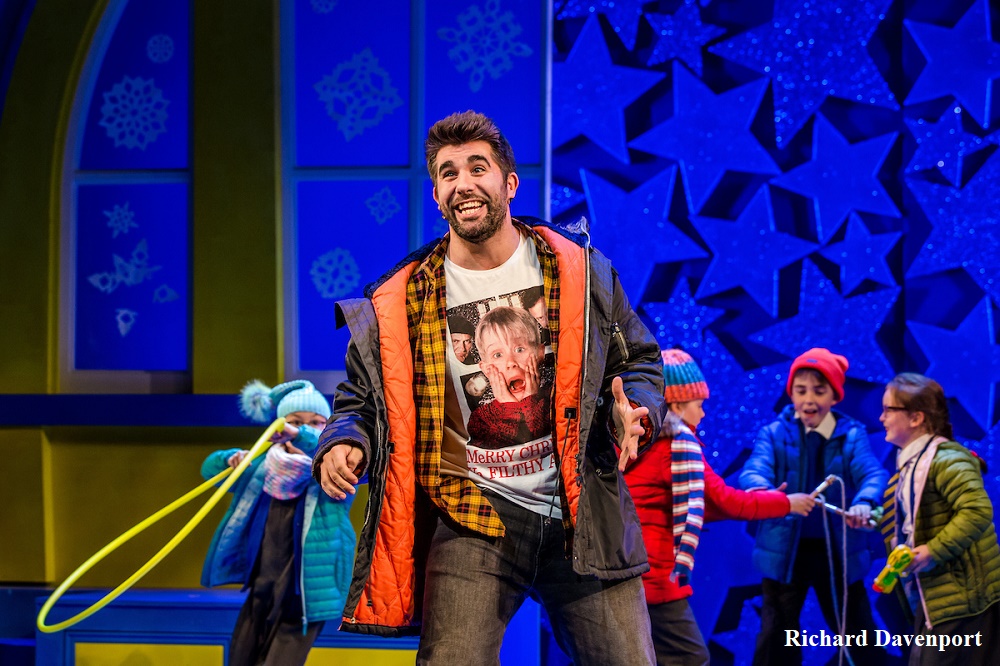 The show is excellently cast with the wonderful Mr. Poppy (Simon Lipkin) giving a stellar performance. His characterisation is like no other with Lipkin being fantastically lovable and funny, so much so that I found myself laughing even when he wasn't doing anything funny. This character is so well written that the audience all want him round to theirs for Christmas dinner to spread his cheer.
However for me, the highlight of the show was watching the children perform and give it their best from start to finish. They were so good that I had to blink to make sure they were real, especially during the bigger choreographed numbers. Their timing was impeccable and with a stage presence that shone for miles, these talented kids were a complete delight to watch. The fantastic 'audishions' scene was highly memorable when you saw super talented kids, acting like less talented kids in a hilarious way. Similarly, these kids moved the audience with their sweet rendition of "Dear Father Christmas" which had some of the audience reaching for a tissue.
The overall musical is very fast paced with lots of excitement that keeps the audience engaged and interested. The production is full of fun, from flying children (literally), to a set that just keeps on giving and costumes that dazzled so much you'd need sunglasses. The scene changes were slick and well rehearsed which only added to the action and the drama. The energy is remarkable and the whole production is full of joy that would appeal to all ages. There is humour directed at adults and humour directed at children that somehow "Nativity the Musical" have managed to achieve in style so that everyone is belly laughing.
This show is a complete celebration of youth and of course, Christmas. It's the kind of production that would get away with anything and it did as some lines were adlibbed to the audiences' enjoyment. It's clear that the cast are having fun and they made the audience want to have fun too. It has to be mentioned that this cast were over an hour late beginning the performance due to a traumatic incident whereby ten members of the adult cast were trapped inside a lift for several hours. Well bravo, take a bow and that deserving standing ovation because this cast performed with vibrancy and energy as if they had never felt so refreshed in all their life.
As I left the empire theatre tonight, I had been converted to a fully fledge fan of this show, with its dazzling set, feel-good songs and comedic drama, it truly felt like Christmas had come early. You have to be in a bright, silly mood to enjoy this one, be ready for ridiculousness and be ready to have fun! This Nativity is highly deserving of their coveted "5 Star review" thanks to a highly memorable and unmissable performance.
Reviewer: Blathine Maguire
Reviewed: 31st October 2018
North West End Rating: ★★★★★