There are countless Beatles copy bands out there revisiting the Beatles collection of music and Let It Be continues this with a celebration of the bands hits. Let It Be had successful runs on both Broadway and the West End and is now touring around the UK. This new tour has been split into two parts with key songs from the Beatles career in the first half and then most interestingly an imagining of what would have been if there was a reunion of the band in 1980 in the second half.
The musicians have clearly worked hard at their sound and look to convince the audience that they are watching the Beatles. This is not an easy task to undertake as they go from the Beatles humble beginnings of Twist and Shout through to the Rock numbers on Abbey Road. This production aims to entertain Beatles fans of all ages and does so successfully through high quality performances. A key highlight of the night was the Shea Stadium section where the band played around with sound to create an effective reimagining of the Beatles famous gig. I would argue though that the best section was Act Two in which we get to see the Beatles as though they had reformed for a one off gig.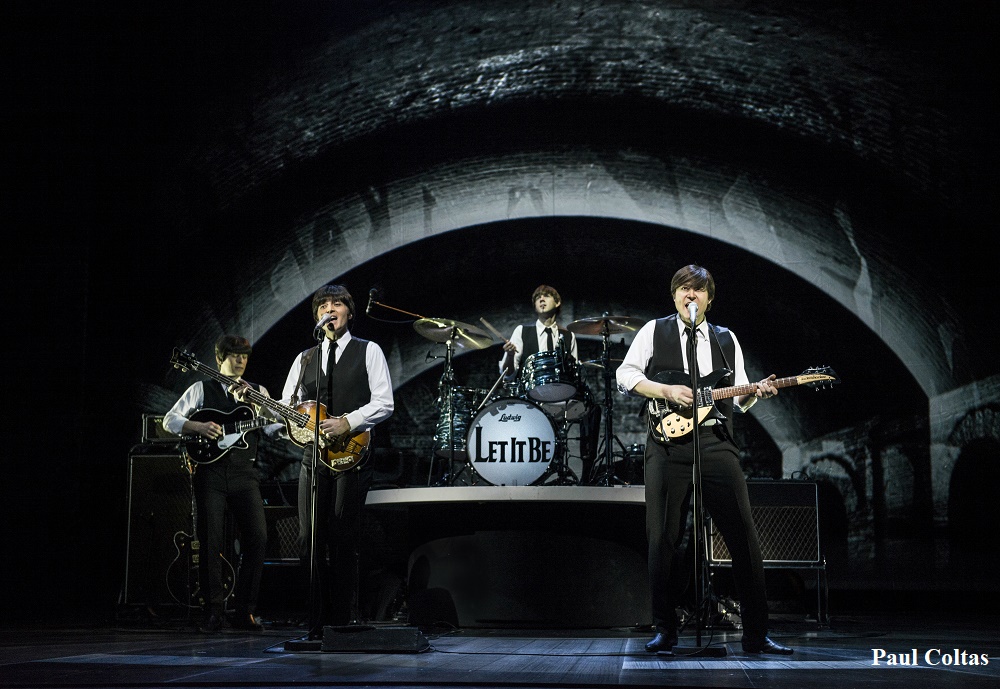 This included solo songs such as McCartney's Live and Let Die and Lennon's Watching the Wheels and made the audience wish this concert was the real thing. It was clear how interested the audience was to hear solo songs that are often ignored by Beatles copy bands.
The screens around the stage were a useful addition to the production as they showed footage from the era and set the scene for each of the Beatles songs. They also usefully allowed time for the dramatic costume and set changes and one particularly engaging moment was the showing of 1960s adverts. The audience clearly enjoyed this and the feeling of being transported back in time. The costumes added to the overall effectiveness of the show and helped the audience to be taken back to the time periods that were covered. From the Beatles colourful Sgt Pepper's costumes to Lennon's famous New York T-shirt, the costumes enhanced the production and allowed the audience to imagine the Beatles were right there in front of them.
Unfortunately, as good as the band are musically the banter between them and the audience was slightly off. It is always difficult for copy bands to have every angle covered and although musically they sounded great, accents and mannerisms were not always of the best quality. However, if you are looking for a few hours of escapism to imagine the Beatles were back with us then this is for you. A fun, engaging and effective show, that had everyone singing along.
Reviewer: Beth Easton
Reviewed: 3rd September 2018
North West End Rating: ★★★★