For all the chaotic racket, there's nothing quite like a theatre filled with children, filled with anticipation at seeing a favourite book and beloved characters come to life before their eyes. Unfortunately, this is nothing like it. Maybe they knew something we didn't? For such a huge theatre, the Empire usually appears sold out but a good third of the seats are empty, and during the school holidays. That said, many people will be on a break and it was a fairly sunny day.
I'm being charitable. David Walliams is something of a Renaissance man, although perhaps that's why the production seems old fashioned. Orphans in dire straits whom nobody believes, and morals more or less rammed home rather than happy endings were a staple of Victorian children's literature
Anyway, here's a chap renowned as Comic; Actor; Presenter – Swimmer. And a Writer who says himself that Roald Dahl is an influence; comparisons are odious but this production is under the influence, complete with plucky heroine, grotesque villain, bizarre events and gruesome descriptions, but under par; a poor man's Dahl. So Stella is held prisoner by the eponymous Alberta, going to desperate, and sadistic, lengths, to get her niece to hand over the deeds of Saxby Hall. On the latter's side is Wagner, an owl, while sticking up for Stella is Soot, a ghost.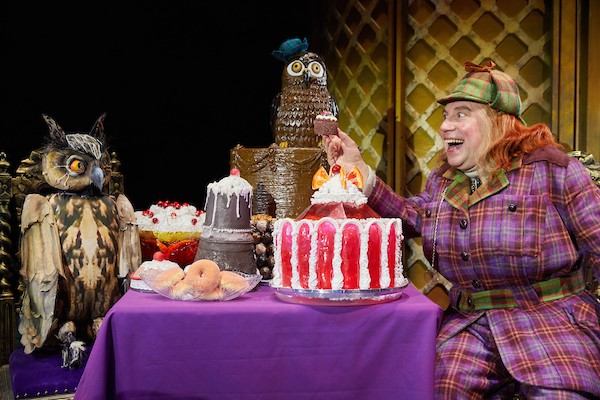 Perhaps the worst thing is, the play is nearly over before there's any reaction from the audience, in a scene where Stella's plans to take revenge on her dreadful relative all erupt. The action is largely shoe-horned in, advancing the plot not an iota, but it was at least comically farcical, with the inevitable toilet humour and it did, finally, get everybody laughing. But you could count such highlights on the fingers of your hand. One was the marvellous manipulation of the owl puppet (Roberta Bellekom), again by comparison with the other marionettery which was painful to watch. What did steal the show was the incredible staging, the huge mansion, top to bottom, and the grounds, convincingly brought to life by the use of four large revolving towers which revealed all kinds of settings, from library to coal cellar.
The play however was as full of inconsistencies and exposition as it was lacking in the ability to engage; in trying too hard, turned out to be mostly trying. Above all, it is extremely dark – very grim indeed yet strangely static, despite the chase scenes, with very little tension; you could see what was coming a mile off. And with such a small cast, every flaw stood out. Ashley Cousins, channelling his inner Dick Van Dyck as a Cockney spook is a good match for Stella; both are intrepid and full of clever ideas. And, alas, rather irritating, even though they're in a parlous state which should engender sympathy. But young girls are hard to play and although Georgina Leonidas imbues Stella with a mixture of innocence and inventiveness, her main talent seems to be the ability to scream. Even more irritating is Aunt Alberta (Timothy Speyer) with her annoying baby talk and plain stupidity; again, no tension because she's about as frightening as your average Panto Dame. In fact, only one character proved scary, and yes, the butler did it. Richard James revels in an absorbingly surreal portryal as Gibbon.
Oh dear. As far as I was concerned, and to be honest, this particular audience: very disappointing, and if you fondly imagined this play would live up to the title, I have to warn you - only half right.
Reviewer: Carole Baldock
Reviewed: 29th August 2018
North West End Rating: ★★