I have always been a big fan of Dusty Springfield (although for many years I though her name was Rusty Springboard thanks to my Dad), so I was very much looking forward to seeing Son Of A Preacher Man. With the success of so many musical interpretations of classic artists such as Queen, ABBA, The Kinks and Carole King I had high hopes.
The story revolves around three generations of strangers who are connected, somewhat tenuously, through an old record shop which had its heyday in the 60s and its eponymous owner The Preacher Man.
Paul (Michael Howe) spent his teenage years at The Preacher Mans where he fell in love with Jack who he still pines for after 50 years. Michelle Gayles Alison is a young widow who has fallen in love with one of her students and Kat (Alice Barlow) who, after losing her grandmother, fell in love at first sight with a man she saw on an online dating site who then rejected her. Together they decided that The Preacher Man and his renowned advice was the only person who could help.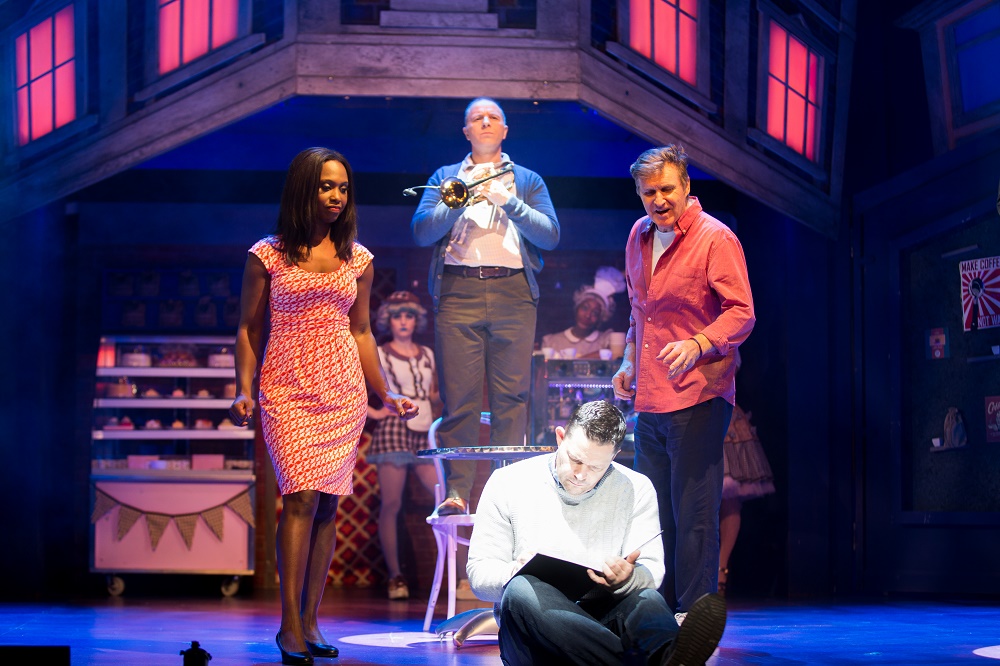 They travel down to London and discover that The Preacher Mans no longer exists and is a chain coffee shop run by Simon (Nigel Richards) who is the son of The Preacher Man! In the absence of his father, Paul, Alison and Kat ask recluse Simon to help solve their romantic problems and he agrees.
For reasons unexplained, all three of the unrequited love interests happen to be in London at the same time and if that wasn't serendipitous enough, they are all in the same venue.
Here in lies the problem. The story is flimsy at best. It is disjoined and, in many parts makes no sense. It is saved by perfect music, beautiful scenery, and flawless performances however I left thinking that Dusty and the performers deserved more.
The theatre was nowhere close to capacity and the matter of an England World Cup game I think played no small part in the lack of people. This left the atmosphere feeling a little flat for most of the evening and unfortunately the storyline did little to inspire the audience.
The Ensemble, including the Cappuccino Sisters however were fantastic and extremely talented mixing strong vocals with smooth dancing and an orchestra of instruments played. The four main characters blended together well, complementing each other vocally.
The difficulty is that the core of this piece just doesn't work - the story. The strongest parts of this play are when the talent dispense of any hint of a storyline and just performs the songs which defined an era. Then they were electric and managed to bring a sadly depleted audience, thanks in part to the football, to life.
Overall this was a play of two halves - a weak story which conceded an own goal but the stellar cast managed to equalise and stretch it to a score draw.
Reviewer: Helen Kerr
Reviewed: 3rd July 2018
North West End Rating: ★★★