What's not to love about a play dedicated to The Beatles and John Lennon's supposedly 'lost' banjo? A wonderful blend of fact and fiction, many stalwart fans will already be sold before they've even entered the premises.
The brand new play (based on a book) opens with an intriguing set an eclectic background of pop memorabilia and references to the Fab Four and 1960's Liverpool. This set captures the moment and is the backdrop for the rest of the performance, along with a bed, some chairs, a table and other furniture.
The opening scene features a bunch of die hard Beatles fans on the open top bus Magical Mystery tour of Beatles Liverpool, led by loveable tour guide Barry Seddon, played by Eric Potts.
What follows in just over two hours of high jinx, rip roaring antics and perfectly timed one liners as acerbic northern wit supplies an endless barrage of laughs throughout often reminiscent of Lennon's cheeky and unforgiving style of humour.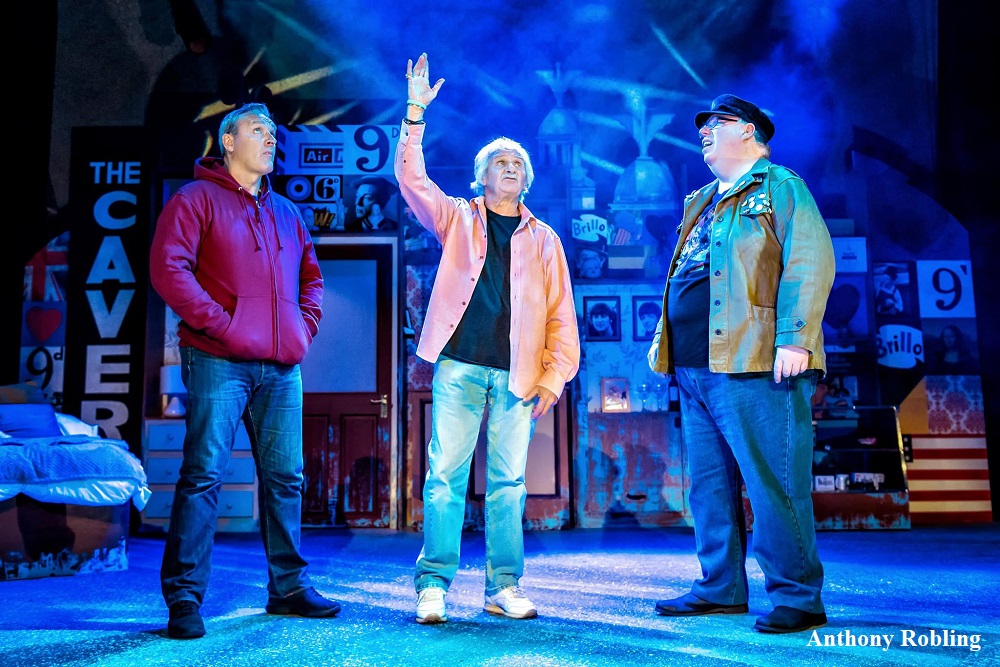 From the cheesy Texan duo played by Daniel O' Brien and Stephanie Dooley, the characters are carefully crafted by writer and producer Rob Fennah (he wrote the book Julia's banjo with Helen A Jones) and adapted Helen Forrester's Twopence to Cross the Mersey for the stage) are really what makes the show shine. To Joe and Steve (played by Jake Abraham and Mark Moraghan) the hapless loveable rogues of the Beatles Memorabilia Shop whose on stage antics add hilarious twists and turns to the perfectly cultivated plot. Their honest humour and the way they play off one another with a frank directness works really well.
Each set of characters has a different reason for getting their hands on the elusive banjo (mostly financial!) that legend has it belonged to Lennon's Mother Julia and has been somehow lost along the years. Their stories are intertwined through the play making the plot gripping and the audience glued to their seats. In a style of Scooby Doo the underdogs are the ones you are routing for. Although the writer cleverly keeps you guessing till the end.
Well placed stage props and lighting made all scenes make an impressive impact and atmospheric in a way that fires the audience's imagination. Of course one cannot fail to mention the guest appearance by original Beatle Pete Best playing himself. (Best will feature in one more performance on the 5th May). The audience of course loved this addition and you feel part of something really special being performed in an iconic venue the Epstein.
Lennon's Banjo works well as it has that feel-good factor that anyone can enjoy, even if they are not well versed with the Beatles. It's a trip down memory lane (or even Penny Lane) comedy with a bit of romance thrown in and a few surprises along the way, that will delight old and new fans alike.
It reminds you to not take yourself too seriously, and has an important message to take home. It was such good fun to watch and you couldn't leave the theatre without a smile. In fact the performance was so powerful you could almost sense Lennon's presence in the theatre.
Reviewer: Rachel Foster
Reviewed: 25th April 2018
North West End Rating: ★★★★★