Giuseppe Verdi's 1851 opera Rigoletto is based on Victor Hugo's notorious play 'Le roi s'amuse' which was banned after only one performance in 1832 for causing offence to both public morality and political sensibility. Verdi's re-telling thankfully got past the censors to provide a three act play which exposes the counter-morality at play in society.
We open to a rich and sumptuous set as the Duke (tenor Vitalii Liskovetskyi) leads his courtiers in drinking and debauchery whilst his hunchbacked jester, Rigoletto (baritone Iurie Gisca) mocks all those around in a manner premonitory of the rest of the play as the Duke proceeds to seduce the Countess Ceprano (Myroslava Shvakh-Pekar) whilst the Count (Tudor Donos) looks on. The arrival of Count Monterone (bass Vadim Chernigovskiy) in a failed attempt to save his daughter results in a curse on the Duke and Rigoletto.
Rigoletto is tormented by the curse and we discover he has a daughter, Gilda (soprano Alyona Kistenyova), whom he jealously guards and leaves in the safekeeping of a nurse Giovanna (mezzo-soprano Zara Vardanean). But the Duke has already spied Gilda and fallen for her – or has he? The courtiers have also tired of Rigoletto's antics at court and trick him into being blindfolded whereupon, under the steer of Marullo (Eugen Ganea), they carry off Gilda, believing her to be Rigoletto's secret lover.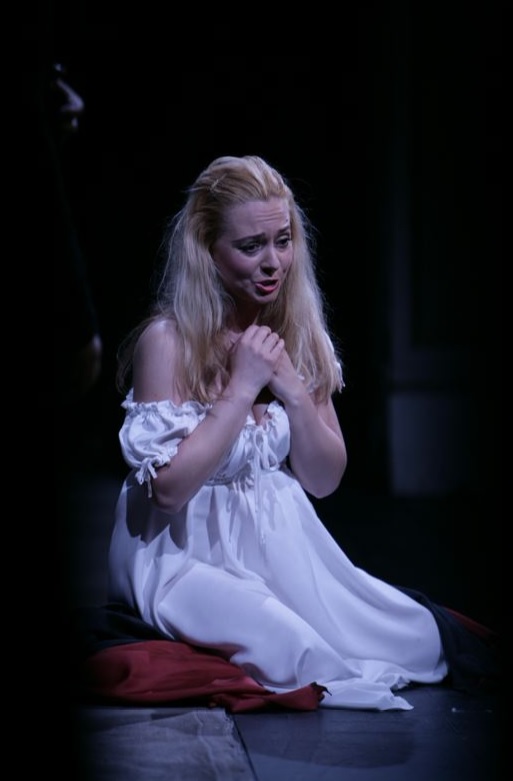 We switchback to the palace where the Duke worries that he has lost the only woman he truly loves until the courtiers assure him they have brought her to him. Rigoletto arrives desperate to save his daughter from ruin and when she materialises we are treated to a beautiful moment of reconciliation between father and daughter. When Monterone appears on his way to jail and retracts his curse on the Duke, Rigoletto assures him it will still come to fruition when he seeks revenge.
Rigoletto enlists the help of assassin Sparafucile (Chernigovskiy) with his sister, Maddalena (Vardanean), used as a lure for the Duke so that Gilda may see the true behaviour of the man she believes she loves. Dramatic gestures abound as we hurtle towards a tragic end in the powerful and moving final act.
All the cast performed strongly – particularly impressive when one notes the torturous journey they had to endure travelling from Glasgow to Liverpool. Liskovetskyi captured the Duke's dual-faceted character with a superbly performed 'La donna è mobile' and was rightfully booed at the end! Gisca's Rigoletto was suitably torn as he is forced to play the clown even when his daughter has been abducted. Their respective duets with Kistenyova were memorable and touching, whilst she perfectly encapsulated the naïve innocence of a young woman in love, and her solos, as always, mesmerised. The live orchestra, conducted by Vasyl Vasylenko, performed beautifully.
Special thanks to Louis and Lenny from the Greyhound Trust Mersey and Chester for whom a special collection was made after the performance. Unfortunately, inclement weather precluded Christine the golden eagle from being present.
The final mention must go to Kent though: this production's brilliant set design and costume reflected the tradition of the piece whilst not shying away from its controversial subject matter. The inclusion of naked women was done sensitively and their on-stage exploitation by the courtiers only served to highlight the hypocrisy that we still see in society today.
I always say you need to 'feel' opera. In what was the coldest of weeks, this production really moved me.
Rigoletto is touring throughout the UK and Ireland with full details available at www.ellenkent.com
Powerful and deeply moving.
Reviewer: Mark Davoren
Reviewed: 2nd March 2018
North West End Rating: ★★★★★