A Beautiful Journey of Compassion, Love, and Reconciliation
La Bohème is a four-act opera by Italian composer Puccini, based on a novel, Scènes de la vie de bohème, by Henri Murger, and following its world premiere performance in Turin on 1 February 1896 at the Teatro Regio, it has become one of the most frequently performed operas worldwide.
The play is set in the Latin Quarter of Paris in about 1830 where on Christmas Eve we meet four struggling bohemians living in a garret: a poet, Rodolfo (Tenor Vitalii Liskovetskyi); a painter, Marcello (Baritone Iurie Gisca); a philosopher, Colline (Bass Vadym Chernihovskiy); and a musician, Schaunard (Bass-Baritone Oleksandr Forkushak), who arrives having had some good fortune and they agree to celebrate by dining at Café Momus. They are interrupted by their landlord, Benoît (Eugeniu Ganea), but cleverly trick him into revealing he has been playing around which allows them to throw him out in comic moral indignation without paying their rent.
Whilst the others leave, Rodolfo remains to complete an article but is then interrupted by a knock at the door: a young girl needs to light her candle but then becomes faint. He helps her recover then she realises she has lost her key; as they search together Rodolfo discovers her name is Mimi (Soprano Alyona Kistenyova). As his impatient friends call for him, Mimi is framed in moonlight and they declare their love for each other.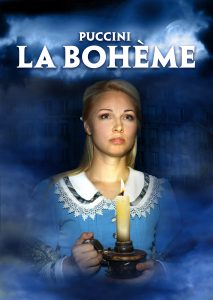 As the party dine in the hustle and bustle of the Latin Quarter, with toymaker Parpignol (Gicu Barbanoi) selling his wares, a former lover of Marcello, Musetta (Soprano Olga Perrier) appears with a rich and elderly admirer, Alcindoro (Ganea), in tow, and, to his embarrassment, she sings a risqué song to garner Marcello's attention.
The opera resumes some months on with a clearly unwell Mimi searching for Marcello who is working in a nearby tavern. She tells him of Rodolfo's jealousy although we discover this is a sham: he is too poor to care for her and hopes she will find love with a wealthier suitor. They are reunited in their love whilst, in a clever contrast, Marcello quarrels with Musetta over her flirtatious behaviour.
Some weeks later we return to the garret where Marcello and Rodolfo are caught up in nostalgia for their girlfriends who have found new, wealthy lovers. Suddenly Musetta appears with Mimi in tow: reconciliations seem in order but will it all end too soon?
This was an excellent production by the celebrated producer Ellen Kent who also directs and with Vasyl Vasylenko conducting, the music perfectly reflects the mood and moment of 19th C Paris, as did the set design by Nadezhda Shvets which resonates with the artistic influences of the period.
All the cast performed strongly with lead roles clearly to the fore: Gisca captured the brashness of painter Marcello perfectly whilst Liskovetskyi simmered with emotion as poet Rodolfo; Perrier charmed with playful elegance as the carefree singer Musetta. The standout performance was Kistenyova's Mimi: she was undoubtedly 'the first sunshine' and, slightly early, 'the first kiss of April' in a spellbinding performance. Her voice is 'poetry'.
There were some wonderfully choreographed routines and support roles for the tour were provided by Stagecoach Theatre Arts Alwoodley, Pontefract, Halifax, and Chesterfield: one hopes this experience will inspire them for their future. Special thanks to Katie Greenwood with her dog Bella.
La Bohème is touring throughout the UK and Ireland with full details available at www.ellenkent.com
Liverpool Empire Theatre dates from 1925 and has the largest two-tier auditorium in Britain which can seat 2,350 people.
Reviewer: Mark Davoren
Reviewed: 24th March 2017
North West End Rating: ★★★★★