I'm betting that Kevin Clifton knows every centimetre of Blackpool's many dancefloors – the town is something of a second home to this Grimsby lad, after all. Now he's back… and unrecognisable! Gone are the Strictly sequins and fake tan. Who is this long haired rock god strutting his stuff on the Blackpool Opera House stage? And… shock of shocks… this lad can SING!
I really wasn't sure to expect from Rock of Ages. It's a show that's managed to stay off my radar thus far and I haven't seen the film version either (although upon investigation I can see their plotlines vary dramatically). So, I came to the show cold. And by the end of the first half I was absolutely freezing! What on earth was going on here? Yes, there were some great songs and some excellent singers but the whole thing seemed a bit end-of-the-pier show, manic and rushed.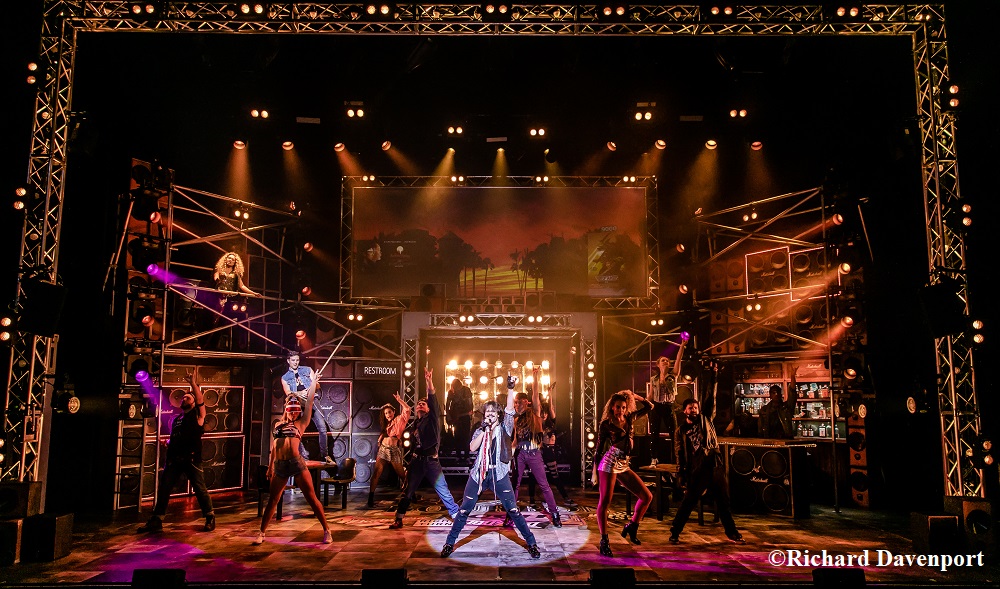 Like many other modern jukebox style musicals, the plot of Rock of Ages is daft and inconsequential. It is set in 1980s Los Angeles, with the old chestnut of 'boy meets girl, boy loses girl, boy finally gets girl' at its heart. Surrounding that oh so predictable central theme were a bunch of caricatures. There's Dennis, the old hippie-turned-club owner, ably played by Kevin Kennedy of Curly Watts in Coronation Street fame, his sidekick Lonny, who is also the show narrator (Lucas Rush channelling his inner panto dame, methinks) and two German property developers, whose portrayal was taken straight from the series 'Allo 'Allo – and not in a good way. Even Kevin Clifton's character Stacee Jaxx was a cardboard cut-out of a lewd and crude rock star.
Thank heavens for some fine musical performances to keep the attention, with Jodie Steele as Sherrie, the aforementioned Clifton and the amazing Zoe Birkett as Justice the standouts of the night. The five-piece live band on stage were brilliant throughout, as was Nick Winston's choreography. The lighting design by Ben Cracknell was literally dazzling too.
Stacee Jaxx is lead singer of a band called Arsenal and this truly was a show of two halves. Up until the interval the small audience appeared a little confused and subdued by what they were witnessing. There were embarrassed giggles in response to some very near the knuckle thrusting and suggestive posing – believe me, this is not a musical to take the kids to – and the cast as a whole seemed a little off kilter. After the interval things improved hugely. The performers were a little less frantic and as a result the show began to flow better, with songs like The Final Countdown, Every Rose Has its Thorn and the rousing finale of Don't Stop Believin' bringing the audience to life.
I had such high hopes for this night of theatre, but sadly they were feeling pretty tattered by the final curtain. I can't wait to see Kevin back in his Strictly sequins though – maybe he could sing a song or two on the show next season?
Rock of Ages is at Winter Gardens, Blackpool until Saturday, 6th July. For tickets and more information visit https://www.wintergardensblackpool.co.uk/whats-on/rock-of-ages
Reviewer: Sandra Mangan
Reviewed: 2nd July 2019
North West End Rating: ★★★